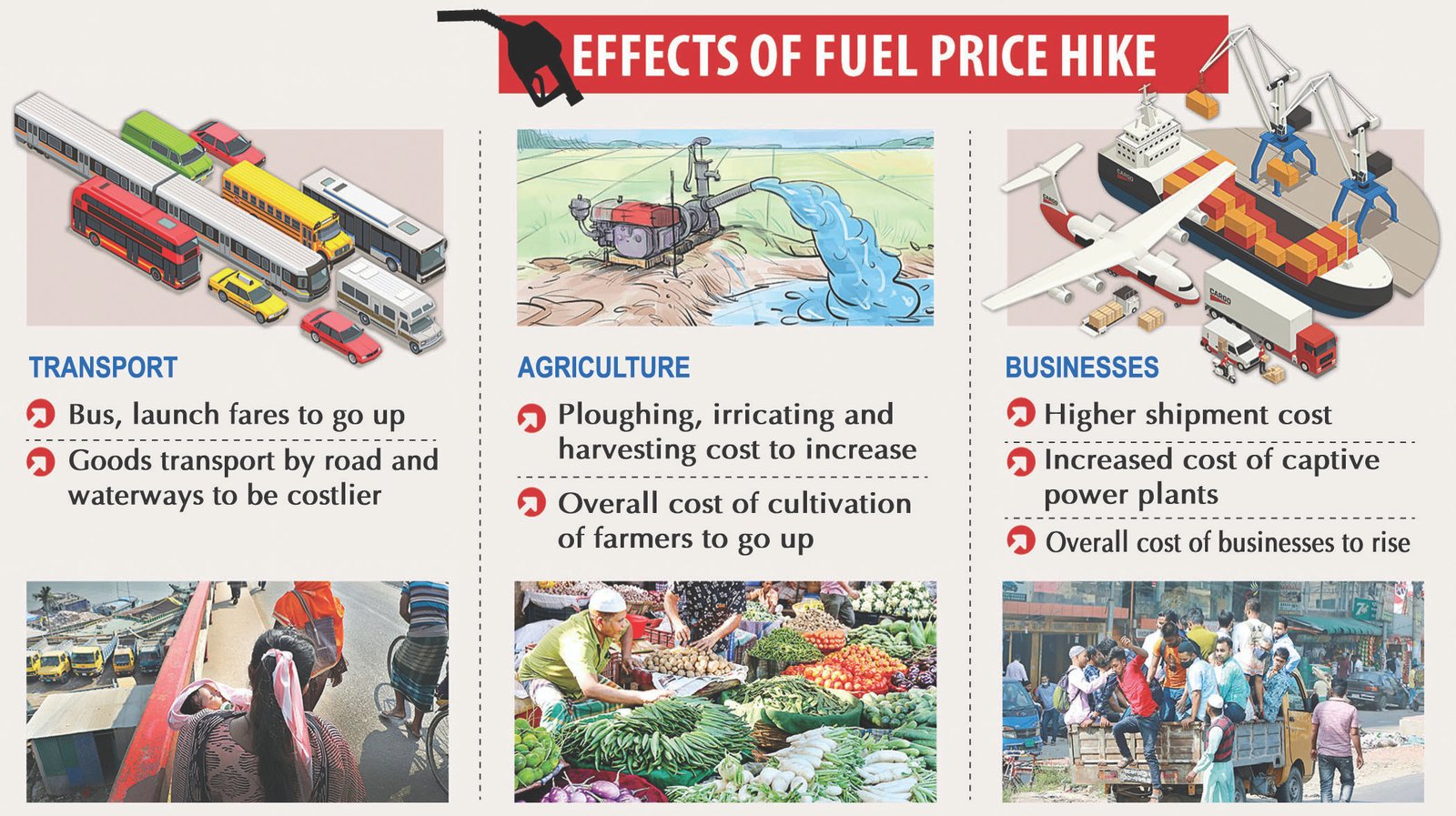 24th November 2021
Saleque Sufi
The price spiral in the global fuel market (oil, gas and LNG) has already started affecting Bangladesh. The prices of LPG, diesel and kerosene have just been increased. In the not too distant future, the prices of gas and electricity would also be adjusted commensurate with the fuel oil price. Consequently, the prices of all commodities as well as the fares of services like road transports and waterways would go up. That in turn would increase the prices of essential commodities. Whatever the policy makers may like to term it – be it price adjustments or action to discourage fuel smuggling across the border, this situation could be better managed if Bangladesh could plan its fuel utilization professionally and pay heed to the advice of experts and engage experts in energy sector planning and management. In a free market economy, it is the demand and supply that determine the market price. But the government agencies can definitely work as a watchdog so that market manipulation does not grow rampant. The fuel price hike has already adversely impacted the living and livelihood in the post-COVID new normal time of the citizens of Bangladesh. People outside the gas franchise have to pay three or four times per month for cooking. The diesel price hike would push up irrigation and power generation costs. If the gas price is also increased, it would raise the cost of gas-based power, CNG and cost of production of all gas-based industries. Moreover, it is still uncertain how long the present trend of price hike in the international market would continue. Bangladesh must plan for expediting its own fuel exploration and development, and execute aggressive plans for alternate energy like renewables.
It has become a trend in Bangladesh that any time the prices of diesel and CNG increases, the transport owners (road and waterways) force the government to increase fares through enforcing strikes. Political activists, mostly the pro-government front leaders, lead the owners associations. The hartal-type programs create immense miseries of common people. No one realizes that the fuel price is only a minor segment of managing transport business. Transport owners earn huge profits at the expense of miseries of commuters. Commuters must not be held hostages every time. Commuters must not be made to pay higher fares for others' mistakes. The government agencies must better coordinate among themselves beforehand whenever they increase or adjust whatever sugar coated words the ministers' use. Any increase in transport fare increases the price of essential commodities. The government has little or no control over the prices of essential commodities as well.
Is it the Right Time to Increase Diesel, Kerosene Prices?
Winter is approaching and an intensive irrigation period will follow. Despite extension of the power grid to every nook and corner of the country, irrigation is still largely dependent on diesel pumps. Solar irrigation pumps have not grown that big yet. Obviously the increase of diesel price would affect irrigation unless the government provides subsidy. Kerosene is used mostly by poor villagers. Its price would hurt the marginalized population only.
Bangladesh Petroleum Corporation (BPC) is a state monopoly in petroleum products business in Bangladesh. It has made windfall profits over the last 7 years since 2014 during which the crude oil price and for that price of all linked petroleum products were at their lowest levels. Many countries lowered prices but Bangladesh after repeated persuasion adjusted marginally. BPC is said to have earned BDT 40,000 crore over the past 7 years. Now for crude price increase, how such huge profit earning can be offset in no time? Why can't the government provide subsidies for a while? Is price increase of petroleum products the only way to minimize losses of BPC? There have been allegations of corruption in crude purchase, theft and pilferages of petroleum products against BPC and its marketing companies. Has the government done enough to curb corruption and eliminate losses? Why do the end users have to bear the burden all the time?
For a 23% increase in diesel price, the transport fare is said to have increased by 27%. What is the rationale of this increase? How does this fare increase the prices of commodities? In 7 years between 2014 and 2021 when the prices of crude oil and linked petroleum products were extremely low, did people get the benefit?
Why before announcing the price hike, relevant ministries, agencies and organizations could not coordinate? Mischief mongers always hunt for opportunities? The transport owners immediately went on strikes, causing immense miseries of commuters and the general public. The owners will maximize profits at the expense of the commuters. The fare hikes of transports would increase the price of essential commodities. People's sufferings would be compounded.
Power, LPG and Gas Prices
Water price in 12 years increased 14 times and gas price 9 times. In the not too distant future, the gas price and power tariff would also be increased for sure. But is it a global price increase that leads to price increase for all utilities? Poor planning, flawed strategies, and corruption also contribute.
The government boasts 24000 MW plus installed power generation capacity. But it struggles managing the grid power demand of 13000 MW. Why do most of the 7000 MW liquid fuel based power plants cannot be retired? Why does the capacity charge need to be paid keeping a big portion of these idle?
The Bangladesh Power Development Board mentions that it incurred 55% loss in one year for gas deficit and price increase of liquid fuel. But inside information does not support this. Keeping its own generation plants idle, BPDB imported power from India per agreement. BDT 13,155 crore of capacity charges it accounted for leaving many rental and quick rental plants idle. For failure in evacuating full 1320 MW power from imported coal based Payra Power plant for delays in completing power transmission facility, BDT 170-180 crore capacity charge is being paid as penalty to the project owner.
In recent times, the price of 12 KG LPG cylinders (majority of population use for domestic cooking) increased to BDT 1313. Justice is not being done as consumers having piped gas connections are paying much less.
Govt Ignores Experts' Suggestions
Bangladesh economy cannot sustain the price impacts of the global fuel market for a long time. It could have avoided growing big on imported fuel if it could plan its own fuel exploration and exploitation professionally. Instead of professional planning and managing energy companies, the government placed non-technical bureaucrats in BPC and Petrobangla. Coal would possibly remain buried forever. Petroleum resources would not be explored and exploited in required volume for meeting the burgeoning demand growth.
Experts kept alerting Bangladesh for a while for planning fuel utilization in a pragmatic way. They always warned that Bangladesh must not become exclusively reliant on imported primary fuel. It cannot absorb global fuel market volatility, for the shallow coastal area and absence of deep seaport setting up import infrastructure (coal port and LNG/LPG terminals) are extremely challenging. Experts advised utilizing coal reserves and aggressively exploring and exploiting potentials of onshore and offshore petroleum resources. Till 2030, Bangladesh fuel mix as suggested was 60:40 on own-imported fuel. But the government hardly listened to the experts' advice.
The global fuel market has already pushed crude oil prices growing around US$ 85 /bbl. Prices of all petroleum products linked with crude including LPG have also shot up. Concerns about the global warming and pledges for achieving the Net Zero targets have created panic, mad rush for using gas /LNG as alternate interim fuel. This caused a phenomenal increase of gas /LNG prices in the global market. Bangladesh imports crude, petroleum products and LPG from the global market. In the wake of depletion of proven reserves of its own domestic gas, it started importing LNG from the global market. Bangladesh failed to exploit its own coal reserve. It imports coal for a large coal based power plant brought into operation in 2018. It will be importing coal for two more large power plants coming into operation in 2022 and 2023. Steadily from an exclusive own fuel dependent country, Bangladesh is growing into a major fuel importing country.
What Should Bangladesh Do?
Bangladesh has to continue importing crude and petroleum products, LPG and LNG. Hence it has no other options but to adjust the price of fuel smartly in the local market. Wherever necessary, it has to provide subsidies. All out endeavors must be made for expediting petroleum exploration and increasing production from own gas fields. Bangladesh must also leave nothing unturned for expanding renewable energy – solar, wind, and energy from waste. We are not sure whether Bangladesh can exploit its coal reserves in future. It missed the coal train. Another major aspect is energy efficiency and energy conservation. It must be made into a movement.
The increasingly exclusive dominance of the bureaucracy of energy planning, management has proved counter-productive. These must be left for the line professionals letting them work in a transparent and accountable manner. It may take a few years for the global fuel market to get back to pre-COVID state. Some say it may never get back as net zero 2050 targets making the world transition from fossil fuel to renewable may keep the global fuel market volatile. Bangladesh from 2026 would lose LDC advantages. It cannot let the price of fuel and energy go beyond reach in the meantime. This would create overarching adverse impacts. Industrial growth would be impacted – Bangladeshi export commodities would lose competitiveness.
We hope that the policymakers would appreciate challenges as well as evaluate and take pragmatic actions.
---