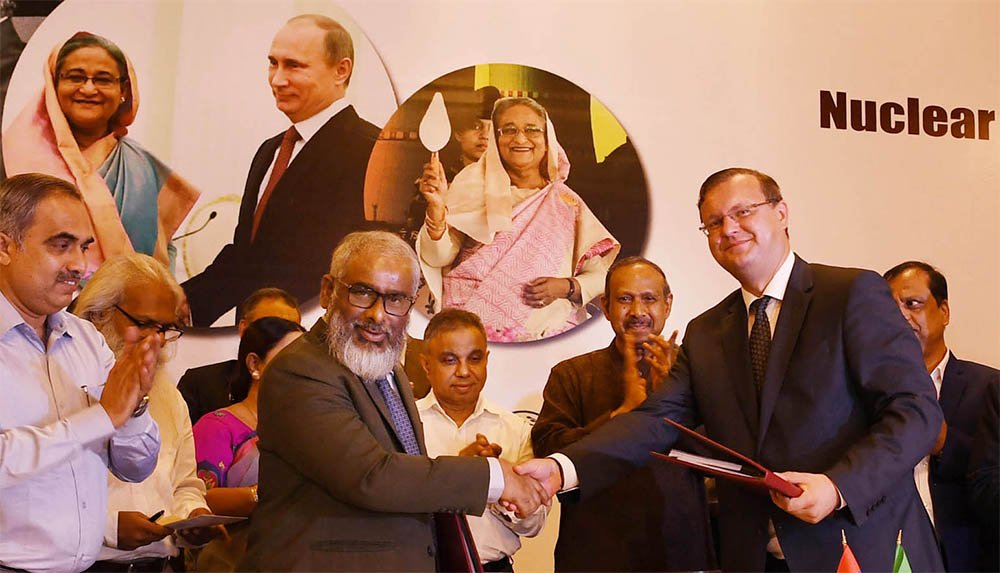 DHAKA, Aug 6, 2019 (BSS) – Bangladesh Atomic Energy Commission (BAEC) today signed a lifetime fuel supply agreement with Russian nuclear fuel firm Rosatom TVEL for Rooppur Nuclear Power Plant (RNPP) project.
Chairman of BAEC Mahbubul Hoq and Commercial Director of Fuel Company of Rosatom TVEL Fedor Sokolov signed the deal on behalf of their respective sides at a programme held at a city hotel.
Science and Technology Minister Architect Yafes Osman witnessed the agreement-signing ceremony as the chief guest, while Principal Coordinator of SDGs to the Prime Minister's Office Abul Kalam Azad and other officials concerned were present.
The BAEC inked the contract with Russian state-owned nuclear fuel firm TVEL Joint Stock Company aimed at supplying fuel for lifetime to the 2,400 MW RNPP, which will have two units, each having 1200 MW power generation capacity.
Each unit of the power plant will have to reload one-third of the total required nuclear fuel in every 18 months and the first, second and third reload will be provided by the Russian firm free of cost.
Earlier, the government has engaged Russian nuclear energy firm Rosatom as contractor of the RNPP project at a cost of $12.65 billion.
The Russia's state-run atomic energy body Rosatom is setting up the two units of power plant, of which the first unit of the RNPP will come into operation by 2022 while the second one by 2024.
---