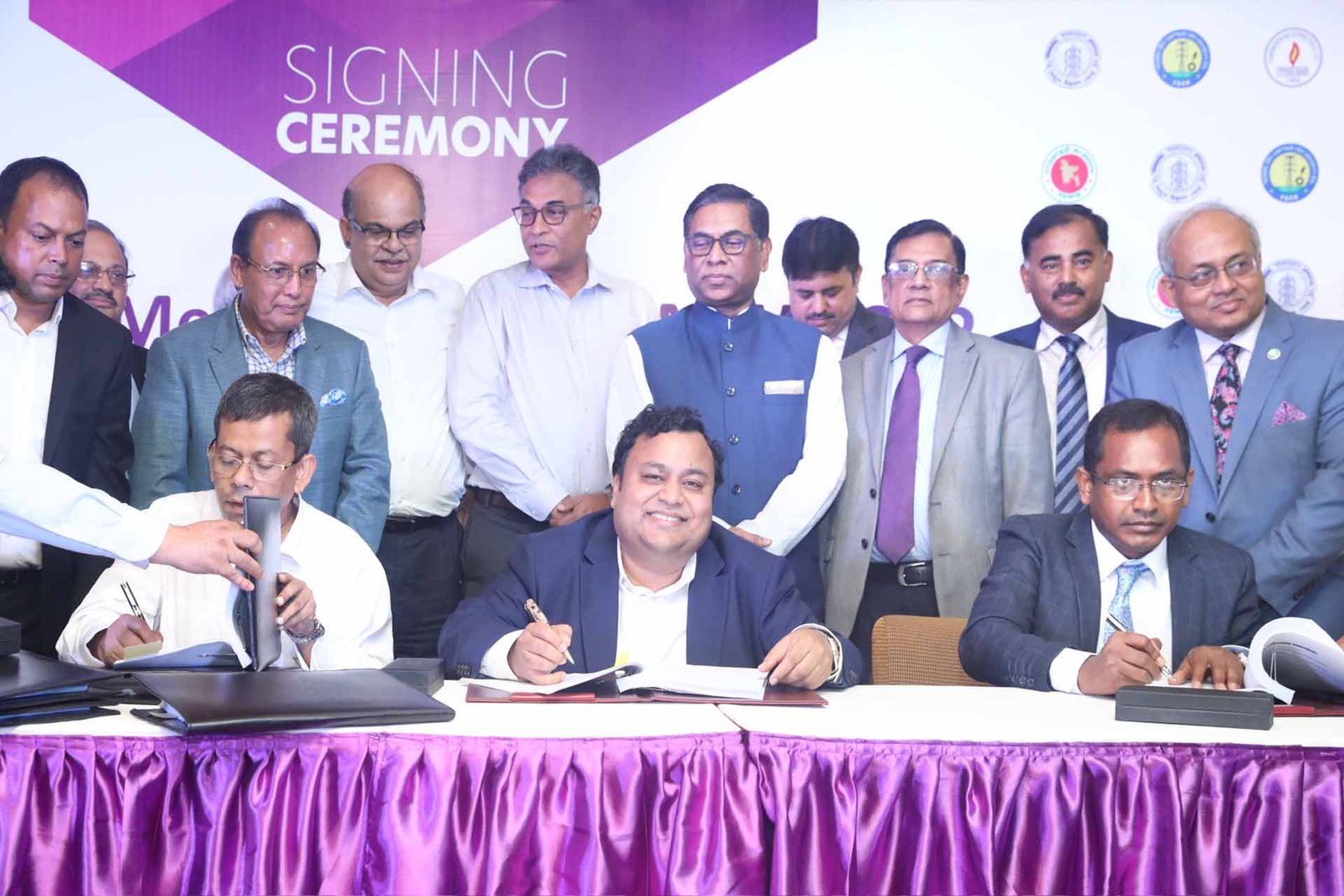 Unique Meghnaghat Power Limited (UMPL) has signed an array of agreements with the Bangladesh Power Development Board (BPDB) and other government entities on Wednesday to construct a 584 MW, one of the largest, combined-cycle gas power plant at Meghnaghat, Narayanganj.
In the presence of the State Minister for Power, Energy and Mineral Resources Nasrul Hamid, who was also the chief guest at the event, the officials representing UMPL signed a 22-year Power Purchase Agreement (PPA) with the Bangladesh Power Development Board (BPDB). UMPL also signed an Implementation Agreement and Gas Supply Agreement with the Government of Bangladesh and Titas Gas Transmission and Distribution Company Limited respectively.
The UMPL power plant will operate on natural gas or re-gasified liquefied natural gas (RLNG). The plant will be built in an area of 18.75 acres and the overall estimated cost of the project would be approximately USD 520 million. The power plant is expected to start its operations by July 2022, generating equivalent electricity needed to supply up to 700,000 homes in Bangladesh.
Chowdhury Nafeez Sarafat, Managing Director, UMPL, said "The plant is being built as part of Prime Minister Sheikh Hasina's dream to ensure 100 percent electricity coverage in the middle-income country of 168 million people."
"This 584 megawatt plant is the largest combined cycle electricity generation plant in the country's history. It will certainly contribute towards boosting Bangladesh's GDP growth to reach the 10 percent mark. The power plant will add more reliable and affordable power to the grid, as it will run on state-of-the-art technology." he said.
GE Power, the turnkey partner in the project, will be supplying one 9HA gas turbine along with one heat recovery steam generator (HRSG), one steam turbine generator, condenser and associated balance of plants (BOPs) to power the plant. GE's record setting HA technology is powering the most efficient gas power plants in the world both in 50hz and 60hz segments.
"GE's growing footprint in Bangladesh has helped us to understand the domestic power requirements better and partner with key stakeholders to bring greater economic value to the region," said Deepesh Nanda, CEO, Gas power systems, GE South Asia.
Mr. Abul Kalam Azad, Principal Coordinator (SDG Affairs), Prime Minister's Office, Mr. Noor Ali, Chairman of UMPL, Mr. Earl R. Miller, the US Ambassador, Mr. Ahmad Kaikaus, Senior Secretary, Power Division, Mr. Abu Henal Md. Rahmatul Muneem, Secretary, Energy and Mineral Resources Division and Mr. Md. Ruhul Amin, Chairman of Petrobangla, were among the special guests at the agreement signing ceremony, that was chaired by Mr. Khaled Mahmood, Chairman of BPDB.
---