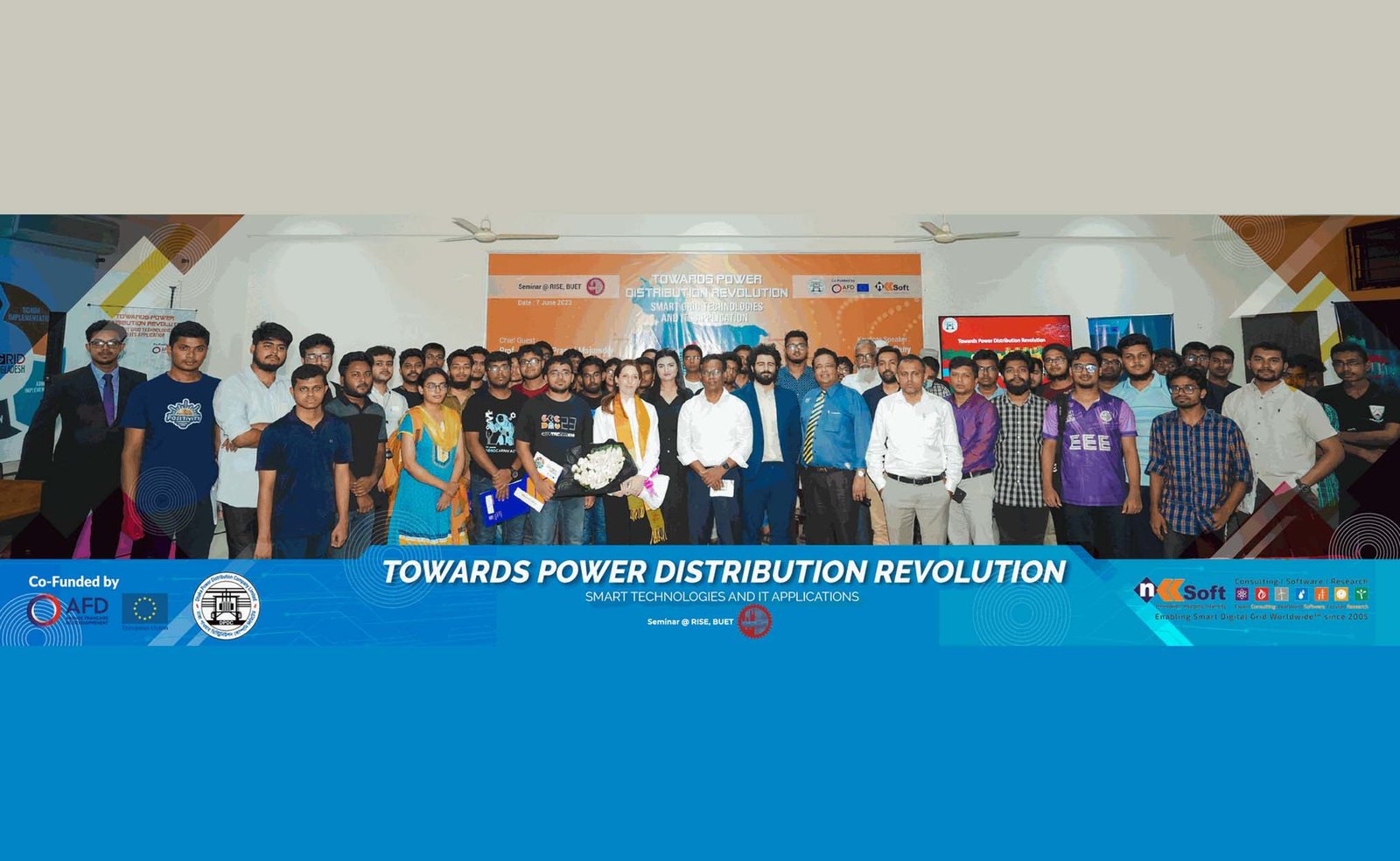 Dhaka, June 8, 2023 (PR) - Smart Grid Solution: Empowering the Future of Power Distribution – with this motto, a Seminar was held on June 7, 2023 at BUET, Dhaka titled 'Towards Power Distribution Revolution Smart Grid Technologies and Its Applications' organized by DPDC.
'Construction and Augmentation of Substation Installation of Capacitor Bank and Introduction of Smart Grid in Power System under DPDC Areas (CSCSG Project)' – under this project initiated by Dhaka Power Distribution Company Limited (DPDC), Co-Funded by the European Union (EU) and AFD this seminar held today to discover the endless possibilities of smarter energy future. This event was facilitated by the implementing partner and official consultant organization NKSoft Corporation, USA.
At this seminar, the Chief Guest was Prof. Dr. Satya Prasad Majumder, Honorable Vice-Chancellor of Bangladesh University of Engineering and Technologies (BUET), the Special Guest was Engr. Bikash Dewan, Managing Director, Dhaka Power Distribution Company Limited (DPDC), and Mr. Abdul Alim, Project Director, CSCSG Project. At this seminar, the keynote speech was delivered by Mr. Shakhawat John Chowdhury, Managing Director, NkSoft Corporation, USA, and the technical session was conducted by Engineer Mr. Rafiqul Islam, SCADA, and Telecommunications expert. He is also an expert in numerical Protection Relay and Substation Automation. Along with that representative from the EU, Ms. Chiara Vidussi and AFD Mr. Thibaut HAMM put their valuable comments on this seminar. The seminar was moderated by Ms. Farjana Yesmin Asha, Director, of Global Communication, NKSoft Corporation, USA.
The seminar started with a welcome speech by Mr. Abdul Alim, Project Director, CSCSG Project, and finished with the speech of the honorable Vice-Chancellor of BUET. This seminar was conducted with the participatory method where students were very attentive and responsive to communicate with the experts. 'We are here to get more innovative ideas for accelerating the Smart Grid project' mentioned by Mr. Abdul Alim and Engr. Bikash Dewan told that Smart Grid is
the first initiative of Smart Bangladesh, so we have to move on with innovations and skilled manpower as energy is the source of the country's economic growth today. In this seminar, there were 300 participants from BUET and the main reason behind this seminar is to create awareness on Smart Grid among the next generation talents to get them into this revolutionary journey to make the country smarter. The honorable VC committed to DPDC to provide special support from BUET to develop smart manpower to run Smart Grid in Bangladesh.
This seminar was held to unlock the potential of the next generation and build the future for tomorrow. DPDC started its first awareness campaign in BUET because they believe that the country's best potential and talented engineers come from this institution. Later they planned to organize a seminar on Smart Grid in 6 more universities as well.
'Selection of an International Consultancy Firm for Engineering consultancy services for procurement, implementation, supervision, dissemination, replicability, and communication to introduce smart grid under DPDC area on the pilot basis's is the sub-project under the CSCSG project to create awareness and run the campaign on Smart Grid to help people to be part of this revolutionary journey to build up smart Bangladesh through Smart Grid.
It's mentionable that Power Factor Improvement and Smart Grid under Dhaka Power Development Company (DPDC) is a blended finance project where an EU grant is combined with a soft loan from AFD, for a total of EUR 112 million. The project has the following main features:
* A total of 1,141,000 people will benefit from a significant improvement in the quality of
electricity service;
* It helps fight climate change by preventing an accumulated 104,000 tons of CO2 emissions
per year;
* It is the first ever-smart grid project in Bangladesh.
With this project, AFD and the EU are reinforcing their role in supporting the Government in the search for and use of advanced digital solutions in distribution stations and in medium-voltage grids. The goal is to equip existing infrastructure with these new, innovative, and reliable technologies in order to ensure services are prepared for the future. A core aspect of Bangladesh's economic development strategy is an improved performance of the power sector in terms of generation, transmission, and distribution. Today, the smart grid in Bangladesh is in its first phases, and it mainly consists of deploying smart meters. Overall, and not just including the project with the DPDC, the smart grid solution is of great operational value. It makes it possible to carry out maintenance upstream of failures and to optimize the use of equipment (power transformers, circuit breakers, etc.). Real-time algorithms will continuously analyze the hardware connected to the grid and thus extend its life.
The digital presence at all levels of the network allows for better knowledge of the network and anticipation of outage-related events. The smart grid gives a more reliable, accessible grid. Improving its (grid) performance will consequently eliminate the pollution caused by the diesel generators which are used as back-up during grid outages. Any initiative sustains with innovations and comprehensive ideas for boosting up the initiative into the next level. As the youth are our future leaders to lead the country's development so this awareness campaign helps them to learn, acquire, retain, and apply knowledge and skills to empower the power sector through Smart Grid.
---