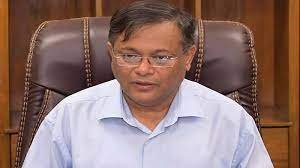 Dhaka, Nov 11, 2021 (BSS) – Information and Broadcasting Minister Dr Hasan Mahmud has said the developed countries still lack sincerity and willingness in providing their pledged financing to help combat climate change.
He called upon the developed nations to provide equal funds for mitigating the consequences of natural disasters induced by climate change and adapting to the changing environment.
Hasan, also the Awami League joint general secretary, made the call while speaking at a discussion at Bangladesh pavilion on Wednesday evening on the sidelines of the Conference of Parties (COP)-26 in Glasgow of Scotland, according to a message received here today.
Centre for Climate Change and Environmental Research (C3ER) of BRAC University arranged the event on 'Transparency Mechanism in Paris Agreement: Issues, Concerns and Opportunities for Effective Implementation'.
Chaired by C3ER advisor Dr Ainun Nishat, the meeting was addressed, among others, by member of Parliamentary Committee on Climate Change Tanvir Shakil Joy, secretary of Economic Relations Division Fatima Yasmin and environmental experts Dr Gary Fox, Dr Saleemul Haq and Dr Atiq Rahman.
Dr Hasan said the delay and deceptions of the developed countries in climate financing are pushing the whole world, including Bangladesh, towards disaster risks.
He said the big example of this is that Bangladesh is an innocent victim of climate change but its responsibility is very negligible to this end.
Although the industrialised and rich countries are responsible for global warming, those are not taking responsibility, the information minister said.
He said the developed nations' dilemma in providing their promised financing to mitigate climate change impacts is not desirable.
They also lack transparency, willingness and sincerity in this regard, Hasan said, adding "But Bangladesh did not surrender helplessly to this loss… due to the far-sighted and timely initiatives of Prime Minister Sheikh Hasina, the country is working with its own fund, which is already lauded around the world".
By defeating the hunger, Bangladesh now becomes a food-surplus country under the leadership of Prime Minister Sheikh Hasina, he said.
The minister said scientists and researchers have innovated different climate-tolerant paddy varieties under various initiatives of the government.
"Our researchers have innovated paddy varieties tolerant to drought, flood and salinity," he added.
Dr Hasan Mahmud is expected to return home on November 17 after attending the climate meet.
---