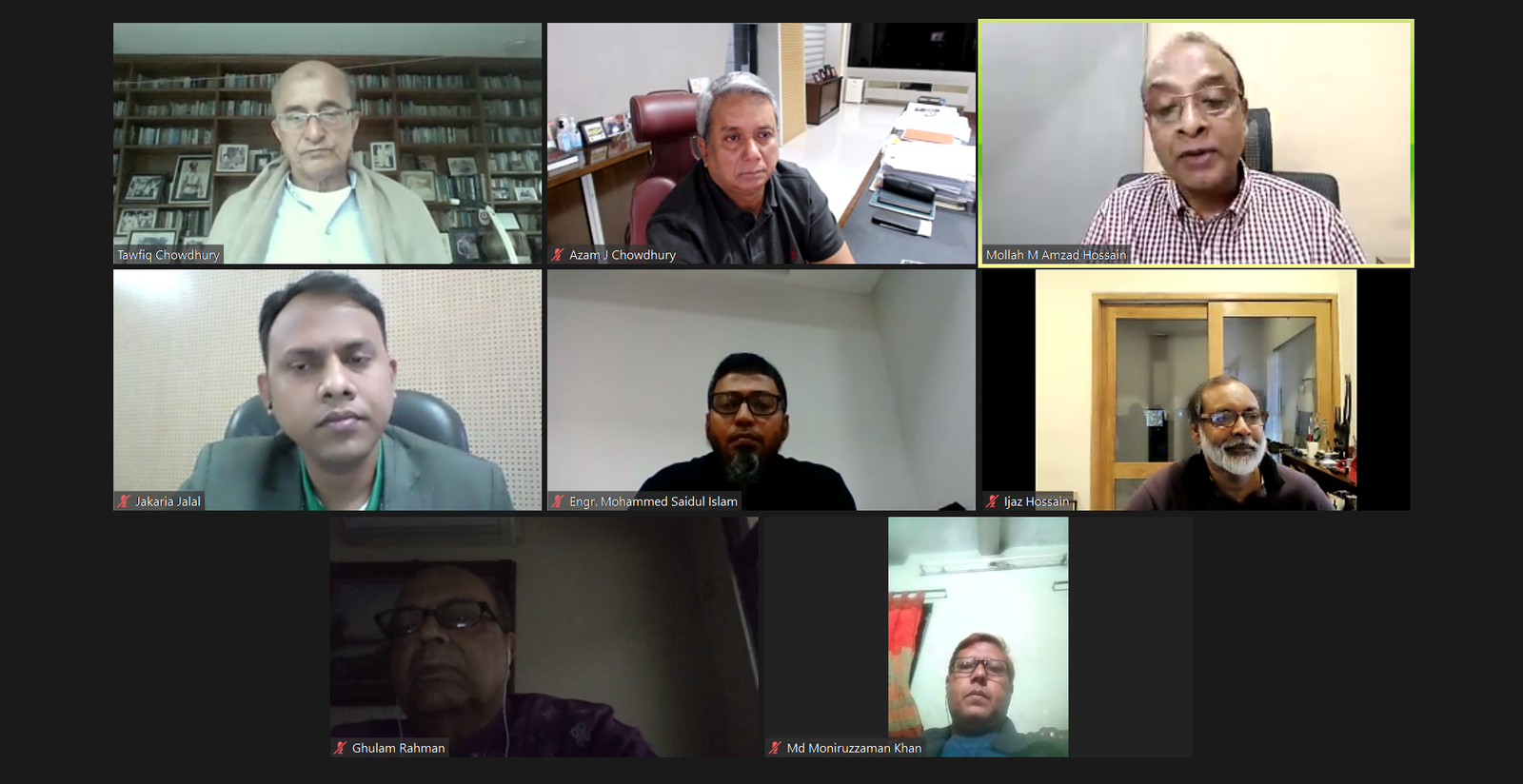 Speakers at a discussion today (Saturday) urged the energy regulator to fix the price of liquefied petroleum gas (LPG) in a rational way.
The pricing must take into consideration the purchase price, premium cost and the foreign exchange rate, they said, attending the virtual discussion titled "LPG Pricing Dilemma" hosted by Energy & Power magazine.
They said frequent fluctuation of pricing is another issue that must be kept in mind so as to not to create a negative perception of LPG amongst consumers.
"We want the LPG price to be fixed on equitable basis protecting the interest of consumers," said Ghulam Rahman, President of Consumers Association of Bangladesh (CAB).
Echoing the CAB President, Prime Minister's Energy Adviser Dr Tawfiq-e-Elahi Chowdhury said the government wants the LPG price not to fluctuate. "Monthly fluctuation in LPG price may create an internal shock among consumers that may not be acceptable."
The Adviser said the government's vision is to reach commercial fuel to rural areas as part of its move to transform each village as an urban township that would ensure every facility like in urban areas.
The webinar was also addressed by President of LPG Operators Association of Bangladesh (LOAB) Azam J Chowdhury, BUET's Prof Ijaz Hossain and Energypac LPG Executive Sheikh Naweed Rashid.
Head of Bashundhara LPG (Sales) Jakaria Jalal made a keynote presentation while Energy and Power Editor Mollah Amzad Hossain moderated discussion.
Welcoming the government's move for establishing an LPG terminal at under-construction Matarbari Deep Sea port, Azam J Chowdhury said transparency should be maintained in the project implementation process.
Referring to newspaper reports that BPC was assigned to hire a consultant for LPG terminal project, he said Petrobangla organizations have enough experience in this sector.
"It would be wise to give such a job to Petrobangla or any other of its entities that have experience in dealing with petroleum sector. Or else, inefficiency in such a job would escalate the LPG price," Chowdhury added.
He further added that it will take time for the LPG market to stabilize. The government has to come up with an estimate of what quantity of LPG will be required over the coming years, so that we, the private sector, can work on mini grids in various parts of the country.
He said the LPG consumption in the country is rising fast as now 1.0 million metric tonnes of LPG is being consumed as it was just 80,000 metric tonnes in 2017.
He also urged the government to enhance the capacity of the Department of Explosive to ensure safety in LPG's household use.
Professor Dr. Ijaz Hossain believes that the demand for LPG has been over optimistically inflated. The Japanese estimate states that the demand will increase threefold from 1 million to 3 million tonnes in 2025.
In fact, the demand will probably reach 3 million tonnes in 2030. Price has fallen due to competition. In the beginning there was an attempt at monopoly, which is now a nonissue. Pricing needs to be adjusted monthly, and at best quarterly. Making the formula is not the issue, applying it is.
Many experts opined that automatic pricing formula needs to be adopted. The need for a deep sea port was voiced as an urgent need. BPC has been given the responsibility for this, whereas it is Petrobangla that should have the responsibility. A deep sea port would allow for economies of scale facilitating a reduction in price at the consumer end.
In his keynote presentation, Jakaria Jalal informed the meeting that the government company is contributing only 1.5% of the annual LPG demand of 1.2 million tones. The government has already awarded licenses to 56 companies – 28 of them are already in operation while 20 others remained at import stage. The total investment of in this sector is estimated to be US$ 3.0 billion, which is too much considering the market size.
According to a study by Japan International Cooperation Agency (JICA), he said, the annual market demand would be 3.0 million tonnes by 2025 and 6.0 million tonnes by 2041.
---