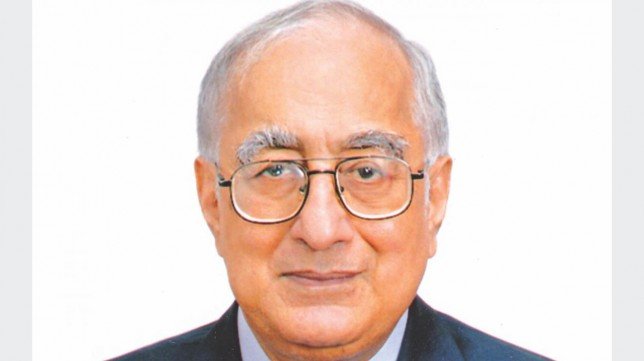 Dhaka, April 28, 2020 (BSS) – National Professor and noted educationist Dr Jamilur Reza Choudhury passed away early today at the age of 77.
Dr Choudhury had an apparent heart attack at his Dhanmondi residence in city and was taken to Square Hospitals where doctors declared him dead, according to family sources.
A former adviser to the Caretaker Government, Prof Choudhury, left behind wife, one son, a daughter and a host of relatives and admirers to mourn his death.
His namaj-e-janaza will be held at Dhanmondi Eidgah Masjid in city after Johr prayer today, family sources said.
Later, he will be buried in city's Banani graveyard. He was the founding vice-chancellor (VC) of BRAC University and was also working as the VC of the University of Asia Pacific.
Ekushey Padak Awardee, Prof Choudhury was a civil engineer who graduated from Bangladesh University of Engineering and Technology (BUET).
A renowned civil engineer and educationist, Dr Choudhury was the vice chancellor of University of Asia Pacific. He had been the president of Bangladesh Mathematical Olympiad Committee since 2003.
In 2017, he was awarded Ekushey Padak by the Government of Bangladesh in the category of science and technology.
Prof Choudhury was born in Sylhet and had his early education in Dhaka (St Gregory's School and Dhaka College). He obtained BSc degree (Civil Engineering) in 1963 from the then East Pakistan University of Engineering and Technology (now Buet) and MSc (Advanced Structural Engineering) and PhD from University of Southampton in 1968.
Dr Choudhury joined East Pakistan University of Engineering and Technology as a lecturer in Civil Engineering in 1963 and was appointed a professor at Buet in 1976.
He was Head of the Department of Civil Engineering (1978–79, 81–83), Dean of the Faculty (1983-85) and Director, Computer Centre (1982-1992). In March, 2001, he joined Brac University as its first Vice Chancellor.
He was awarded a Commonwealth Academic Staff Fellowship in 1974 and spent a year at the University of Surrey, UK, as a Visiting Associate Professor. He was awarded the Doctor of Engineering (Honoris Causa) degree by Manchester University in October, 2010. Dr Choudhury had authored about 70 papers in international journals and conference proceedings.
He had acted as consultant to many national and international agencies. He was a Member of Panel of Experts (advising the Government, the World Bank, Asian Development Bank and OECF, Japan) for the Bangabandhu (Jamuna) Bridge; he headed the International Panel of Experts for Padma Bridge. He was the Team Leader for the Multipurpose Cyclone Shelter Programme and prepared the Master Plan for Cyclone Shelters in the coastal areas of Bangladesh.
He was a Fellow of the Institution of Engineers (Bangladesh) and was its president in 1992-93. He was also a Fellow of Institution of Civil Engineers (UK). He was the Chairman of the Board of Accreditation for Engineering and Technical Education, Bangladesh.
He was appointed adviser to the caretaker government in April, 1996 and was in charge of the Ministry of Energy and Mineral Resources and the Ministry of Water Resources.
He received numerous awards during his illustrious career.
Condolences
President Abdul Hamid and Prime Minister Sheikh Hasina have expressed deep shock at the death of Dr Choudhury and prayed for the eternal peace of the departed soul. Also State Minister, Power, Energy & Mineral Resources Nasrul Hamid expressed deep shock and prayed for the eternal peace of the departed soul.
---