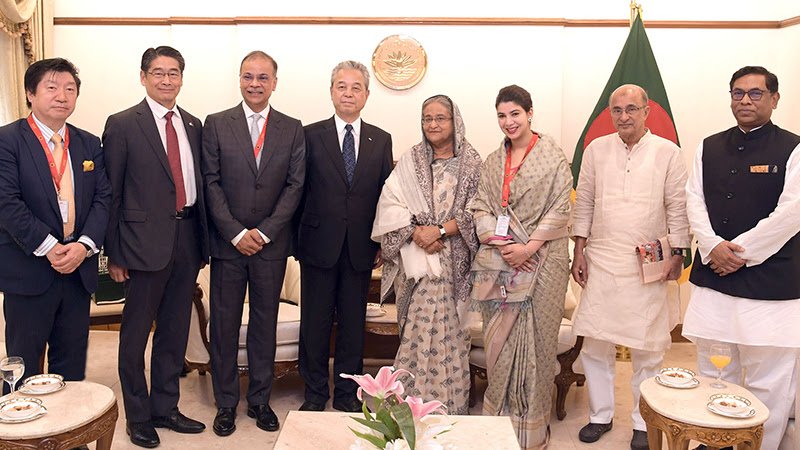 Dhaka, Feb 24, 2020 (PR) - Today Satoshi Onoda, President of JERA and Muhammed Aziz Khan, Founder Chairman of Summit Group met with the honourable Prime Minister Sheikh Hasina at her office in Dhaka. The honourable Prime Minister was happy to see the private sector partnership of Summit and JERA in developing infrastructure, as this reflects friendship between the two countries. Japanese Ambassador to Bangladesh Naoki Ito also appreciated that the two very large companies both the countries have partnered for the progress of Bangladesh.
Satoshi Onoda informed the Prime Minister about the ongoing project of Summit-JERA-GE consortium building a 583 MW Combined Cycle Power Plant (CCPP) in Meghnaghat which is expected to be the largest CCPP plant in Bangladesh when completed in 2022. He also expressed Summit-JERA-Mitsubishi consortium's desire to invest in on-shore LNG terminal in Matarbari to ensure progress of Bangladesh. Muhammed Aziz Khan, Chairman of Summit Group also reiterated along with Satoshi Onoda their desire to invest more and provide novel solutions for Bangladesh.
In addition, honorable Adviser to the Prime Minister on Power, Energy & Mineral Resources Affairs Dr Tawfiq-e-Elahi Chowdhury, BB, honorable State Minister of Ministry of Power, Energy and Mineral Resources Nasrul Hamid MP, Secretary to the Prime Minister's Office (PMO) Md Tofazzel Hossain Miah, the Japanese ambassador to Bangladesh Naoki Ito, CEO of JERA Asia Toshiro Kudama, Managing Director & CEO of Summit Power International Ayesha Aziz Khan were present at the occasion.
---