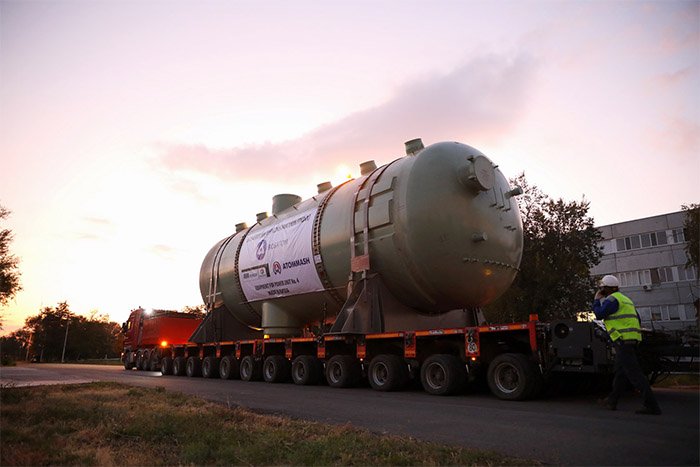 Atomenergomash, machine building division of Russia's Rosatom State Atomic Energy Corporation shipped second steam generator on October 4,2019 for Unit 4 of the Kudankulam Nuclear Power Plant in India. All 4 steam generators for the unit are being supplied by Rosatom.
The 340-ton equipment will reach India using multi-modal transport. From Volgodonsk by road and water transport to Saint-Petersburg port, then by water transport through Baltic and Mediterranean seas, Suez Canal, Red Sea and the Indian Ocean. Length of the route is 21,000 kilometers with complex logistics.
In a nuclear power plant heat produced in reactor core by fission reaction is removed by coolant, which passes through the core. This thermal energy is used to produce steam in the steam generator. Steam's mechanical energy is supplied to the turbine generator, which converts mechanical energy in to electricity.
Rosatom is the technical consultant and main equipment supplier to the Kudankulam NPP in Tamil Nadu of India. Initially four units were planned in the project, out of which two are already in operation and the rest two under construction. Another two units to be constructed under a separate contract with Rosatom. Preparatory works for the units are in progress.
Rostaom is implementing the first ever nuclear power project of Bangladesh at Rooppur of Pabna. The project will host two units, each of 1,200 Mw capacity. Rooppur plant is being constructed based on generation 3+ VVER 1200 reactors.
---