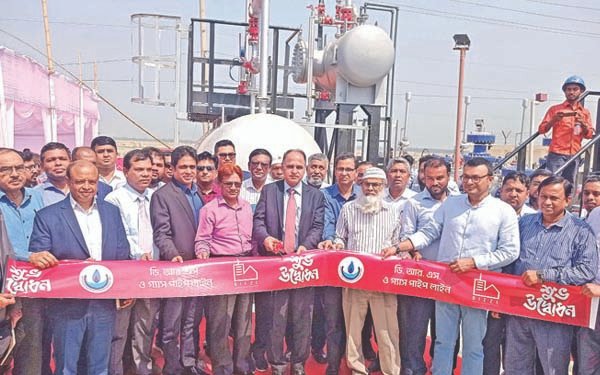 18th March 2023
EP Report
The long-awaited District Regulating Station (DRS) and gas pipeline were inaugurated at Bashundhara Industrial Economic Zone Limited (BIEZL) of Bangabandhu Shilpa Nagar in Mirsarai recently.
Karnaphuli Gas Distribution Company Limited (KGDCL) Managing Director (MD) Engineer Rafiqul Islam, and on behalf of the Bashundhara Group Vice Chairman Safwan Sobhan, Head of Project Support Services and Secretary Foyezur Rahman inaugurated the project at a ceremony at the BIEZL premises.
The company officials said the advanced gas supply system through DRS, installed with own fund of the BIEZL, will be the key point of energy source for the on-going projects at BIEZL including Bashundhara Chemical Industries Ltd (BCIL), Bashundhara Multi Steel Industries Ltd (BMSIL) and other upcoming projects on the premises.
The particular DRS will be capable of supplying 110 million standard cubic feet natural gas per day, where a required pipeline of 4.4 kilometers has also been set up to connect the DRS with the nearest Commercial Gas Distribution Station.
---