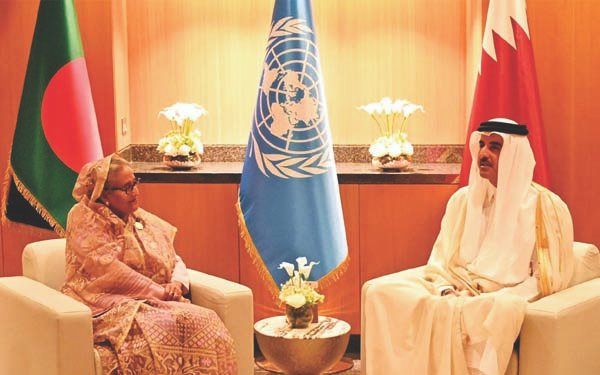 18th March 2023
EP Report
Prime Minister Sheikh Hasina recently sought increased energy particularly Liquefied Natural Gas (LNG) from Qatar to meet the energy demand amid the Ukraine war.
She made the request during a meeting with the Emir of Qatar Sheikh Tamim bin Hamad Al Thani, held on the sidelines of the United Nations Conference on Least Developed Countries (LDC5) in Qatar National Convention Centre (QNCC) in Doha.
Now Bangladesh is importing some 40 Cargos of energy that means 1.8-2.5 MTA, under long term contract said Foreign Minister AK Abdul Momen while briefing reporters after the meeting.
"We want your help. Bangladesh faces energy problems due to the Ukraine war. I want more…. I will renew the contract. I want more LNG," the PM was quoted.
In response, the Emir of Qatar asked how much Bangladesh wants. Then he was told that Bangladesh wants another million tonnes annually (MTA) that means 16-17 Cargo. He said his energy minister would meet the Bangladesh PM to discuss it before she leaves Qatar.
"I want to help you. Qatar will always come to help Bangladesh," he was quoted as saying.
---