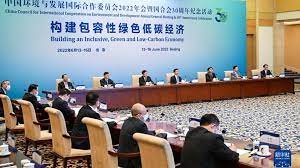 Speakers recognized CCICED for its 30 years of efforts directed at seeking to "enable the international community to understand China, and support China's engagement in the world".
They acknowledged the Council's role as "the unique mechanism that provides a direct channel to Chinese leadership and decision makers" and noted that since its inception, more than 1,000 Chinese and foreign experts have contributed to over 100 research projects, which have yielded over 300 policy recommendations.
The China Council for International Cooperation on Environment and Development (CCICED) convened its Annual General Meeting (AGM) on the theme, 'Building an Inclusive, Green and Low-carbon Economy.'
The meeting brought together leading sustainability experts from around the world to formulate recommendations for China's environment and development policies and its contributions to global environmental governance processes.
---