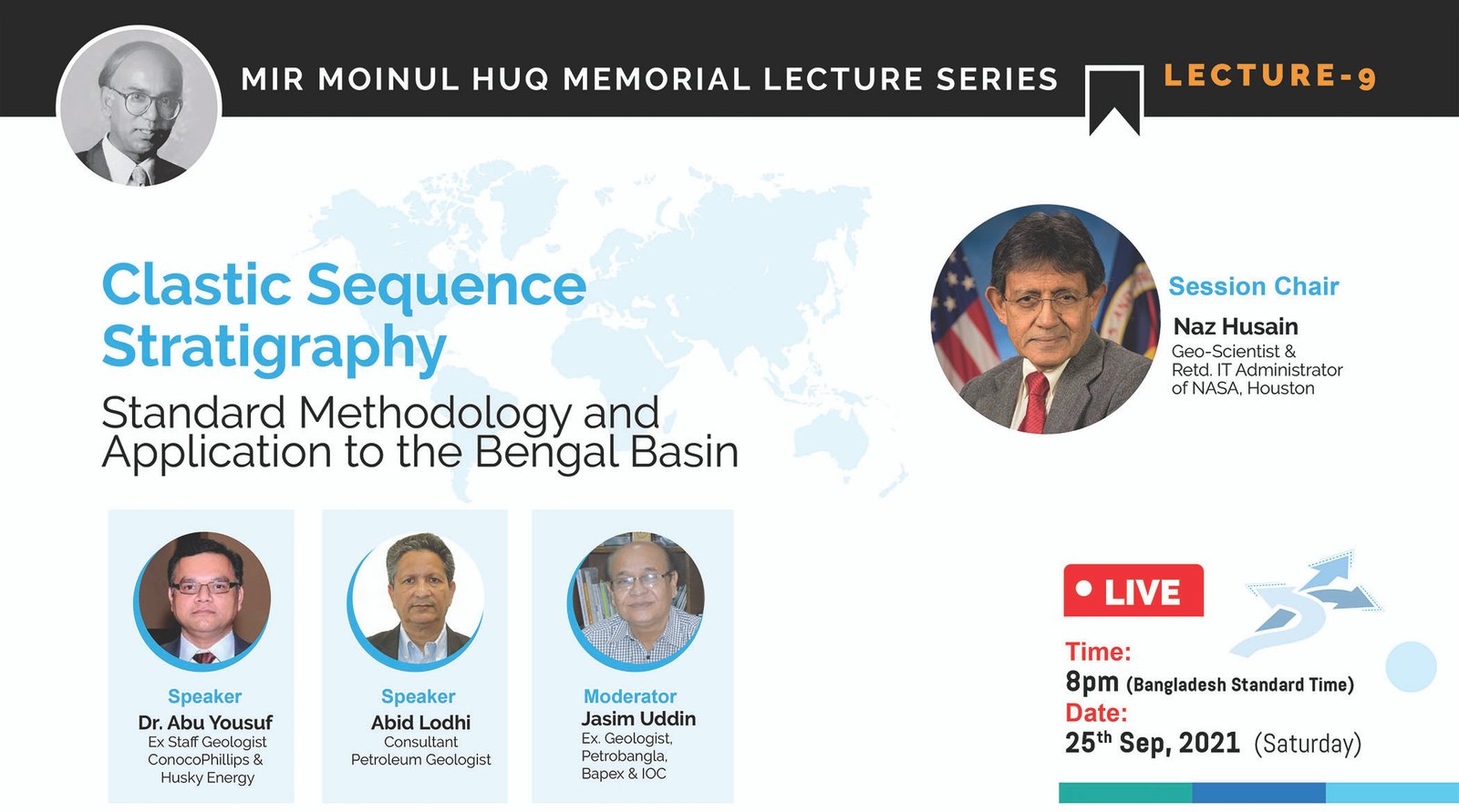 24th November 2021
Mortuza Ahmad Faruque
Mir Moinul Huq Memorial Lecture Series-9 was held on 25 September 2021. This memorial lecture series is being conducted with participation from all over the globe. The session chair was Naz Husain, a retired IT Administrator of NASA, who joined from Houston. He informed that this lecture series is being carried out every month in the honor of Mir Moinul Huq who spent all his professional life in hydrocarbon exploration in Bangladesh. This lecture series is an integral part of remembering Moinul Huq and carrying out his devotion to exploration geology that he left behind. This technical session is providing knowledge and awareness among the geoscientists in the field of oil and gas exploration in Bangladesh. Meanwhile, nine such lectures have so far been arranged online through Zoom application and each lecture were attended by 60-80 geoscientists from Australia, USA, Canada, Norway, UK and Bangladesh. The moderator of the session was Md. Jasim Uddin, Ex Geologist, Petrobangla, BAPEX & IOCs and Nazim Ahmed from Calgary acted as chief coordinator of the session.
The session speakers of Lecture-9 were Dr. Abu Yousuf, Ex-Staff Geologist, ConocoPhillips and Abid Lodhi, Consultant Petroleum Geologist. Dr. Abu Yousuf presented a paper on the concept of Clastic Sequence Stratigraphy, Standard Methodology & Application to the Bengal Basin where he explained that the sequence stratigraphy investigates stacking patterns of strata in response to varying accommodation and sediment supply through time. Unlike other stratigraphic methods including lithostratigraphy and biostratigraphy, sequence stratigraphy is a genetic, process-based approach to stratigraphy. For a meaningful analysis, process-based sequence stratigraphically significance surfaces are carefully identified through integration of available data. These are mappable surfaces that form sequence or system tract boundaries. The sequence stratigraphically significance surfaces allow paleogeographic interpretations, which, in turn, enable prediction of facies and lithologies away from control points. Proper construction of this stratigraphic framework ensures process-based understanding of the stratigraphic architecture and prediction of the reservoir, source-rock, and seal facies characterization and delineation. Combination of in-depth knowledge and hands-on experience can help successful exploration of these risky stratigraphic traps.
Dr. Yousuf has appraised the meeting of the analysis of sedimentary basin fill which involves subdividing a sedimentary basin fill into individual sequences of deposition. The main aim of this is to reconstruct how sediments filled a basin and thereby, how the stratigraphy evolved through space and time. He recommended a model of independent methodology that requires the identification of all sequence stratigraphic units and bounding surfaces, which can be delineated on the basis of facies relationships and stratal stacking patterns. The main aim is to reconstruct how sediments filled a basin and thereby and how the stratigraphy evolved through space and time. One of the key motivations is to predict the distribution of reservoir, source-rock, and seal facies.
Abid Lodhi, a speaker of the session, presented on the application of seismic and sequence stratigraphy in subdividing the thick sedimentary succession concealed beneath the delta plain. A large part of Bangladesh comprises fluvio-deltaic plain and is devoid of rock outcrops, the latter being restricted only in the Eastern Fold Belt. Seismic and sequence stratigraphic procedures are essential for resolving the enormously thick sub-cropping Cenozoic sequence. The inconsistencies in lithostratigraphic correlation and chronostratigraphic classification of the stratigraphic units of the Bengal Basin, debated for a long time which could be addressed by the application of the standard sequence stratigraphic methodology endorsed by the International Stratigraphic Commission.
The Paleogene successions were deposited in a passive margin set up during the drifting phase of the basin history and constitute major transgressive successions. The Neogene successions are characterized by the formation of prograding complexes and the rapid regression of the shoreline since the collision of the Indian Plate with the Eurasian Plate. The basin fill history of the Bengal Basin described here which deals with the post break-up sedimentation and excludes the Gondwana intracratonic basin which is broad, shallow, saucer-shaped basin. Consequently, it will describe the Cenozoic sediments in a basin-wide sequence stratigraphic context which have been deposited and preserved in response to the various basin formation and fill processes.
Abid Lodhi also discussed on regional seismic stratigraphic correlation proposed by Dr. Lietz & Kabir in 1982 and regional seismic stratigraphic transect suggested by Lindsay in 1991. Seismic sequences were defined based on the seismic reflection patterns and seismic properties resulting from changes in the eustatic sea level. He told about mega-sequence framework of Cairn & Shell which were worked out during 1995-2004. The sequence bounding unconformities were formed at certain sea-level positions, during specific geological times and are globally synchronous. The seismic reflectors representing the sequence bounding unconformities are represented by a discrete geological time referenced to the eustatic sea-level event.
Abid Lodhi mentioned regarding weaknesses of Cairn's mega-sequence framework which are lateral variation of seismic facies characteristics of facies-belt within a mega-sequence could not be addressed. He also addressed on Shell's mega-sequence framework became untenable because of mixing of various sequence interpretation methodology and reliance on global eustatic curve for calibration of ages and events undermining the effects of basin dynamics and sediment supply. He proposed a mega-sequence framework in different parts of the Bengal Basin varied due to variable controls such as type, setting and evolution dynamics of the basin, subsidence rates and tectonics, sediment sources, sedimentation and preservation and relative changes in sea level. He discussed on the high-resolution sequence stratigraphy, it`s prospect and reservoir context.
After their presentations, given valuable comments as discussant by Abu Chowdhury, first honors batch of Geology Dept. in Dhaka University and ex-Geophysicist, living in Houston, who did the ground-breaking work in sequence stratigraphy in the early 2000 and Dr. Badrul Imam, Prof of Geology, Dhaka University discussed on their presentation and appreciated their work on sequence stratigraphy. Dr. Nasir Ezazul Huq from UK, Fazlul Karim Azad from USA, Dr. Mohhamed Hossain Tipu and Khalis Ahmed from Calgary were given their comments as participants.
Dr. Lietz, one of the key members of 'German Geological Advisory Group' participating from Germany thanked the organizers for inviting him to express his views. He mentioned that he came to Bangladesh in 1977 with the task to assess the hydrocarbon potential of the country. At that time the focus was on possibility of finding oil in the country. Prakla seimos was brought in to carryout digital multifold survey for the first time in Bangladesh. The data was proven to be of very good quality compared to analog data available. It was of better quality to interpret as well. Regional line PK-1 and several other lines in Surma Basin were shot with an objective to identify sequence boundaries and tie-in with wells. Data exchange with ONGC enabled pin pointing stratigraphic issues. It is of utmost importance to resolve those issues and establish an acceptable stereography of the country.
---