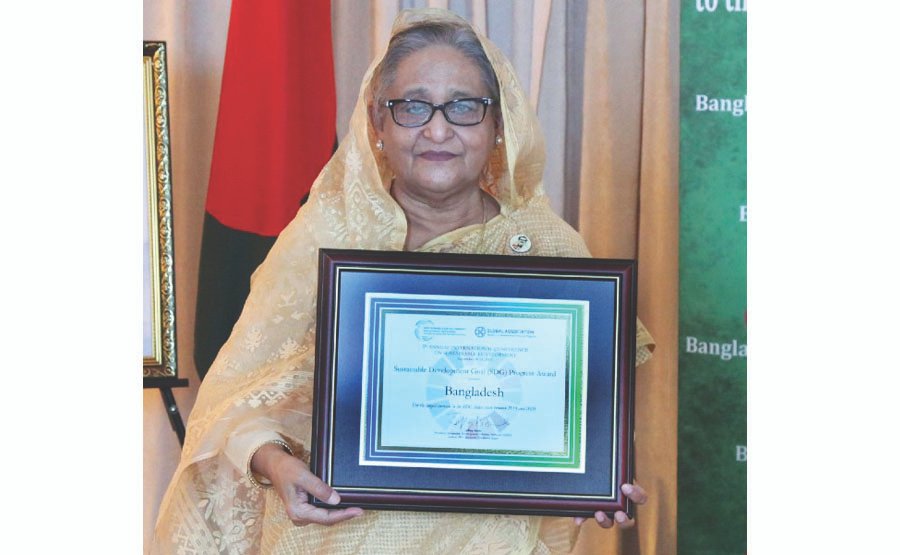 5th October 2021
EP Report
Prime Minister Sheikh Hasina has been honored with the "SDGs Progress Award" in recognition of Bangladesh's achievements in sustainable development from 2015 to 2020.
The UN Sustainable Development Solutions Network (SDSN) and other organizations, including the Earth Institute of Columbia University and the Center for Sustainable Development at Columbia University, jointly gave the award.
The Prime Minister recently accepted the award at the 9th Annual International Conference on Sustainable Development (ICSD), held virtually.
"The SDSN and some other organizations conferred the award for the achievements of Bangladesh from 2015 to 2020. According to their evaluation, what Bangladesh doing is a miracle," said Foreign Minister Dr AK Abdul Momen while briefing reporters in New York.
Accepting the award, Sheikh Hasina dedicated it to the people of Bangladesh.
"This award is a testimony of our endeavors engaged in achieving SDGs. 'Leaving no one behind' is a key part of the SDGs. We'll continue our march towards progress and prosperity so that no one is left behind," she said.
---