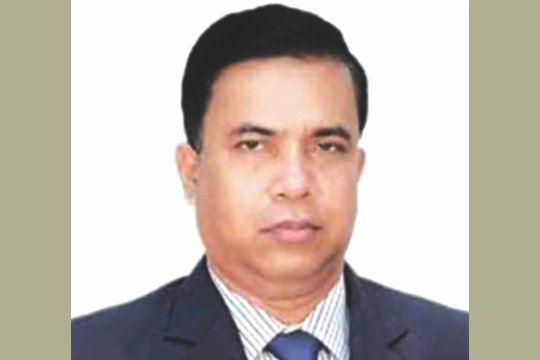 5th October 2021
Shaikh Yusuf Harun
Relevant authorities have assured to ensure power and energy supply to the industrial units to be developed in the Special Economic Zones (SEZs) across the country. We have also planned for developing modern industrial hubs and specialized tourism areas in the country based on the assurance. Activities on the plans are now at various stages of implementation. The economic activities based on these industries would start from 2025 and usher in new era by 2030.
Executive Chairman of Bangladesh Economic Zones Authority (BEZA) Shaikh Yusuf Harun said this in an interview with EP Editor Mollah Amzad Hossain.
Bangladesh is one of the fast growing countries in the world with industrial development as its core strategy. How do you evaluate the economic development programs and energy supply plan of the government?
Please note that our responsibility is planning and implementing the development of SEZs. But the responsibilities for development of required infrastructure and supplying power and energy belong to respective organizations and ministries. We informed respective authorities about the requirements of infrastructure for different SEZs and expected demands for power and energy. Based on their assurance, we have launched our development work. We have received green signals for power and energy supply from the Ministry of Power, Energy and Mineral Resources. But taking into consideration the prevailing gas supply constraints in the country, less gas-intensive industries are being given priority while allocating plots in the SEZs.
The Bangabandhu SEZ is developing a very specialized modern industrial hub. For such an industrial hub, smooth supply of quality power and energy is essential. What initiatives you have taken for ensuring that?
A large number of industries that already got allocations would be in a position to start commercial operations from June 2022. We hope that relevant Petrobangla companies could ensure gas supply. Electricity Generation Company of Bangladesh is setting up a 150MW capacity power plant for power supply. The additional requirement would be met from the power grid. The SEZ would be fully operational in 5 years.
As the Executive Chairman, we think, your priority is to get new investments. For this, you have already conducted some roadshows in different countries, including Saudi Arabia. What kind of responses you are getting so far?
Please note that the Prime Minister during her visit to Saudi Arabia in 2018 signed MOU for allocating 10,000 acres of land at the Mirsharai SEZ. At this stage, we cannot allocate more than 3,000 acres as we could not acquire required land till now. The Saudi authorities have entrusted the responsibility of investment on Bawani Group. During the recent visit, we agreed on revising the MOU. The draft is being prepared. They would start feasibility study following the signing of the revised MOU. This would facilitate attracting a sizable amount of investment from Saudi Arabia.
Environment-friendly development is the priority of Prime Minister Sheikh Hasina. But water, soil and air are polluted from the effluents and emissions of the industries. There are allegations of environmental pollutions from industries of SEZs as well. What actions you would take for complying with environment regulations?
The unplanned industrial areas have caused soil, water and air pollutions. We will have central effluent treatment plants (CETP) at every SEZ. Use of recycled water would be made mandatory. We would work on ensuring zero environment impact policy. We expect no environment pollution would take place in the SEZs.
But soil and water pollution from the planned leather industrial estate of Savar has grown to enormous proposition. What would you say?
Solid wastes of leather industries cause serious pollution to both soil and water. The area was allocated for storing these. The plan of CETP was flawed. Its capacity is well below than what is required. Consequently, the effluents have polluted the adjacent river. But we have made comprehensive plan, taking everything into account.
We are definitely aware that the proven gas reserve is fast depleting. The entire reserve would deplete by 2031 if there is no major discovery in the meantime. The country would then require to be exclusively dependent on imported LNG. The price of gas would increase. Do you think that the planned industrial development would still be possible?
The natural resources of any country is not going to last for ever. Someday it would deplete to zero. That does not mean that the development would stop in that situation. Sooner or later, Bangladesh would also become entirely dependent on imported primary fuel. If Japan and Korea can keep the wheels of their economy rolling relying entirely on imported fuel, why Bangladesh cannot do so? But the commodity of Bangladesh industries would lose competitive edge if cost of fuel grow too high. We hope investors would make their plan taking this matter into consideration. We have given priority to less energy-intensive industries.
Initiative has been taken for setting up of solar parks in the EPZs. Will you take such initiative?
Solar power requires lot of land. It is not possible to allocate land necessary for solar. Floating solar plants can be set up in the Sheikh Hasina Lake being developed at the Bangabandhu SEZ.
Energy efficiency (EE) is a major challenge now. Many initiatives are being taken for achieving this. Have you already prepared guidelines for industries that would be set up in the SEZs for achieving the EE?
Energy efficient industries are the order of the day. But we don't have any central plan about this yet. But for conservative use of water, we have prepared a plan for reusing water through recycling. Discussing with all relevant stakeholders, we would prepare guidelines for energy efficiency of all industries on due course. However, the industries would have to follow the guidelines for rooftop solar.
What is the timeline for complete implementation of all the SEZs? Do you have any strategic plan for completing this on time?
Bangladesh has no alternative but to developing industries for growing into a developed nation. For this, under the directive of Prime Minister Sheikh Hasina, BEZA has launched initiative for developing 97 SEZs, including some belonging to the private sector. G2G zones are also included in these. 12 such zones belong to the private sector.
In the public sector, the work on the largest Bangabandhu SEZ is progressing fast. Now we have got some 11,000-13,000 acres of land against our plan for 33,000 acres. Some 122 entrepreneurs have been allocated the land and 13 of them have already started working there. By June 2022, most of them are expected to start commercial operation. Land has been allocated to Srihotto Economic Zone in Moulvibazar. They are now developing it. A private sector economic zone is being developed at Sirajgonj. Sikdar Group developed an area at Mongla on behalf of the government. But for a court case, investment could not be started there. An area under G2G has been allocated to India. Japan has also been given one in the vicinity of Dhaka. China would also develop one EPZ.
Construction of infrastructure, including embankment and sluice gate, has started in the 965-acre SEZ at Sabrong, Teknaf where 16 entrepreneurs have been allocated land for setting up hotels, golf course and other entertainment facilities. Work on setting up of an ecotourism park on 10,000 acres of land has started at Sonadia, Cox's Bazar. Work on construction of Naf Ecotourism project on the bank of Naf River has also started. TK Group has been allocated 510 acres of land at Dholaghat, Matarbari for setting up a chemical complex. An organization named SIAM Gas got land there. Besides, studies are being carried out for SEZs at Gopalganj, Tangail and Nawabganj in Dhaka.
I think, the progress in investment and development in the SEZs would largely visible from 2025 while we will have to wait until 2030 to see the complete success of the SEZs where investment will continue to take place in future.
---