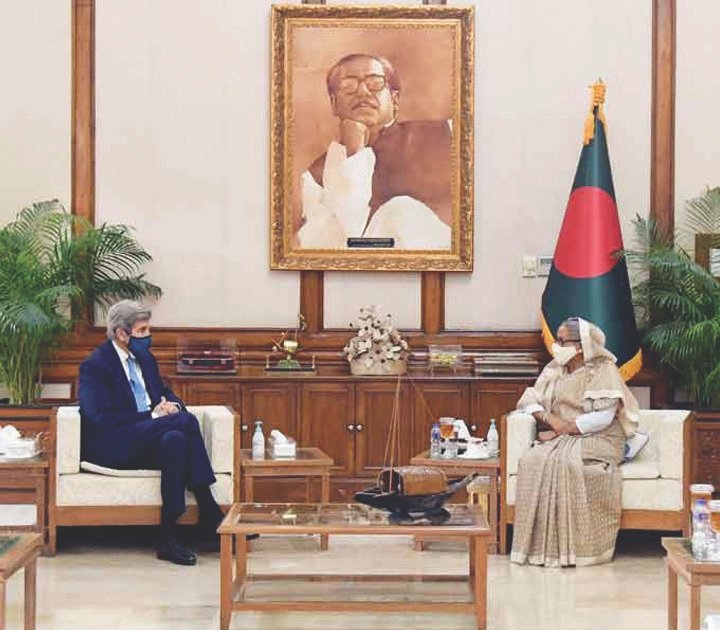 19th April 2021
Farid Hossain
John Kerry, the US President's special envoy for climate, was in Bangladesh on April 9, met with Prime Minister Sheikh Hasina and handed her the presidential invitation to attend the Leaders' Summit on Climate Change to be held virtually April 22-23. The visit was short but its impact on US-Bangladesh relations, especially in energy cooperation, is expected to be long and significant.
Kerry, wearing a black Covid-19-protection mask, arrived in Dhaka as part of his global tour that took him to several countries including UAE, India, Bangladesh and China. The virtual Leaders' Summit has been called by President Biden to reinforce Washington's return to the 2015 Paris Accord on climate change signed by 196 countries and organizations. Biden's predecessor Donald Trump, who scoffed off the climate change, as nonsense, pulled out from the legally-binding accord prompting worldwide criticisms, including from allies. So, Biden's commitment to the accord has been cheered as the US is one of the major emitters of harmful greenhouse gas that leads to global warming. Without the cooperation from developed countries like the US carbon emissions can't be reduced to the desired level.
Even after the US return the task ahead is tough. The leading Greenhouse emitters must work sincerely to keep their commitment and achieve the target of limiting the global warming to well below 2 degree Celsius, preferably to 1.5 degree Celsius, compared to pre-industrial levels. The accord has been called a landmark as it has for the first time made it binding for all the signatories to fight climate change and promote measures to adapt to it.
During his meeting with PM Hasina, the US envoy mentioned the previous Obama administration's contribution of US$1 billion to Green Climate Fund , which was supposed to be a US$100-billion fund with participation of other developed nations. The Biden administration is planning to contribute another 2 billion dollars to the fund, from where highly vulnerable countries like Bangladesh can get assistance. These countries, including Bangladesh, are victims of greenhouse pollutants even though their contribution to emission is negligible.
Bangladesh, a low-lying country of 170 million people, many of them living in high-risk coastal areas, is currently the chairman of the 40-nation Climate Vulnerable Forum. Unless the world acts promptly, a large part of the country may go under water displacing up to 18 million people by 2050. Abnormal rise in sea level due to warming has long been predicted by experts. In a study done in 2013 up to 6 million people may have already been displaced because of climate-change-induced natural disasters.
In the years since Hasina's return to power in 2009, Bangladesh has had a big leap in power generation; its installed capacity rising to more than 21,000 MW, though the actual generation is hovering from 9,000 to 13,000 MW. Much of generation comes from fossil fuel and imported oil. Green and renewable energy like biogas and solar power still account for 3 (three) percent of the total generation.
Hasina told Kerry that Bangladesh wants to develop fast and so her government is prioritizing energy. "We need more energy for meeting our development goals," she said.
Slowly but steadily Bangladesh is increasing solar energy with 5.8 million homes and businesses having 5.8 million connections right now. Bio-gas plants at rural homes are being encouraged and built. Attention is also being paid to wind power generation.
But hydro-electricity plants is one major area where Bangladesh is eyeing sub-regional cooperation with Nepal, Bhutan and India in setting up plants. Bangladesh has currently only one hydroelectricity plant in the southeast.
Much of Bangladesh power generation is based on natural gas, which is however dwindling causing concern but at the same time leading to a review of the entire energy sector. A shift to the green energy is by no means an easy task. It will take time as the contribution of renewable energy to overall power generation is low. Solar energy is gaining some speed, but the need for a big chunk of money in initial investment makes many to rethink and go slow.
The US and other developed nations should come forward with funds to promote renewable energy. India, the close neighbour of Bangladesh, is making some progress in solar energy. Bangladesh can explore more cooperation with India.
The writer can be reached at : [email protected]
---