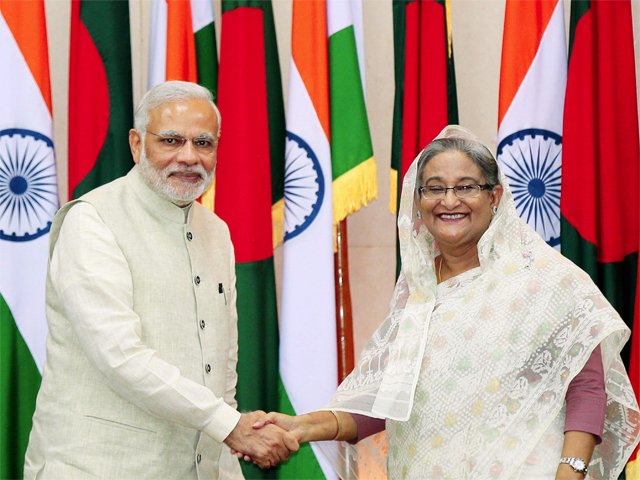 5th April 2021
Farid Hossain
Bangladesh is basking in the successful celebrations of the 50 years of its independence and the birth centenary of the nation's founding father Sheikh Mujibur Rahman. Braving a surge in the year-long Coronavirus pandemic Prime Minister Sheikh Hasina gladly greeted Indian Prime Minister Narendra Modi and leaders from the Maldives, Sri Lanka, Nepal and Bhutan who all came for the physical participation in the well-organized celebrations that went flawless. Video messages were sent by world leaders, including Chinese President Xi Jinping, US President Joe Biden, British Prime Minister Boris Johnson, and Russian President Vladimir Putin.Video message was read out also from Imran Khan, the prime minister of Pakistan against whom Bangladesh had fought its War of Liberation in 1971 with all-out help from India. Thus the festivities acquired a global character reinforcing international image of the 50-year-old nation.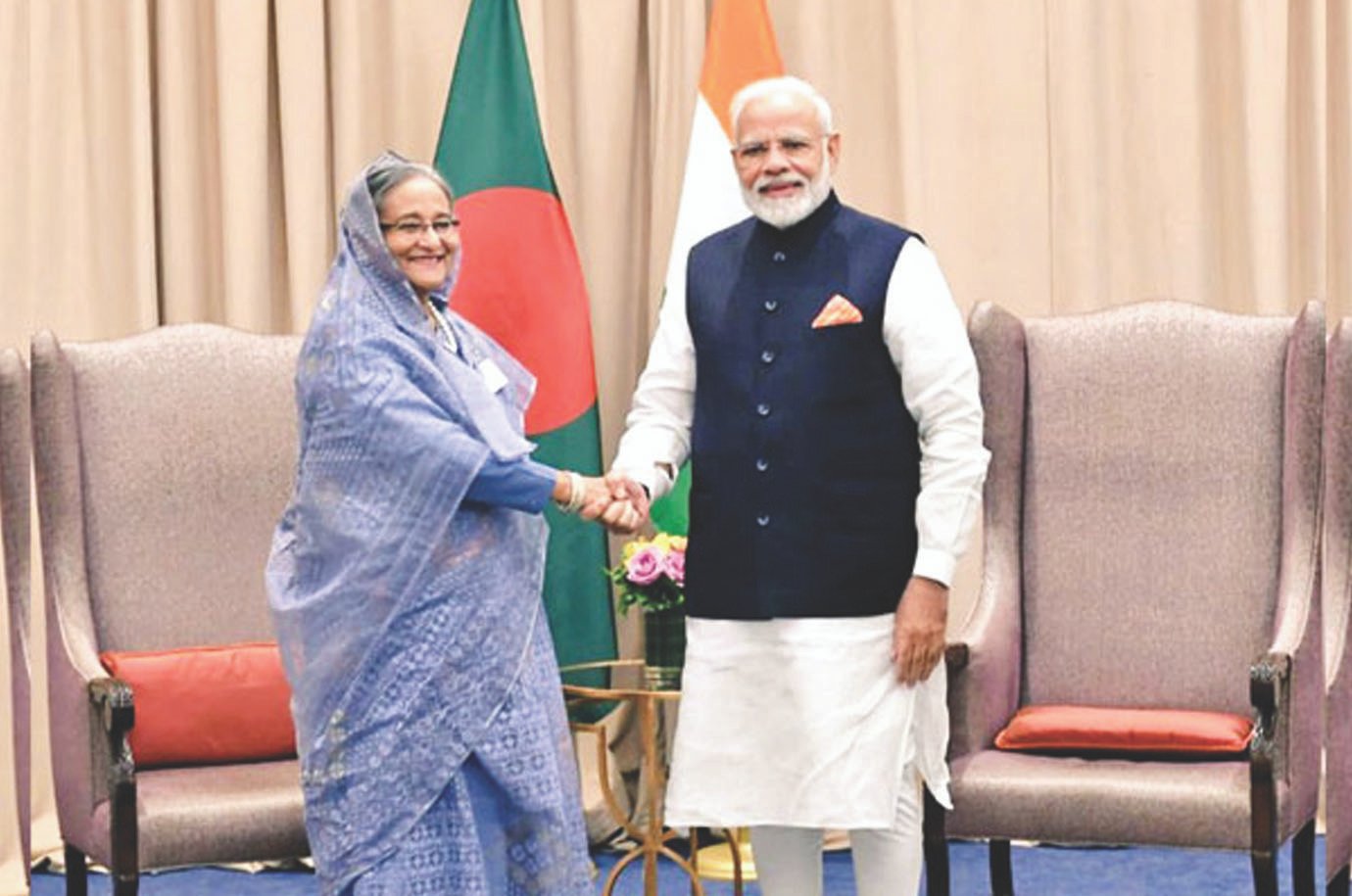 A common thread running through the world leaders' speeches was the homage paid to Sheikh Mujib and the praise for his daughter Sheikh Hasina for her able leadership in the transformation of her nation from a basket case to an international role model of development. Bangladesh is now set to be formally recognized as a developing economy (a leap from LDC) by 2026. The graduation was supposed to have taken place in 2024, but delayed by two years because of the pandemic that has hit the global economy.
Bangladesh's rise from war-inflicted ruins to a robust economy with enviable social development has not been a catwalk. The nation had suffered first post-independence jolt on Aug. 15 in 1975 when its founder was assassinated along with most members of his family. Daughters Sheikh Hasina and Sheikh Rehana had survived by sheer luck as they were at that time away from home in Germany. Since the tragedy Bangladesh had been subjected to two successful military coups and 19 other failed attempts. The country had returned to the tracks of democracy and development only after Sheikh Hasina won an election in 1996 bringing her father's party Awami League back to power after 21 years. She immediately launched a difficult task of repairing her country's relations with India, severely damaged by post-Mujib governments, known for their bias against India. She took care of New Delhi's security concern, signed the 30-year-old treaty in sharing the water from Ganges River and a peace accord with Shanti Bahini rebels ending years of insurgency in southeastern hills bordering India. These had been huge achievements for Hasina in her first term. After losing the 2001 parliamentary election Hasina had to wait in the opposition bench until sweeping another election in 2008 and since then she has been at the helm of Bangladesh, largely unchallenged by her weakening political opponents.
From its birth to its current stage of moderate prosperity Bangladesh has had one steady friend by its side: India. So, it was an appropriate decision to invite the Indian prime minister to share Bangladesh's joys on the Independence Day, March 26 in the concluding session of the 10-day festivities. This also coincided with 50years of establishment of Dhaka-New Delhi diplomatic relation. Apart from Modi's visits to two Hindu temples (one of them a Matua temple) outside Dhaka as his personal choice, the Indian prime minister had had his hands full with a guest-of-honor speech where he quoted freely from Sheikh Mujib, paying homage to independence martyrs and the nation's founder and bilateral talks with Sheikh Hasina. In between he found time to meet young talents of Bangladesh and some opposition politicians. However, the main opposition Bangladesh Nationalist Party was ignored as there was no meeting scheduled with it.
During the visit Dhaka and New Delhi inked five MoUs in key areas like disaster management, sports and youth affairs, trade and technology. Several projects were virtually opened, including "Mitali", a passenger train service linking Dhaka with New Jalpaiguri, West Bengal. A new road called, Swadhinata Sarak, from Bangladesh's western Mujibnagar to West Bengal was opened besides the earlier opening of a bridge over River Feni linking Bangladesh with Tripura and Chilahati-Haldibari train sevice.
The key takeaway from Modi's visit, first to any foreign country since the outbreak of Corona pandemic, is however the further strengthening of connectivity, seen as the most vital factor in achieving economic growth in the South Asian region and beyond.
In her thanks-giving speech Sheikh Hasina gratefully recalled India's generous support - sheltering 10 million Bangalees fleeing Pakistani genocide, providing military training to Mukti Bahini guerrillas and finally launching all-out military operation in the final 10 days of the war. In response to Modi's statement that India and Bangladesh will work together for uplifting their people through enhanced cooperation in a state of peace and stability, Sheikh Hasina urged New Delhi to take lead in taking the regional cooperation ahead for common prosperity of the region. Hasina hailed the connectivity as an essential ingredient of productivity and called for extending its beyond India and Bangladesh roping in Bhutan and Nepal, two landlocked neighbors. She also wants India to help BBIN and the tri-nation vehicles movement agreement (India, Bangladesh and Nepal) take off in the real sense. Bangladesh has also offered to be part of India, Myanmar, Thailand highway to take the benefits of connectivity beyond the region.
Not long ago India's request for road transit through Bangladesh to connect to its northeastern region was a no-go subject for Dhaka. That changed dramatically since Hasina began her second term in 2008. Bangladesh and India are now connected by road, rail, river, sea and air. The rail connection is being revived to the stage that had existed before the 1965 war between India and Pakistan. So is the road. Bangladesh has agreed to let India use the country's main Chittagong Port to carry goods from West Bengal to Tripura and onwards to other northeastern states reducing the transportation length from 1,200 kms to only 100 kms. Dhaka looks forward to Nepal and Bhutan using its Mongla Port and uncder-construction Pyra Port trough a stretch of Indian territory to the north.
The economic benefits from the connectivity and energy cooperation are immense. A recent World Bank study says Bangladesh's exports to India will increase by 182%, while India's by 120% if the two countries sign a Free Trade Agreement (FTA).
Along with increased connectivity and the potential FTA and a comprehensive economic cooperation accord India and Bangladesh can perform miracles. And the rest of the region with them.
---