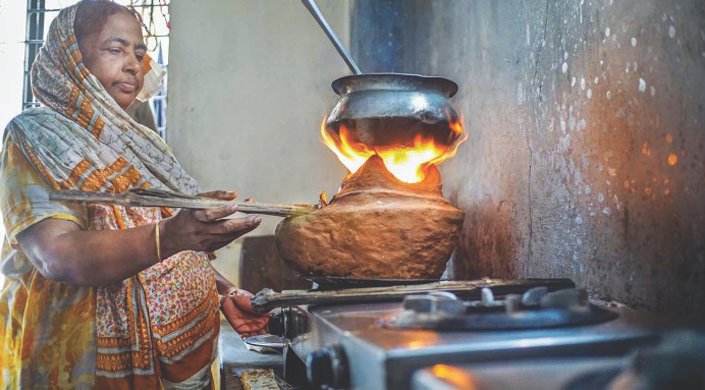 Thousands of people in different parts of capital Dhaka suffered badly after being hit by a severe gas crisis as a Titas connection was damaged in Amin Bazar on the outskirts of the city recently.
While Titas and Roads and Highways Department (RHD) officials traded blame for the situation, many of the affected people did not get the gas connection back on the day.
Titas Gas Transmission and Distribution Company Ltd officials said the gas line was damaged by an RHD contractor.
The problem began after the feeder line was damaged during construction work of Salehpur bridge over the Turag river in Amin Bazar, Titas officials said.
RHD officials, on the other hand, said the line was installed on RHD land without permission and that they were not aware of its presence.
Arguing that the RHD cannot be held responsible for the people's suffering, the officials said no such gas line should be installed so close to a main road.
Titas officials said they took due permission during the installation of the gas line.
In the meantime, thousands of people in Mohammadpur, Lalmatia, parts of Dhanmondi, Jhigatola, Razabazar, Indira road, Pirerbagh, Hajaribagh, and Eskaton suffered due to a shortage of gas.
Unable to get gas at home, those people bought food from restaurants. Some used electric cookers
---