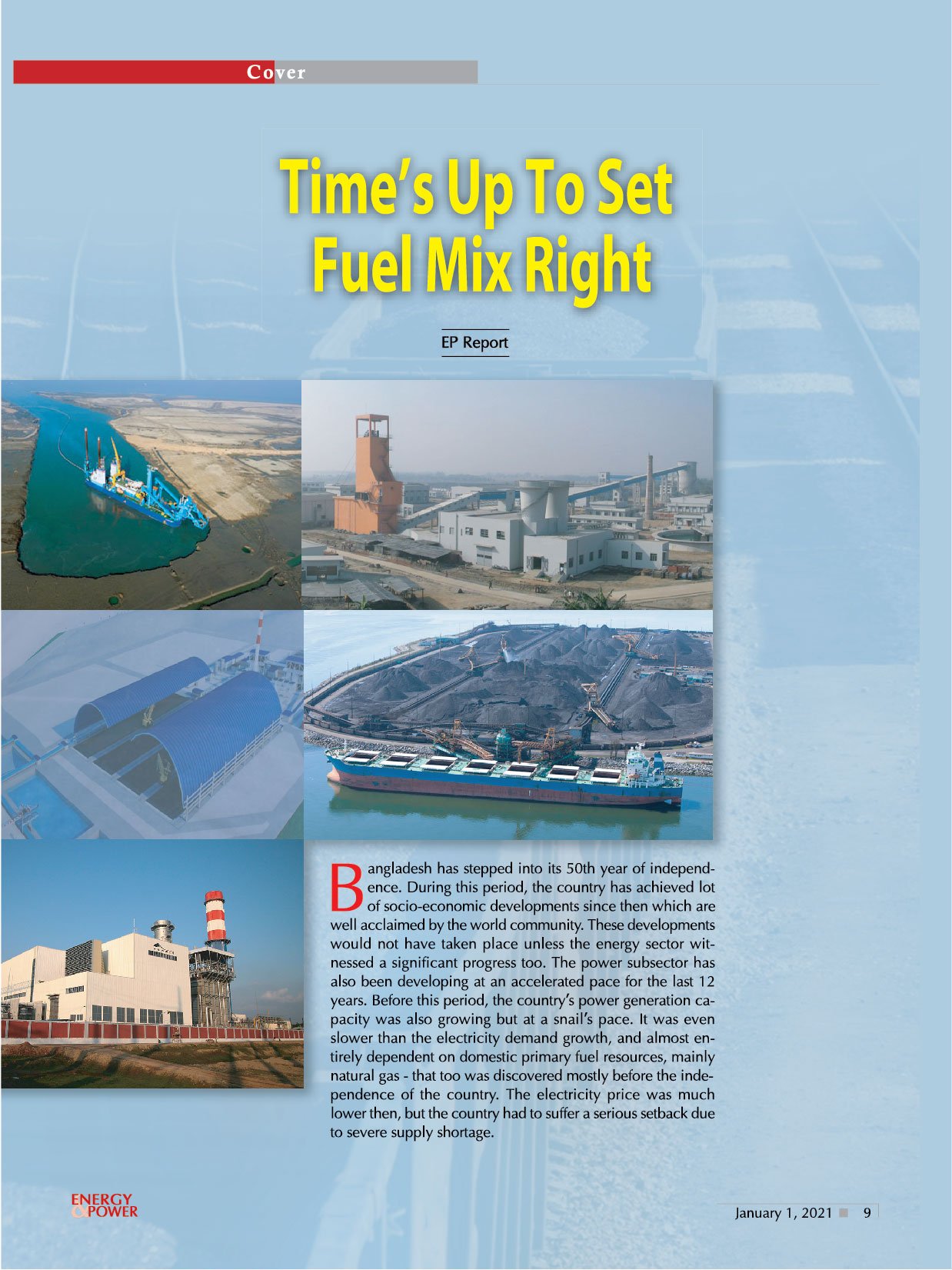 4th January 2021
EP Report
Bangladesh has stepped into its 50th year of independence. During this period, the country has achieved lot of socio-economic developments since then which are well acclaimed by the world community. These developments would not have taken place unless the energy sector witnessed a significant progress too. The power subsector has also been developing at an accelerated pace for the last 12 years. Before this period, the country's power generation capacity was also growing but at a snail's pace. It was even slower than the electricity demand growth, and almost entirely dependent on domestic primary fuel resources, mainly natural gas - that too was discovered mostly before the independence of the country. The electricity price was much lower then, but the country had to suffer a serious setback due to severe supply shortage.
Immediately after taking office in 2009, the new government had taken contingency measures by adopting necessary policies to quickly increase the power generation and meet the underserved demand. The initiatives yielded expected results and the generation capacity by now stood apparently at much higher level than that of the demand while the supply coverage already reaching almost 100 percent of the country. However, the price of electricity also accelerated at the same pace due to import of primary energy, mainly fuel oil, at much higher cost than the domestic natural gas for power generation. The price escalation of the electricity, as an obvious consequence, also caused discomfort to the consumers – the industrial consumers having captive generation facilities with domestic natural gas supplies are not even willing to take power supply from the grid mainly due to higher cost. Power supply disruption is another cause though.
Considering the downside risks of the development in the power subsector and for the sake of its sustainability, experts at a virtual discussion on December 20, 2020 stressed the need for making energy supply 'affordable' to all categories of the consumers – from households to industries – for ensuring overall sustainable development of the country. As a strategy, they suggested restructuring the fuel mix for power generation with local resources available, and expediting exploration activities in the onshore and offshore areas, which has largely been neglected for last 50 years, barring few exceptions.
"We must review the fuel mix in the context of our affordability. Time has come to think seriously about it. We can only give priority to imported LNG if the long-term LNG price is less than natural gas from deep offshore," former Principal Secretary to the Prime Minister's Office and former Power Division Secretary Abul Kalam Azad told the meeting. He also stressed the need for considering innovations in solar power to deepen the fuel mix basket. He suggested utilizing the rooftops of railway station, both sides of the railway tracks, bus terminals and other empty and unused spaces for installation of solar power plants.
Energy & Power magazine organized the discussion titled "50 Years of Energy Sector: Achievements and Setbacks", moderated by its Editor Mollah Amzad Hossain.
Engr. Khondkar Abdus Saleque, Consulting Editor of Energy & Power, presented the keynote paper. Appreciating the developments achieved so far, he listed the setbacks of last five decades and possible challenges ahead, stimulating the discussion. He pointed out that major changes in the fuel mix in Power System Master Plans (PSMPs) have affected the system reliability and sustainability. The country is moving towards exclusive reliance on imported primary fuel, expressing the fear that it would not be possible to absorb the price shocks of volatile global fuel market. The supply chain might also disrupt from time to time. To offset the downside risks, an affordable and rational fuel mix of domestic and imported resources should be planned.
Amid fast depletion of domestic natural gas reserve, he said that the diversification of the fuel mix was a right initiative, but the major setback was that the government failed to take a decision on mining own coal, and planned to increase the dependence on imports. Petrobangla has also failed to expedite petroleum exploration. Prolonged delays in offshore exploration are a major failure. Exclusive reliance on capacity-constrained Bapex for onshore exploration proved to be counter-productive. Another major mistake was to let Gazprom work for development wells in Petrobangla-owned gas fields. Even a multi-client survey in the deep-water region of the Bay of Bengal could not be started in last seven years.
Engr. Saleque identified primary fuel supply as a major challenge for long-term energy security of the country. In business as usual, local gas reserve may completely deplete by 2031 if not replenished soon with new discoveries. A significant depletion may have to be faced from 2025.
Taking part in the discussion on the disappointing issues, Mr. Azad, who is the Special Envoy of the Climate Vulnerable Forum (CVF), pointed out that Bangladesh is supplying power at the lowest tariff. Through enhancing efficiency, it would be possible to supply electricity at more affordable cost. As per the UN Human Development Index, Bangladesh has advanced few steps ahead of Pakistan thanks to electricity supply that played a major role here.
He said that there was a scope for meaningfully strengthening the Bangladesh Petroleum Exploration and Production Company Limited (Bapex). But its management is interested in staying under the government pay scale. A proposal was brought for special higher pay scale. But for reluctance of Bapex, it was withdrawn.
Muhammad Aziz Khan, Chairman Summit Group, mentioned that at the age of free market economy, development progresses smoothly in a democratic country. Bangladesh has both and that is why Bangladesh is developing at a faster pace. The private sector has invested over Tk 80,000 crore during the past 12 years which is a huge achievement. Notable success in power and RMG sector has been achieved and now this must be translated into other industries.
Land is a major roadblock for industrialization of Bangladesh. The 100 under implementation Special Economic Zones (SEZ) would require huge electricity. The COVID-19 pandemic has created some impacts, but we have to reduce the risks of climate vulnerability. Solar and wind would not be able to make major contributions in Bangladesh. So, we will have to give priority to gas and LNG. I am a strong believer of gas to power technology. All transports can be converted into auto gas whether the gas comes from the local source or imported LNG. Gas from deep offshore would cost at least 7 US dollar now. We get LNG at lower cost now. We have to carry out feasibility studies about exploration of gas from deep water.
In response to criticism about capacity charge, he said the investors need return on each investment. It does not matter whether the investment is done from own source or borrowed from financial institutions. The capacity payment is just like that. We have to bear the brunt in other areas as well.
Muqtadir Ali, former Chairman of Petrobangla and Bangladesh Petroleum Corporation (BPC), said that the development work of Bapex's own field is being given to other company. How it will grow as a self-sustaining company? He also pointed that the Bheramara–Khulna pipeline has been constructed 8 years ago, but is not being utilized until now. The discussion about construction of a Single Point Mooring (SPM) has been taking place since 1980 while the construction of the second refinery is also being discussed from 2000. But it has not seen the light of the day yet. The prolonged delays in project implementation must be done away with. We are keener about doing works engaging foreign companies. We must give more opportunities to local companies. We will remain deprived unless we get out of long delays. We must not give priorities to foreign companies.
Engr. Khaled Mahmood, former Chairman of Bangladesh Power Development Board (BPDB), said it is a pleasure to know that all gas- based power plants are now using gas turbines. The power sector could not achieve such success without own fuel. There was a time when, especially during Ramadan and irrigation season, gas supply for CNG and fertilizer factories used to remain suspended. Now that situation does not prevail anymore. The costs would increase for exclusive imported fuel dependency. Extraction of local coal would benefit us.
Significant advancement has been made in power generation, but some issues like low voltage and others are being addressed now, he informed the meeting.
Mortuza Ahmed Faruque, former Managing Director of Bapex, mentioned that Bapex has developed expertise to drill development wells and workovers. In the past, one development well required a year to complete it, but now this is being done in only 3-4 months. Lot of success has been achieved in workovers as well.
Some 11 wells have been drilled in greater Chattogram and Chattogram Hill Tracts region. There is significant potential for gas discovery in the region. But, due to high court embargo, no work could be done for last 15 years. However, he said, Bapex alone cannot work in the tight structures of the CHT and suggested going for PSC or JVA. There is significant volume of gas at shallow structures in Sylhet region.
Prof Dr. Firoz Alam, a chartered professional engineer, academic and researcher from RMIT University in Australia, appreciated that the per capita power consumption in Bangladesh has increased 40 times to 445 kWh in 2019 from a meager 11 kWh in 1971. In 1971, India's per capita power consumption was 9 times higher than Bangladesh. This gap reduced to 2.6 times in 2019. This is a remarkable achievement, he said.
Nevertheless, he said, Bangladesh still needs to go a long way as the country's per capita power consumption is significantly lower than most countries with similar per capita gross national income (GNI). Emphasizing on the need for ensuring uninterrupted supply of quality power, he urged the stakeholders concerned to link power supply with the income generation activities in rural Bangladesh. He also underscored the need for assessing the power demand with a bottom-up approach instead of top-down approach and based on regular consumer surveys, energy end user modeling, etc. as the current practice is based on historic demand pattern and forecasts of future economic growth which could be misleading.
Engr. Rezwanul Kabeer, Managing Director of Energypac Power Venture Limited, mentioned that in many countries joint venture between local and foreign companies is mandatory for the projects implemented with local funds. We need similar policy as local companies cannot flourish without enabling policy supports. Local EPC companies can made significant contributions to GDP if they are provided with equal tax and other fiscal incentives. Local EPC companies need 15% tax, 10.5% AIT and 5% other taxes. If these areas are addressed, local companies can make more contributions.
Experts said the taxes are not applicable for the foreign EPC contractors. For awarding works to a local contractor, a company like Summit requires accounting for at least 35% more cost. Such disparity must be done away with. Local EPC contractors could add more values through making far greater contributions if parity could be established.
They said the issues and challenges of the local EPC (Engineering, Procurement and Construction) contractors can be resolved through discussion with the government. Government is also very keen to utilize the local expertise and capability.
In conclusion, the experts considered that Bangladesh must not lean towards a particular primary fuel and stressed the need for a well-thought fuel mix for reliable and affordable power generation and supply. They warned that exclusive reliance on imported primary fuel would pose a huge risk. Local coal can be the most economic primary fuel for power generation. Mine-mouth power plants would be the most ideal solution for avoiding coal transportation difficulties. They recommended reorganizing the Petrobangla and its companies in a manner that those could take part with IOCs to explore and develop the domestic energy resources which could be the most effective way of powering the country's economic growth engine.
---