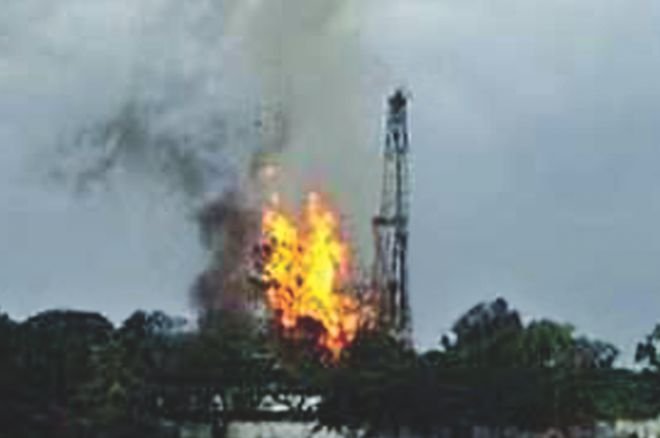 Canadian company Niko Resources was negligent and thus liable for the blowout that took place at Chhatak gas field in Tengratila of Sunamganj in January 2005 while Niko's Bangladeshi subsidiary was carrying out drilling operations there, a World Bank tribunal found.
The tribunal formed under the Convention on the International Centre for Settlement of Investment Disputes (ICSID) also concluded that Niko must compensate Bapex for direct loss and damage caused by the blowout.
The compensation owed by Niko to Bapex includes the gas that escaped from Chhatak 2 Well. Niko must also pay compensation for direct damages to environment and health of the people in the surrounding area.
The quantum of such compensation is to be determined at the next phase of the pending arbitration case.
Bangladesh, on the basis of reports from international experts, filed a claim for damages before ICSID in March 2016 seeking $118 million for Bapex and $896 million for Petrobangla and Bangladesh as compensation for the 2005 blowouts.
Although the tribunal gave the verdict on February 28, Nasrul Hamid Bipu, state minister for power, energy and mineral resources, disclosed it through a video conference with journalists yesterday.
The ministry had a plan to disclose the verdict in early March but the coronavirus outbreak delayed it, ministry sources said.
"After ten years of complex and prolonged proceedings, the tribunal has now concluded that the blowout was caused by Niko's breaches of its obligations as an operator under the Joint Venture Agreement (JVA) between Niko and Bapex," the ministry said citing the verdict.
"The tribunal found that Niko was liable because of its failure to conduct operations diligently and in conformity with the standards of the international petroleum industry," it mentioned in a press statement.
The ICSID's verdict came more than two years after the High Court in August 2017 declared illegal and void the two deals Niko Resources Bangladesh Limited, a subsidiary of Canadian explorer, had signed with Bapex and Petrobangla, as those were procured through corruption.
The HC also directed the authorities to "revert back" to the state the assets Niko possessed through the Joint Venture Agreement (JVA) and the Gas Purchase and Sales Agreement (GPSA) signed in 2003 and 2006.
Several other cases are now pending with national courts regarding the granting of the gas fields to Niko.
---