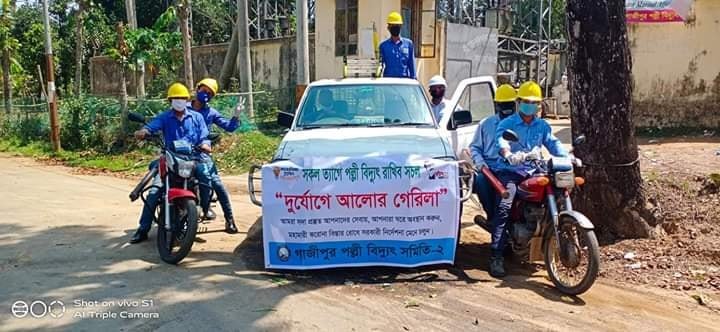 Bangladesh Rural Electrification Board (BREB) is set to serve people across the country in an innovative way to ensure uninterrupted supply of electricity in response to the coronavirus outbreak and severe weather season.
To this effect, REB has taken an innovative initiative called 'Durjog e Alor Guerrilla' for smooth service to its consumers.
Each Palli Bidyut Samity has its linemen, linemen or supervisors of mini construction firms, regular village electrician and trained village electrician and some other skilled workers, said a REB statement.
Now, REB will form 'Durjog e Alor Guerrilla' unit across the country with the blending of its manpower and local manpower.
With this new initiative, each headquarters of Palli Biduyut Samity, zonal office, sub-zonal office, area office and complaint centre will have necessary guerrilla units where one unit will remain on duty and other units will be kept on standby.
In the statement, BREB said its operation has become a little bit tough due to the fast spreading coronavirus and lockdown.
Besides, it will be difficult to ensure electricity if any lines get disrupted due to the bad weather or monsoon rain in the coming months.
Considering the facts, they have decided to form the new innovative unit across the country so that they can serve the people better.
---