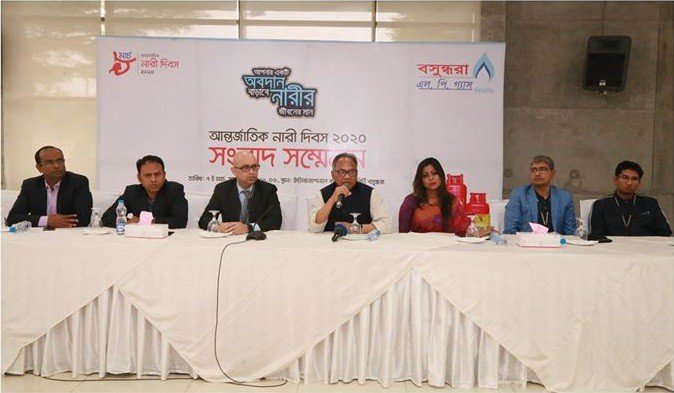 20th March 2020
EP Report
Country's leading liquefied petroleum gas (LPG) brand Bashundhara LPG will provide sustainable employment to 10 indomitable women in every three months who are struggling for managing their livelihood through small initiatives, officials said at a press meet recently.
Marking the International Women's Day, Bashundhara LPG, a sister concern of Bashundhara Group, has taken the project titled 'Your single contribution, let increase livelihood of women' which will manage sustainable employment to 10 underprivileged women in every three months through its supply chain.
Noted littérateur and Kaler Kantho Editor Imdadul Haq Milan and singer Anima Roy were special guests at the press meet at International Convention City Bashundhara (ICCB) in the capital.
Among others, Bashundhara Group Head of Business Development ZM Ahmed Prince, ICCB Chief Executive Jashim Uddin, Bashundhara LPG Chief Financial Officer Mahbub Alam, General Manager Zakaria Jalal and Deputy General Manager Sarwar Hossain were present on the occasion.
Officials informed that Bashundhara LPG will expense for livelihood development of indomitable women showing respect to their struggle to spark as bread earner of families and to contribute in workforces.
---