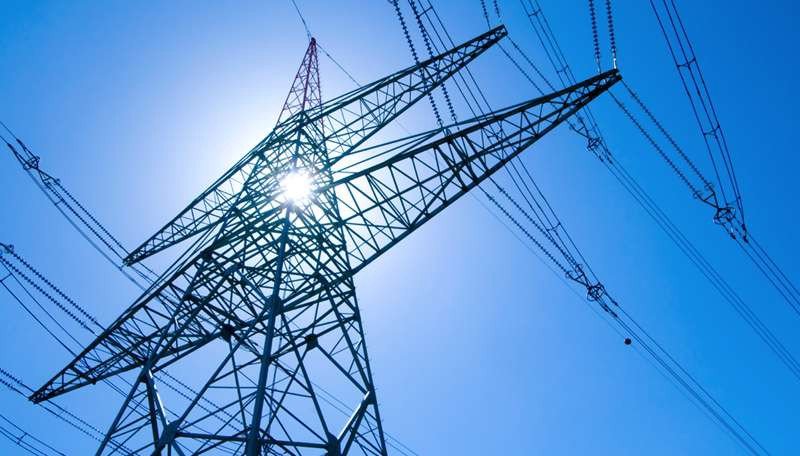 19th March 2020
Khandkar Abdus Saleque
Surrounded by India and not very far from China, Bangladesh is in a strategic geographical location to be developed as a vibrant energy hub and linkage between energy-hungry South and South Asia. The South Asian Association for Regional Cooperation (SAARC) as a regional forum of eight countries (Afghanistan, Pakistan, India, Sri Lanka, Bangladesh, Bhutan, Nepal and Maldives) achieved very little in energy trading for regional and global geopolitics. The prolonged political rivalry between India and Pakistan, and situation in Afghanistan acted as a major impediment for sharing resources of Iran and Turkmenistan in the SAARC region. The Bay of Bengal Initiative for Multi-Sectoral Technical and Economic Cooperation (BIMSTEC) and Bangladesh, Bhutan, India and Nepal (BBIN) are two other forums which now have potential for social and economic integration for exploring and sharing huge untapped energy resources of the Bay of Bengal. Hope Rohingya issue would be resolved amicably through active initiatives of BIMSTEC countries for sustainable benefits of all countries. This write up will focus on potential for collaboration in energy and power sector in the region. Particular emphasis would also be given on how Bangladesh can grow as a regional energy hub.
Located in the proximity of two of the fastest growing economies of the world – China and India – Bangladesh cannot only achieve sustainable energy security of its own but can also act as a conduit of energy and power trading in the region if the existing and emerging opportunities are effectively harnessed and exploited. For that to happen, Bangladesh needs to organize a very dynamic taskforce of qualified and committed team of Bangladeshi experts (resident and non-resident Bangladeshis) and adopt a very comprehensive program based on extensive research. We are concerned that business as usual bureaucrat-dependent efforts may not bring that much dividends. The tri-nation Myanmar-Bangladesh-India gas pipeline, if implemented as agreed in the draft MOU initialed at Yangoon in February 2005, could change the energy portfolio of this region. But for lack of political far sight and failure of Indian and Bangladeshi bureaucrats, the opportunity was lost. The very much feasible SAARC power grid even in BBIN region did not proceed at an expected pace. The huge untapped petroleum resources in the Bay of Bengal almost remained unexplored even after amicable settlement of maritime boundary disputes among Bangladesh, India and Myanmar. We are not bringing into reference Turkmenistan – Afghanistan - Pakistan – India (TAPI) pipeline with probable extension to Bangladesh here. When two countries – Pakistan and India – do not even play cricket in each others' land, how can they share energy and let one country's energy transit. In such a situation, it is highly unlikely that major energy cooperation would happen soon under SAARC or SARR/IE initiatives.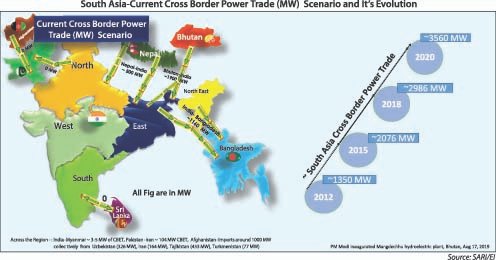 There are some concerns about major energy collaboration happening soon in the BIMSTEC region (Bangladesh, India, Myanmar, Sri Lanka, Nepal, Thailand and Bhutan). Member countries must be very proactive about resolution of Rohingya Crisis in Rakhaine area. It has soured the relation between Bangladesh and Myanmar and may dampen the efforts for meaningful win-win collaborations. China is a very important actor in the region. BIMSTEC without China being involved in some way or other may not proceed appreciably.
Bangladesh, Bhutan, India and Nepal (BBIN) appear to us a more possible initiative having huge potentials. These countries are close in proximity and already have connectivity and energy trading. Bhutan is already an electricity surplus country. This tiny land locked country can contribute significantly in supplying its present excess hydropower and potential generation capacity to BBIN power grid. Nepal at present does not have surplus. But it has huge potential for hydropower which, if jointly developed, can be a huge source of supply in the region for achieving sustainable energy security. There have been lots of talks but not much achievement so far. However, BIMSTEC initiative, if successful, can have joint venture successful initiatives in exploiting maritime resources in territorial waters and Exclusive Economic Zones can have significant collaboration in developing human resources.
SAARC Energy Ring & Energy Collaboration Under SAARC
There has been many meetings, workshops, bilateral and multilateral dialogues about setting up of SAARC power and energy grids for energy and power trading among SAARC countries. Donor agencies, development partners and even research institutions carried out extensive research on the problems and prospects of energy collaborations and win-win multilateral energy trading for benefits of all countries of the region. Launched with five countries which were once part of British India (India, Pakistan, Bangladesh, Sri Lanka, Bhutan, Nepal and Bhutan) later included Afghanistan as its eighth members. A SAARC Energy Secretariat was set up in Afghanistan. Various US government initiatives worked extensively on politician, professionals collaborations for setting up SAARC power and energy grid. There were meeting of minds among different stakeholders. Head of the Government of the countries signed various MOUs and protocols. But apart from some bilateral energy exchange, the SAARC grid remained a distant dream. India, Pakistan and Bangladesh in cases of area and population are three larger SAARC countries. India has significant coal resource, limited hydrocarbon resources. But it is the most technology advanced nation of the region and is a rapidly developing economy. To meet its energy demand, India imports huge coal, LNG and liquid fuel from different countries. India has many large and medium power plants using different primary fuel (coal, gas, nuclear, hydropower and renewable resources). India has surplus power in many states, but there are power deficits in other states. It imports power from Bhutan and Nepal. It also exports power to Bangladesh. India has several large and medium petroleum refineries for which it imports crude petroleum from different countries. Some of its refineries have additional built-in capacities which if used to capacity can meet the entire demand of smaller SAARC nations. India has some nuclear power plants and building some more now.
Pakistan has gas, coal and hydropower. Most of its major gas fields have depleted now. But there was a time Pakistan set up too many IPPs which created a situation of surplus power generation. Unfortunately, power export from Pakistan did not happen. Subsequently for rapid depletion of Sui Northern and Sui Southern gas fields, Pakistan suffered from huge shortage of primary fuel supply causing massive power load shedding. Pakistan started importing LNG. But Pakistan for poor economic situation could not pay the LNG suppliers on time till present Prime Minister Imran Khan took over and under some special assistance from Saudi Arabia cleared most of the outstanding payment. Still power supply situation is not that great. For meeting huge gas demand, initiatives like TAPI have been under discussion for a long time. Another pipeline IPI proceeded to a great extent. But for prolonged political crisis between India and Pakistan, TAPI and IPI may not happen in near future. Any significant multilateral energy collaboration is subject to India, Pakistan settling their political disputes or agreeing to keep energy clean of politics like Israel and some Arab neighbors.
Bangladesh is another country of large population living in a relatively small area. It has significant gas resource which they effectively utilized for power generation and industrial development. It has substantial discovered coal reserve most of which remains unexploited for dilemma of the government. Bangladesh economy grew appreciably over the last decade or so for its apparently smooth primary fuel supply. But for depleting proven gas resource and hesitation for exploiting coal resource, Bangladesh has started importing liquid fuel, LPG and LNG. It has just started importing coal also. But there is a general notion that Bangladesh economy may not sustain the financial and economic challenges of imported fuel dependency over a long term. It is setting up several imported coal fired power plants and setting up coal port and terminals. It has also started importing LNG. Bangladesh has a small refinery and it imports crude and refined oil. Recently, it has started doubling the capacity of the refinery. Bangladesh is importing about 1,160 MW of power from India through two power grid connectivity.
Maldives and Sri Lanka are two island states which mostly use imported liquid fuel to generate power. Sri Lanka was in an advanced stage for setting up a large imported coal-based power plant but it was stalled for political reason. It imports most of its liquid fuel.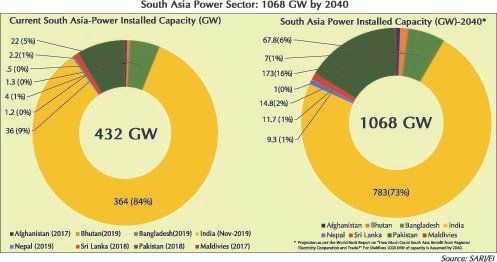 Bhutan: Lone Power Surplus Country of the Region
Landlocked Bhutan is the only energy surplus country of the region.
Energy in Bhutan has been a primary focus of development in the kingdom. In cooperation with India, Bhutan has undertaken several hydroelectric projects whose output is traded between the countries. Though Bhutan's many hydroelectric plants provide energy far in excess of its needs in the summer, dry winters and increased fuel demand makes the kingdom a marginally net importer of energy from India. Bhutan's advantage critically hinges on the excess supply of electrical energy which earns large revenue catering to the current account deficits, consequently balancing trade. Even the industrial development has mainly relied on the availability of relatively cheaper hydroelectricity. Currently, hydropower is the main resource for electricity generation whereas biomass (in the form of fuel wood) is the main resource for meeting residential energy needs, such as cooking and space heating. Imported fossil fuels include mainly petroleum products and coal. Among these, petrol and diesel are used for transport while kerosene and LPG (liquefied petroleum gas) are mainly used in the building sector.
Nepal Has Huge Potential
Over 90% of Nepal's total electricity generation capacity is hydropower based. Hydropower plays a particularly important role in Nepal's economic future because of the scale of its potential. Nepal has the economically viable potential for over 40,000 megawatts (MW) of hydro generation capacity. If such potential is realized, it could easily meet Nepal's suppressed demand and create a surplus that could be exported to neighboring countries in South Asia under SARRC or BBIN initiatives. But the present reality is that Nepal has under contractual obligation with India for exporting most of its generated power to India as most of it has been developed under funding of India by Indian companies. Nepal also imports power from India for meeting up to 27% of its power demand.
Under BBIN initiative, Nepal can be the major source country for generating substantial hydropower by joint initiatives and sharing in the grid.
Bangladesh Can Grow As Major Energy Transit Country
Bangladesh is sitting at the center of South and South East Asia. Meaningful development of SAARC, BBIN and BIMSTEC power and energy grid and sharing of power and energy would turn Bangladesh as a conduit of collaboration and transit country for energy trading. Countries like India, Nepal, Bhutan and even China may use port facilities of Bangladesh for importing crude oil, LNG and LPG, and may even use these ports for export. Bangladesh, India, China and BIMSTEC countries may even work under a protocol for jointly importing coal, LNG and crude and swap coal ships and LNG vessels. This will arm them with required negotiating capability for getting better price of imported fuel. For example, some large Indian refineries in proximity to Bangladesh have to import crude using Indian ports far away and supply refined products using long aggressive hilly terrain. If these refineries can use Bangladesh port facilities for importing crude petroleum and supply refined products, the cost of production can be effectively lowered and can be supplied at much cheaper price. The refineries if operated to capacity can also meet the demand of Nepal, Bhutan, Sri Lanka and if required Bangladesh.
Additionally, Bangladesh can also be benefited from transit tariff and toll if cross-border power and gas transmission lines transits across Bangladesh.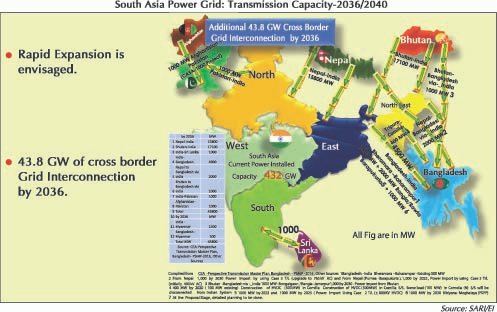 Conclusion and Recommendation
There is no denial about huge potentials for extensive collaborations among countries of SAARC, BBIN and BIMSTEC region. Some countries are common in all three initiatives. Regional and global geopolitics act as deterrent for meaningful energy and power exchange under SAARC initiatives. Bilateral trading can happen between Bhutan and India, Nepal and India, Bangladesh and India. The present political impasse between Pakistan and India and situation in Afghanistan may act as impediment for uncertain period for TAPI, CASA 2000 delivering as expected. But energy trading under BBIN is very much feasible. Bangladesh, Bhutan, Nepal and India can be extremely benefitted from joint venture development of potential hydropower resources, renewable energy of the region and sharing in the regional power grid (also developed through joint venture). There are no technical issues, financing should not be a major issue and political leadership have meeting of minds. Need a big push to set the motion only.
In our opinion, meaningful collaboration is also feasible under BIMSTEC umbrella. Rohingya crisis is now a global issue. UN organizations and other relevant organizations, regional countries are endeavoring for peaceful resolutions. This has not in any way acted as a barrier against regional trading of commodities. Even the business relations between Myanmar and Bangladesh have not been affected. The existence of huge petroleum and other maritime resources in BIMSTEC region, if jointly exploited and shared, can work wonder in sustainable economic development of the region. Myanmar has already discovered significant petroleum resources and is trading energy with Thailand and China. Indian, Chinese, Korean and Australian companies are engaged in exploring energy resources in the region. Myanmar has huge interest of India, China and Russia as well. Why not all taken on board for developing meaningful and sustainable energy collaboration in the region.
Another area is capacity building of technical and managerial manpower. SAARC and BIMSTEC countries individually do not have required capacity for planning harnessing of resources, managing implementation of mega projects, adopting and practicing modern operation of facilities. Even regulatory organizations also lack capacity. Very often individual countries rely on experts and consultants from other regions. The countries could develop joint arrangement for training professionals and sharing facilities for human capital development.
It is true that there has been extensive brain storming, lot of development partners sponsored studies. But very little has been achieved. The reality is that the opportunities still exist and can be exploited. We must let economy prevail over politics and let professionals lead the way and champion the planning, programming, implementation and operation.
Khandkar Abdus Saleque;
NRB Energy Professional
---