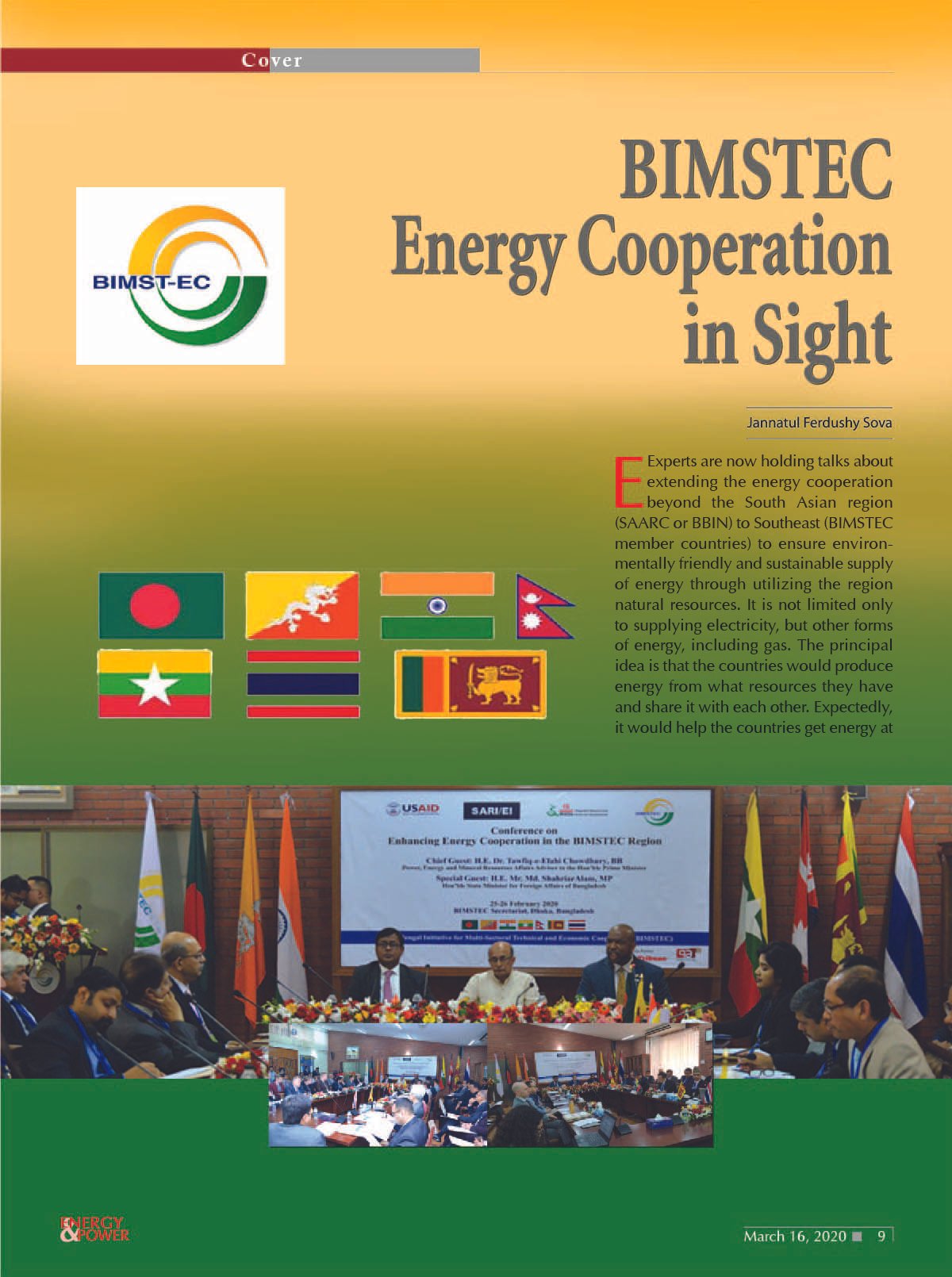 19th March 2020
Jannatul Ferdushy Sova
Experts are now holding talks about extending the energy cooperation beyond the South Asian region (SAARC or BBIN) to Southeast (BIMSTEC member countries) to ensure environmentally friendly and sustainable supply of energy through utilizing the region natural resources. It is not limited only to supplying electricity, but other forms of energy, including gas. The principal idea is that the countries would produce energy from what resources they have and share it with each other. Expectedly, it would help the countries get energy at an affordable price and benefit their respective economies. The development partners, representatives from member and non-member states are promoting the idea.
The Bay of Bengal Initiative for Multi-Sectoral Technical and Economic Cooperation (BIMSTEC) secretariat and the United States Agency for International Development (USAID) organized a two-day conference titled "Enhancing Energy Cooperation in the BIMSTEC Region" in Dhaka on February 25-26 to discuss the issue with the energy experts and stakeholders concerned, reaching broadly on a consensus to promote the idea to ensure energy security in the region. BIMSTEC launched the conference seeking effective ways for integrated power management among regional nations through enhanced cooperation. Government officials, diplomats, energy experts from BIMSTEC member States attended the conference and discussed the potentials of their respective sides.
The experts agreed that there would be no technical and financial problems, but they were concerned about the lack of political will among the leaders. The conference was told that the energy demand of the whole region up to 2040 could be met from within only from renewables or low carbon options if there is a necessary political will. It also pointed out that the political unrest often and again hindered the progress towards that goal. Representatives from India, Nepal, Bhutan, Myanmar, Sri Lanka, Bangladesh and the USAID participated in the conference.
The inaugural ceremony was told that a regional electricity grid will benefit the BIMSTEC member countries financially as well as through narrowing energy access gap and facilitating access to electricity for the marginal communities of the region. The single grid among the nations will also ensure affordability and efficient transmission of electricity. The speakers of the conferences emphasized the need to harmonize the operational, legal and regulatory frameworks of the BIMSTEC countries for implementing an interconnected regional electricity and gas grid.
Addressing the inaugural ceremony as chief guest, Prime Ministers Energy Affairs Adviser Dr. Tawfiq-e-Elahi Chowdhury pointed out that financing would be the main challenge for establishing the regional electricity grid. "Big investment is needed for transmission. The initiative will be stuck at discussions if we do not get the required investment."
Derrick S. Brown, USAID's mission director to Bangladesh, said the conference will help accelerate the regional energy cooperation and improve the cross-border energy trade in the Bimstec region. "We believe that strengthening energy cooperation among countries can result in increased investment, a robust electricity sector, better financing capability, and significantly improved power sector efficiency."
In his welcome address, BIMSTEC Secretary-General M Shahidul Islam highlighted the 2018 contract among the BIMSTEC member countries for establishment of the BIMSTEC grid interconnection to facilitate electricity trade among the member states by putting in place a region-wide grid and said an expert committee was formed to implement the strategies and steps of the agreement. "The committee will find ways to import and export electricity across BIMSTEC countries rather than doing it bilaterally. They will also work on outlining the gridline and the required laws and regulations," he added.
He said the region is one of the fastest growing economies in the world and it is heavily dependent on energy imports. He added that BIMSTEC wants to promote energy security in the region by promoting power trade and development of clean energy resources such as hydropower and renewable energy.
A working session of the conference focused on the energy demand and supply scenario, and cross-border energy trade in the region – each of the member states is either suffering from surplus electricity or lack of it. It was told that a regional grid would help solve the problem by connecting the countries.
Taking part in the discussion, Dr Tawfiq said the BIMSTEC is working on connecting around 3,000 kilometer-long power grid from Myanmar-Thailand - India. "The proposed grid connectivity among the (BIMSTEC) nations could ensure capacity or load factor utilization through complementing each other on the basis of the member countries' energy demand and supply status," he said. The connectivity will also enhance the efficiency of the energy by reducing the electricity cost for the consumers and ensure uninterrupted quality electricity supply for industrial and commercial sectors maintaining stability in the power sector, he added.
Talking to newsmen on the sidelines, the energy adviser said two of the BIMSTEC members Nepal and Bhutan – have high hydropower potentials, but the countries face with power deficiency during the lean seasons. He said Bangladesh could supply power to the two countries during the time of their need and in exchange import their hydropower during the monsoon. He, however, said fluctuation of Bangladesh's existing power transmission and distribution network currently appeared to be barrier for electricity swapping with other countries but "we are trying to improve the transmission and distribution network".
BIMSTEC Energy Outlook
Making a power point presentation at the working session on BIMSTEC Energy Outlook for Energy Integration: Overview, Energy Capacity, and Policy Frameworks, Pankaj Batra, project director of South Asia Regional Initiative for Energy Integration, focused on the present situation and potentials of each country. Director (Development Division) of BIMSTEC Secretariat Han Thein Kyaw briefly introduced the present situation of BIMSTEC Energy Cooperating, saying the energy sector was identified as one of the initial areas of cooperation in the region.
Professor of International Relations at Jahangirnagar University and Research Director of Bangladesh Enterprise Institute Shahab Enam Khan said internal market, producers and consumers are now increasingly focusing on research and development in renewables than what we have seen earlier. As a result, we are seeing new cars, electrifying cars, new green industries which play role in shifting consumers behavior strongly. He said that when we look into BIMSTEC and the neighboring region, we see the political uncertainty in terms of policy. The political economy remains as a major challenge. Even if you look at the transmission and distribution to a great extent in five years back it was highly politicized in India, Bangladesh and even in Pakistan, he added.
Mr. Khan said that if we see the power sector master plan of Bangladesh or India, there is a considerable focus investing on renewable energy, but the problem remains on the capacity of those countries. However, the capacity that we had earlier and what we have now has substantially improved. But the particular technological growth or the capacity growth has to be harmonized as the country requirements and the requirements of the consumers.
Energy Capacity
Referring to Pankaj Batra presentation, Director General of Power Cell Mohammad Hossain said the power generation potential of the region would be 1,117 gigawatt (GW), including solar power potential of around 392 GW and hydro power potential of almost 400 GW. On the other hand, the total demand of the region is around 904 GW. However, we can meet our demand if we only harness our renewable resources. So, this is what BIMSTEC can do for all of us, he added.
He said that the region has tremendous seasonal and fuel diversity almost every country has some surplus electricity during their off peak time. For example, in Bangladesh, the peak demand starts in the summer and in winter the demand falls down. On the other hand, in Nepal, India or the other parts of the Himalayan region, they need extra load for heating in winter. "So, if we are able to use this diversity and maximize the potentials, we can ensure energy security, environment safety through regional cooperation. However, BIMSTEC can be the platform in the near future that we are looking for," he added.
Joint Secretary of the Indian Ministry of Power Tanmay Kumar presented some brief statistics about per capita energy consumption of the region and focused on initiatives could be taken to raise the consumption. He said that per capita energy consumption is the pre-requisite of development.
Director of Oil and Gas Planning Department under Ministry of Electricity and Energy (Myanmar) Tin ZawMyint said almost 87 percent of our total consumed energy is used for electricity generation. He, However, informed that their electricity generation is mainly dependent on hydropower. As per the data of 2019, almost 52 percent generation comes from hydro, 47 percent from thermal and rest of the generation comes from other sources.
Senior Divisional Engineer of Ministry of Energy (Nepal) Babu Raj Adhikari described the present status of Nepal energy situation. He said they have huge potential of hydropower, which is around 83,000 megawatt (MW). He informed that harnessing hydropower form the resources is technically and financially viable in Nepal. We have also potentials of solar and wind energy which is around 5,000 MW as a whole. With 7.2 percent GDP growth, the country would require 11,000 MW by 2030 and 29,000 MW by 2040. So, in this context, we had to prepare ourselves in policy aspects, institutional and infrastructure development aspects for further regional connectivity and trading.
Policy Frameworks
Additional Secretary (Technical) of Ministry of Power and Energy (Sri Lanka) Merrille Goonetilleke said Sri Lanka is a small country and has a very short separation from the big India. So, any kind of regional cooperation gate opens only through India. "It is necessary for us to being in line with SDG7 and to produce our required energy in a sustainable way. We also believe policymaking is mediatory in regional integration not only for electricity but also for energy."
Merrille Goonetilleke said we also see that the steppingstone would be bilateral and subsequently moving to trilateral and multilateral. Linking two countries through grids was unimaginable but in last 20 years, it has become the reality. He added that Sri Lank will also be benefited through connectivity with other countries and our renewable resources also can be utilized.
BIMSTEC Grid Interconnection & Regional Energy Trade
Moderated by Former Foreign Secretary of Bangladesh Ambassador Farooq Sobhan, Technical Director of SARI/EI Vinod Kumar Agarwal made a presentation on 'BIMSTEC Grid Interconnection and Regional Energy Trade' and showed the existing cross-border transmission networks among the countries. He said that within the BIMSTEC, power grid interconnections are currently operational between India-Nepal, India-Bangladesh, India-Bhutan and Myanmar-Thailand. On the other hand, the region needs to focus more on developing trilateral and multilateral grid connectivity. "We have to strengthen the physical infrastructure as well as identify other challenges for pulling up the resources."
Director (Development Department) of BIMSTEC Secretariat Han Thein Kyaw talked about the role of BIMSTEC Grid Interconnection Coordination Committee (BGICC). The committee was formed to coordinate for the successful implementation of grid interconnections and trade in electricity. At the first meeting of the BIMSTEC Expert Group on Energy, held in Myanmar on 28-29 March 2019 the draft Terms of Reference (TOR) of the BGICC was finalized. Though Han Thein Kyaw informed that some of the countries yet to nominate their representative for the BGICC, he hoped that this year all the countries would arrange a forum of discussion and coordination on activities related to regional energy cooperation within BIMSTEC.
Challenges & Opportunities
Speaking at the session, Chief Engineer of Central Electricity Authority (India) Shri Pardeep Jindal emphasized on measuring the required capacity, which needs to be developed for an effective regional connectivity. "We have to measure what would be our capacity after a certain period of time. On the other hand, how much capacity we should trade from the region also needs to be measured. If we can calculate those issues systematically there is a possibility to have a strong interconnection." He informed that the existing interconnection with India is around 6,000 megawatt and it can be easily doubled within next four to five years if all the ongoing planes are implemented.
Deputy Director General of Department of Electric Power Planning in Ministry of Electricity and Energy (Myanmar) said that there is a time deference advantage. Our morning peak time is 5-10 am and evening peak time is 5-9 pm. So, in the off peak time, "we only generate half of our maximum demand." There are some challenges like technical and financial as well as the framework will be needed if we want to share electricity within the region, he added.
The Role of External Partners in BIMSTEC Energy Cooperation & Way Forward
Moderating the session on 'The Role of External Partners in BIMSTEC Energy Cooperation and Way Forward', Regional Program Director (Clean Energy and Environment office) of USAID, India, Michael Satin said BIMSTEC region brings together over 1.6 billion people and a combined GDP of US$ 3.75 trillion. At least five of the countries in the region have faster rate of growth in the global economy. The present energy trade in this region is mostly on bilateral basis. He, however, said that there is an immense opportunity for that trade to expand and become trilateral, multilateral and regional in true sense.
Initiatives Towards Regional Energy Sustainability
Japanese Ambassador in Dhaka Naoki Ito described the Japanese cooperation in BIMSTEC member countries through JICA. He said Japan is partially working in connectivity. Mostly we are working through bilateral basis. We invested in transportation sector, Infrastructure sector and also in connectivity. JICA is working in Matarbari coal project, which will be an energy hub. It is also developing a deepsea port in Bangladesh. In addition, JICA is working in another regional group among four countries (Bangladesh, Bhutan, India and Nepal) called BBIN, which will focus on energy connectivity. So, JICA is internally discussing the possibility of energy connectivity and doing some study on it. He said that after completing the study, JICA might be able to suggest technical, financial issues as well as some project findings. He, however, said, they are very much committed to regional infrastructure through the expansion of energy area particularly in regional cooperation.
Role of Technical Assistance & Support
Country Director of ADB Bangladesh Manmohan Parkash said ADB is as institution that has been working for many years with the regional cooperation and integration. The big opportunity here is to see how we can use the resources, which are within the region, which we can use it for common purpose and for the shared prosperity. In that case, the role of external partner is very crucial, he said. The external partners can actually bring lot of value addition – they can bring the international best practices and play the role of facilitator. He informed that ADB supported the power trade between Bangladesh and India. There are two projects between India-Bangladesh and both of the projects got ADB's support.
Conclusion
However, speakers at the concluding session said the political unrest of this region and non-cooperation attitude of the member states of BIMSTEC countries have failed to make a common platform to enhance cooperation among the member states of South and Southeast Asian region. They urged the member countries of BIMSTEC to work together to achieve sustainable growth through sharing available energy resources in the South and Southeast Asian region. They said that the countries could solve their energy problem through using the hydro potential of the member countries. Moreover, they emphasized on to sort out the real problems, including the political problems, to achieve desired economic goal.
Jannatul Ferdushy Sova;
Reporter, EP
---