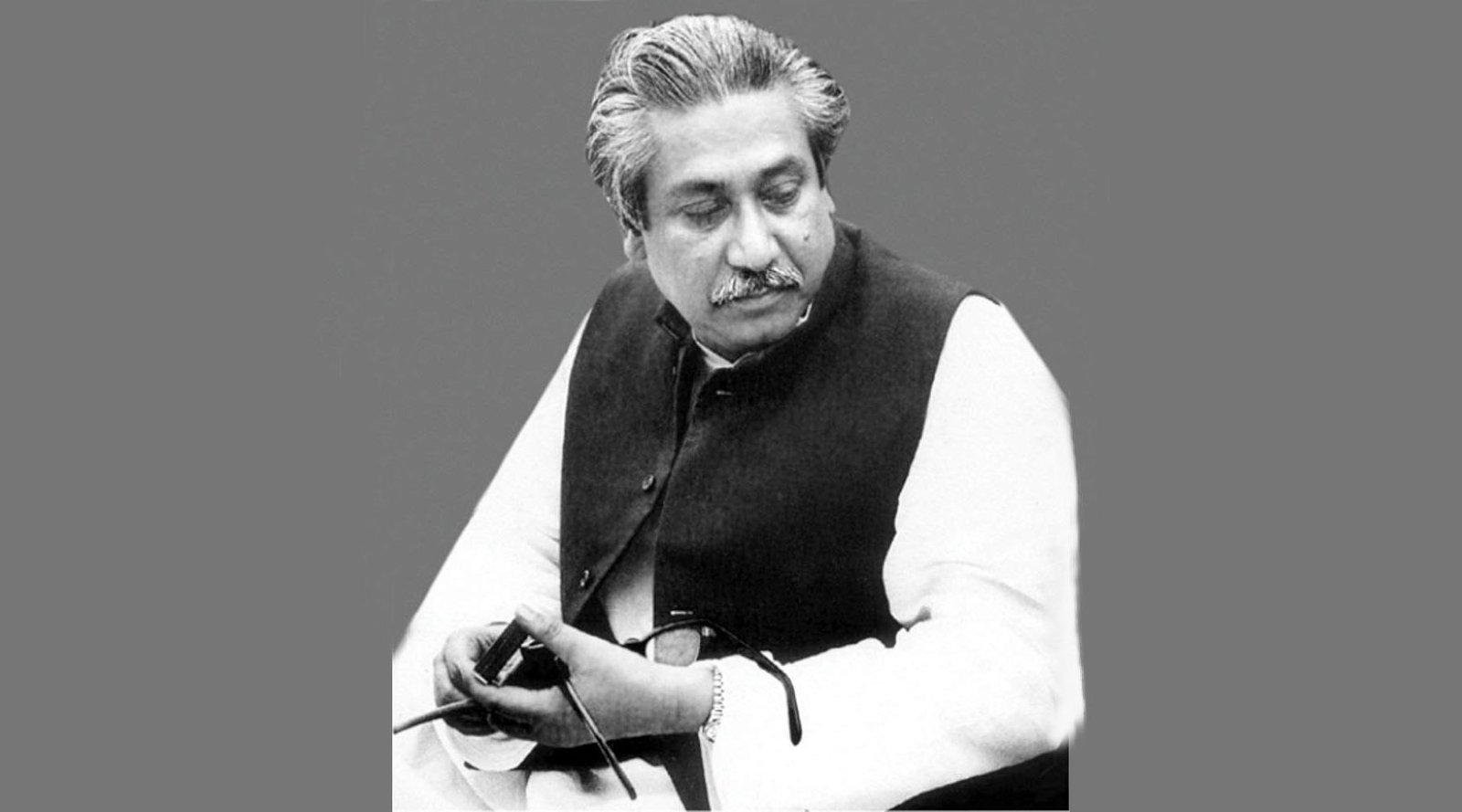 3rd August 2019
Arun Karmaker
Perhaps not a single day is spent in the daily life of Bangladeshis when Bangabandhu memory is not looked back in retrospect. It is not for that he was the architect and the dreamer of Bangladesh, but it makes one bemused when ponder how could not achieve so much in his short colorful life growing to the stature of Bangabandhu and lay the foundation for his dream SONAR Bangla.
Global conspiracy of the imperialists coupled with few disgruntled, ungrateful locals curtaining his life very pre-matured scoped him very little space for orchestrating the development of war ravaged newborn Bangladesh turning ashes into gold. But within this very limited period, he did a lot providing a shot in the arms of Bangladesh to fashion its backbone on strong foundation. He could set the goal and map the pathway for Bangladesh achieving long term sustainable energy security.
Bangladesh observe National Energy Security Day on August 9 every year since 2010 to commemorate a historic event in the life of the nation. All now know that on August 9, 1975, only six days before Bangabandhu along with almost the entire family was brutality murdered, five discovered gas fields were acquired from Anglo Dutch company Shell BV for a mere 4.5 million pound sterling.
At that cross road of national life, Bangladesh may not even have a national reserve of 4.5 million pound sterling. Yet he took that far reaching bold decision to keep Bangladesh immune from global impact of oil crunch due to the first Arab Israel war in 1972. He could realize that energy security provides the backbone to national economic development. He also understood the long term sustainable energy security can only be achieved through harnessing and exploiting own primary fuel resources.
That historic decision of Bangabandhu that earned Bangladesh ownership of five major gas fields – Titas, Bakhrabad, Habiganj, Rashidpur and Koillashtilla – the value of these perhaps has exceeded four thousand million pounds now. Even now in 2019 these fields are contributing about 40% to total production of gas. These gas fields are expected remaining on production for a considerable period of time. Apart from the above discussed fields, two more gas fields used to be owned by Pakistan Petroleum Limited (PPL) were also nationalized at that time.
Just imagine had Bangabandhu not taken decision for taking over the five gas fields in 1974 or the killers could manage to brutally murder the great patriot before he took that decision, what could have happened to national energy security now.
Bangladesh inspired taking initiative for exploring for gas and oil in onshore and offshore also. His government signed contracts with former Soviet Union for exploration of petroleum in onshore prospects. He also sought assistance of Germany for oil and gas exploration. Germany responded positively. They carried on their quest for oil and gas even after sad demise of Bangabandhu for a while. Bangabandhu also created Bangaladesh Oil and Gas Corporation (BOGC) for championing oil and gas value chain. He also created Bangladesh Mineral Development Corporation (BMDC) for spearheading exploration and development of minerals.
For letting the above two corporations work independently, he elevated the position of chief executive of two entities to full secretary of the government. He revised the Petroleum Act. For developing competence, he started sending technical resources of the organizations to Indonesia and Algeria for training.
His government took initiative for invigorating geological survey. With the assistance of an Indian company, initiative was launched for exploring coal from Jamalganj coal field. Initiative was taken to develop Joypurhat limestone mine and Madhyapara Hard Rock mine. A contract was signed with an engineering company for providing consultancy services in July 1975.
Bangabandhu could even focus his attention to the petroleum resources in the offshore. By 1974 six international oil companies could carry out surveys over 31,600 Km in the Bay of Bengal. Seven exploration wells were drilled and Kutubdia gas resource was discovered.
The main objective of the exploration at that time was discovering oil resource. IOCs drilled exploratory wells up to 4000-4600 meters. During interpretation of logs water at high pressure was observed. The analysis and interpretations could be completed.
In any case, all the initiatives led solid foundation for moving towards achievement of energy security.
The unfortunate demise of Bangabandhu not only put paid to all the great initiatives but the political upheavals. Chaos and indiscipline, military coup and counter coup led Bangladesh towards a failed state. Drifting away from the ideals and ideology of the liberation war, the country went on back pedal in the reverse direction. By 1990 some stability was restored and mission of recovery resumed.
Bangladesh started riding on the runway to major development from 2009. Unfortunate but true the energy sector suffered a great deal for great negligence and utter carelessness. Not even bare minimum initiative was taken for explorations of petroleum resources at onshore and offshore.
By the middle of the second term of the present government in 2017, a highly ambitious and almost un-implementable 108 wells drilling project was thrust upon BAPEX. It died its natural death.
The Bengal Basin specially the vast unexplored offshore area (deep water) is expected to have significant petroleum resources. Still Bangladesh in several years after resolution of maritime boundary disputes with neighbors could not take any initiative at all for the exploration in the deep water prospects of the Bay of Bengal.
Performance over the Past Decade
Onshore Exploration
Over 9 Tcf gas has been consumed over the past decade but only about 1 tcf new gas reserve could be added during the period. Production from gas fields increased about 1000 MMCFD over this period. Bibiyana Gas Field in Habiganj operated by US Oil Giant Chevron under PSC with Petrobangla contributed to the most of the production increase.
Among the other gas fields, excepting Bhola, pressure continued to progressively deplete. Wellhead compressors have been installed on some wells to keep the production going. Even Chevron for keeping their wells in production planned to set up well head compressors and informed Petrobangla about it.
Excepting Bhola North, all other marginal gas structures discovered gas fields in the terms of Petroleum Industry cannot be described as commercial discovery. Rupganj near Dhaka and Sundalpur are examples. Petrobangla claims to have discovered gas at Mobarakpur, Pabna. But it is not confirmed yet whether the structure has enough gas to treat this as commercial discovery.
Offshore Exploration
The scenario in the offshore exploration is equally frustrating. Maritime boundary disputes with Myanmar and India were resolved in 2011 and 2014 respectively. Lots of talks were around about winning of the Ocean, Blue Economy but achievement so far is a big Zero. Some 1,11,126 square miles extensive off shore area has been divided into 26 blocks. Eleven shallow water blocks near the shore are spread over 58 lakhs 728 square kilometer. Some 15 deep water blocks cover 52 lakhs 397 square kilometers.
Of the twenty six blocks, five IOCs under four PSCs are working in 4 blocks. Of them, 3 blocks are in shallow water and one in deep water. The status is as follows:
A. Shallow Block SS11
PSC was signed with the consortium of Australian company Santos and Singapore company Kris Energy on March 12, 2014. Initial exploration period as per PSC was five years. There are contractual obligations for conducting 1893 Line KM 2D, 300 Sq KM 3D seismic survey. Contract also obligated the consortium to drill one exploratory well. Consortium accomplished 3220 km 2D and 305 Sq km 3D seismic surveys. They have reported identifying few potential structures. But exploration well has not been drilled yet. The initial exploration period has expired about five months back.
B. Shallow Water Block SS4
PSC was signed with ONGC Videsh (OVL) and Oil India Limited (OIL) on February 17, 2014. They also had initial exploration period of five years. They had contractual obligation for conducting 2700 km 2D seismic survey and drilling of one exploratory well within initial exploration period. The JV identified one potential structure after conducting 3010 km 2D seismic survey. They were supposed to start drilling of exploratory well in early 2018. But till now they have not started. The initial exploration period has already expired six months from now.
C. Shallow Water Block SS9
PSC was signed with the Joint Ventures of Indian companies OVL and OIL on February 17, 2014. The initial exploration period here also was five years. The JV was obligated for conducting 2800 km 2D seismic survey and drilling two exploratory wells within initial exploration period. Conducting 2542 km 2D seismic survey, they identified two potential structures. They planned to start drilling exploratory well from early 2018. But till now they did not even start. The initial exploration period expired six months from now.
D. Deep Water Block DS12
PSC was concluded with South Korean company DAEWOO on March 14, 2017. PSC provides for five years of initial exploration period. PSC was signed under the provision of Expeditious Power and Energy Supply Act 2010. IOC conducting 3850 km 2D seismic surveys within two years has identified five prospective structures. From November 2019, DAEWOO was supposed to conduct 3D survey over 2000 sq km and confirm drilling location to start exploration drilling. Petrobangla source confirmed that 3D seismic survey could not be completed yet. Of course there is still considerable time left in the contract for it.
DAEWOO has discovered a gas field in adjacent block in Myanmar and started production. Some experts believe that our DS12 block may have common structure as discovered inside Myanmar territorial water. According to international law, Bangladesh has legitimate rights over resources in common structure. Hence after completing 3D as soon as possible, the structure must be delineated.
Petrobangla earlier had a PSC with US company ConocoPhilips for exploration of deep water blocks DS10 and DS 11 signed on 16 June 2011. They stated of finding some potential gas structure through conducting 2D seismic survey over 5860 line kilometer. They were pressing for gas price above the price agreed in PSC. They were reluctant to carry forward exploration till price increase was agreed. Petrobangla regretted to accept. The PSC was finally cancelled.
Petrobangla invited EOI from interested companies for PSC in DS10, DS11 and SS10 on 18 September 2016. Kris Energy Asia Ltd, Posco-Daewoo Corporation and Stat Oil submitted offers. Petrobangla sent RFP (request for proposal) to all three companies seeking detail proposal. But there has been no response till now.
Offshore Exploration Started from Shangu
British company Cairn Energy was the first that started producing gas from Shangu offshore gas field in 1998. But there was no definite assessment of the extent of the recoverable reserve. The production at higher than prescribed rate has led to depletion of pressure from 2008. Three more wells Shangu 11, North East Shangu and Shangu 4 were drilled with the expectation for enhancing production. But unfortunately additional reserve could not be discovered. Production from Shangu was ceased from 1 October 2013.
Before ceasing production from Shangu, Santos carried 3D seismic survey at Magnama adjacent to Shangu field. One well Magnama 2 was drilled without success.
The above is the summary of offshore exploration of Bangladesh. On the other hand, Bangladesh's neighbor after resolution of maritime boundary dispute concluded 13 PSCs with IOCs in 20 blocks. These companies have already discovered 4 gas fields exploring at A4, A5, A6, A9, AD2, AD3, AD5, AD7, AD11, M11, M12, M13 and M14. No multi-client survey was required for these explorations.
But whenever talks about offshore exploration start, some people say Bangladesh does not have enough data and information for carrying out exploration.
While talking with executives of Petrobangla and BAPEX, it became clear to us that most are not aware of 31,600 KM seismic survey in the offshore during Bangabandhu government. These must have been saved in Petrobangla and BAPEX archives. Why exploration initiatives are not taken using these data?
A self-destructive effort is noticed from a certain quarter for exposing the extensive resource to the world through allowing companies conducting multi-client survey. There are no valid reasons why exploration cannot be done without multi-client survey.
From Self-Reliance to Import Dependence
Bangladesh launched activities for self-reliant energy and power sector through creating facilities for own primary fuel exploration and development. But now that is changing steadily into import dependency. The annual import bill of liquid fuel has grown over US$ 3 billion. Import of LPG gas is increasing. LNG import has started. It will also continue increasing. Coal import would start from 2020. Huge volume of imported coal would be required. From 2025-26, uranium would also be required to import.
Sector-related professionals observed that at the present trend Bangladesh would become over 80% dependent on imported fuel by 2030. The annual fuel import bill may exceed US$ 20 billion. It would be extremely challenging to meet this steep challenge.
We Must Walk Along Bangladesh Mapped Out Road
Bangladesh is not a country without own primary fuel. Experts and experienced professionals do believe that not only in the offshore, there is bright prospect of discovering more gas in onshore frontier areas. There observations also have scientific basis. Apart from gas there is 3.2 billion tonnes of superior quality coal.
Bangladesh can become developed faster through using these resources. Bangabandhu walked through that self-reliant path even in the post-independence chaotic situation – that's the real path of development of the country. Bangladesh should also go through the path for the welfare of all.
Arun Karmaker;
Energy Journalist,
Chairman Forum for Energy Reporter's Bangladesh (FERB)
---