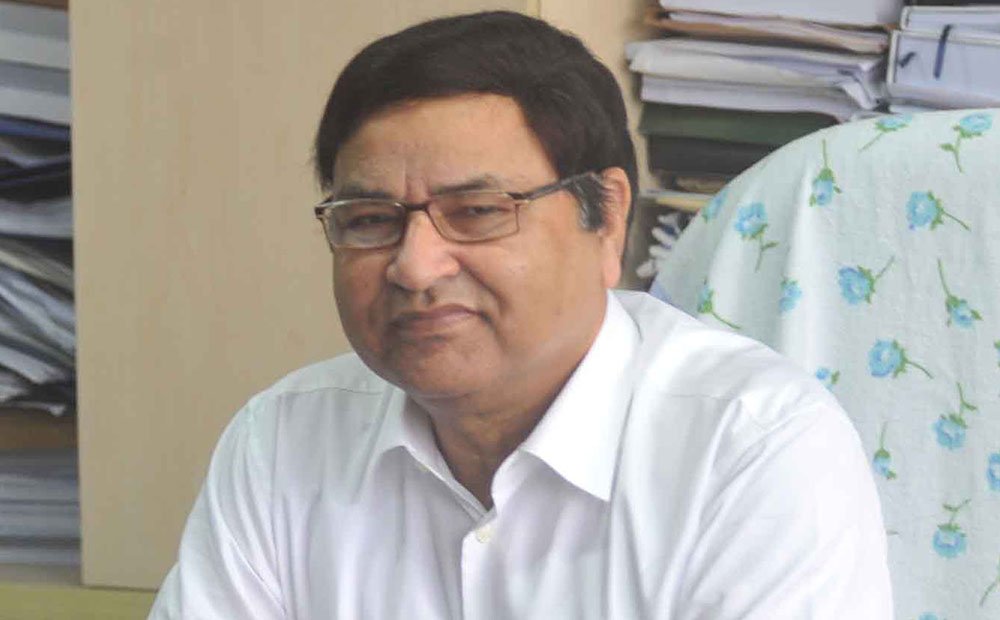 3rd August 2019
Engr. A M Khurshidul Alam, CEO, NWPGCL
Coordinated teamwork is the dynamo to drive North West Power Generation Company Ltd (NWPGCL) along the way towards achieving the company vision. Each employee owning their assigned task has facilitated the company in achieving successes so far. Walking along our chartered walkway, we expect achieving our target of 10,000 MW generation target by 2025.
Engr. A M Khurshidul Alam, CEO of NWPGCL said this in an exclusive interview with Energy & Power Editor Mollah Amzad Hossain. He also pledged that to commemorate MUJIB YEAR, each employee of NWPGCL would work an additional hour in 2020.
NWPGCL just completed its tenth year in business in early 2019. Your company, with 1,813 MW generation capacity, currently tops the power generation companies in Bangladesh. Which strategy you adopted to achieve the success?
Teamwork is the essence of our success. No success can stay out of reach when each employee of a company owns his/her assigned tasks. In our company, all employees irrespective of their positions are taking the tasks assigned as own responsibility to accomplish. Our mid-level employees are relatively more competent and enthusiastic to take challenges. Especially in project management, we have remained focused on project schedule management within the budget without compromising quality for which we maintained close monitoring of the project implementation activities.
Moreover, we have utilized all possible sources of financing options for our projects. We have implemented Sirajganj 2nd and 3rd unit through ECA financing. Madhumati 100 MW power plant project has been implemented through borrowing money from local sources.
We have been able to create excellent synergy between NWPGCL, its financing partners, EPC contractors and consultants in different projects which has contributed in the efficient & smooth implementation of our projects. In my opinion, our great team work has made this achievement possible.
Your company has set a target for achieving 10,000 MW generation capacity in 7 years by 2025. You have launched several projects for achieving the target. How confident you are in achieving the target? What steps you have taken to complete all projects on time?
I have full confidence that we are competent for achieving the 10,000 MW generation target by 2025. As you know, NWPGCL registered in the year 2007 and commenced its business in 2009 and within this short period of time the Company became leading power Generation Company in Bangladesh by installing a total of 1813 MW capacity power plants.
Let me inform you the initiatives we took to materialize our target; around 7127.6 MW Capacity Power Plan Projects are under different stages of implementation which includes solar Power plants, LNG based integrated power plant project and imported coal based thermal power plant projects. Those projects will come into commercial operation by 2023. Moreover, few others projects are under planning and development stage. We are ready in all respect to achieve our target.
Sirajganj is your principal generation hub. But within few years, Payra would grow as the largest power hub of NWPGCL. What do you say about Payra generation hub?
You are right. The first unit (660 MW) of the Country's first 1,320 MW imported coal based power plant would come into commercial operation by December 2019 and other unit by June 2020. The two units of 660 MW each in the second phase are scheduled to come into operation in 2022 and 2023. The combined capacity would then reach to 2,640 MW. You would be happy to know that initiative has been taken for setting up 3,600 MW capacity integrated LNG-to-Power Project at the Payra Power Generation Hub. The project is expected to be commissioned by 2023. In addition, we have started wind mapping for implementation of 50 MW wind power project at the same hub. After implementing all these projects, the total generation capacity would become about 6,300 MW at Payra hub.
In your generation plan, you have liquid fuel, gas and coal. The government has plans to cap liquid fuel-based generation to 2% by 2041. So by this time, you have to transfer your liquid fuel based plants to other fuel. What is your plan?
You would be happy to know that except Modhumati 100 MW HFO based Power Plant, all other power plants of NWPGCL are dual-fuel based (Primary Fuel: Natural Gas and Secondary Fuel: HSD). We will be able to run those power plants in natural gas if sufficient supply of gas is ensured. So, you can understand that we are well equipped with and prepared to follow the fuel mix prescribed in the Power System Master Plan (PSMP) of the Government.
Among the generation companies you have already started generating power under joint venture initiatives. By end 2019, a major power plant under JV would come into operation. What is your assessment about JV projects as an option for increasing power generation?
We are happy to lead the way. As you correctly mentioned that one of our JV Project already started operation this year in Sirajganj and the first unit of another JV Project Country's first imported Coal based Payra 1320 MW Thermal Power Plant will come into operation by December, 2019.
We pursue joint venture projects with experienced world class partner to develop power plant projects. As you are well aware that the power sector is a capital intensive industry which requires huge funds to cater the growing demand of electricity. Therefore, as a government company, we NWPGCL have the responsibility not to overburden government with investment pressure and to give respite for making investments in other sectors like health and education. Joint Venture projects have been adopted as an alternative investment opportunity. Under JV, there are opportunities for technology support and technology transfer in addition to boosting investment.
The first unit of the imported coal based power plant would come into operation at Payra, Patuakhali within this year. By June 2020 the complete plant of 1320 MW is expected to generate power. Another 1320 MW power plant is planned to come into operation in 2 years. But it has come to our knowledge that Payra Port Authority could not make appreciable progress in developing the coal port yet. You could not also set up a deep sea coal transshipment facility at Andaman. Consequently, there is a concern that the additional cost for coal transportation using smaller vessels would increase generation cost. How much the additional transportation cost may increase you think?
The coastal areas in the Southern part of Bangladesh have shallow draft. This makes construction of coal port at Payra extremely challenging. Despite that Payra port authority is advancing the work gradually. Payra port is essential for balanced growth of Bangladesh. That is why Payra Port Authority is implementing this challenging work upon directives of the Prime Minister. A contract has already been signed for dredging and deepening link canal to connect Ramnabad Channel with deep sea. But the commencement of operation of the power plant cannot wait till completion of the port facility. Apprehending the situation, we have made contingency arrangement for bringing coal using 20,000-25,000 tonnes capacity carrier through deepening channel on our own fund. Of course, it would add cost. We estimate the increase of electricity tariff for this reason would be marginal.
Ramnabad Channel in Payra may be suitable for a normal port. But for it to act as a coal port and land based LNG terminal may need huge cost in construction and later in maintenance. Serious concerns are already there about the future of Payra port development inclusive of coal port and LNG terminal. If ultimately such program is abandoned what will you do?
We have already completed a techno-economic feasibility study on coal transportation for the power plants at Payra by engaging a renowned Italian company named Logmarin. Based on the recommendations of the study, we have considered both the scenarios of Payra Port Development. If Payra Port is fully developed and approach channel reached more than 15m draft, we will able to bring mother vessels directly to the power plant jetty. Otherwise, we need to make transshipment at a sheltered area (Andaman Island) and bring the coal through smaller vessels. With the increase of the channel draft, we will use larger vessel for coal transportation which will result in lower transportation cost. Accordingly, the coal transportation agreement has been signed keeping provision to address wide range of draft scenario from 6m and above. Similarly, for designing LNG supply solution of our Payra LNG-to-Power project, we are considering all these challenges.
Matarbari and Maheskhali is considered as more suitable location for setting up enabling facilities for coal and LNG import. What is your opinion about choosing Payra as the location for 3,600 MW LNG based power plant location setting aside the opportunities at Matarbari/Maheshkhali?
With the perspective of the energy security, it would not be wise to build all energy and power projects in a concentrated area. Rather we should have an alternative energy hub in the western part of Bangladesh to ensure inclusive development. It is obvious that there are more challenges at Payra site compare to Matarbari/Moheshkhali. However, we are addressing all the challenges in our feasibility study so that we can ensure uninterrupted supply of regasified LNG to our 3600 MW LNG-to-Power project.
Consumers Association of Bangladesh (CAB) often raise questions about tariff setting mechanism and project cost of the public sector power companies. They think that these increase cost and ultimately burden the end users. What is your opinion about such allegations?
All such allegations are not based on facts. If you go through the published Annual Report of BPDB, you can find that electricity purchasing cost of BPDB from public sector companies is the least among all the sources and much lower than IPP and rental plants.
The power sector has serious crisis of skilled manpower. It has not been possible to develop skilled manpower in quality and quantity keeping pace with the expansion of the sector. What is the manpower recruitment and Human Resource Development plan of your company? What are you doing to retain skilled manpower?
We do agree that skilled manpower is the biggest challenge not only for us but also for all power sector utilities. As a public sector company, we had to start with almost fresh manpower. But we were extremely sincere about skill development from the very outset. Those who started their career 10 years back with us are now skilled mid-level executives. We are lucky that this group of officers have owned the company and are acting as dynamo. On the other hand, exercising reward punishment strategy for good works and failures, we could create incentive for the retaining skilled manpower.
Your Company is generating power from fossil fuel only. You have taken some initiatives for power generation from renewable energy. What is the plan? When such projects will be commissioned?
In line with paradigm shift of global scenario of fuel use, we have also taken up initiatives to generate electricity from renewable energy sources. Work has already started for 7.6 MW capacity solar power plant at Sirajganj as a pilot project of NWPGCL. Wind mapping for feasibility of a 50 MW power plant at Payra has also commenced. Data and information has been collected over the past 10 months. This work would complete in 2 months' time. Following that on review and analysis of data, the appropriate decision would be taken. A location has been selected at Sujanagar, Pabna for a 60 MW solar plant. Work for a 100 MW solar power plant at Sirajganj would also start soon.
An agreement would be signed with CMC, China soon for development of 500 MW renewable energy based power plants. We are expecting that within the next 10-15 years, a considerable amount of power would be generated from renewable energy.
Nothing can grow from scratch without vision and dream. NWPGCL is a crop of dreams of you all. What is your vision about its future?
If you are a true patriot, you need to contribute daily a little bit for the Country. We are also demonstrating our patriotism through our works. This is creating success for the company. We believe that success in future will also require team efforts. Following the highway of success, we want to be world-class power generation company with strong brand image.
Bangladesh Government is going to observe year 2020 as Mujib year on the occasion of his birth centenary. Various programs are also being taken up in the power sector. What are your plans?
In the Mujib Year, our mega power project 1320 MW Payra power plant would come under full capacity generation. This will be the first imported coal based power plant in Bangladesh. To commemorate the year, the employees of NWPGCL have decided to work one additional hour every day in 2020. Following Bangabandhu's guidelines for relying on own fuel resource, NWPGCL has taken initiative for setting up a 1000 MW mine mouth coal based thermal power plant at Dighipara.
Furthermore, we have also taken initiatives to train youths of the surrounding areas of our power plants to boost up their level of confidence and to keep them away from the curse of drug addiction. Our main mission is to elevate skill level of our youths a step higher in the Mujib Year.
---