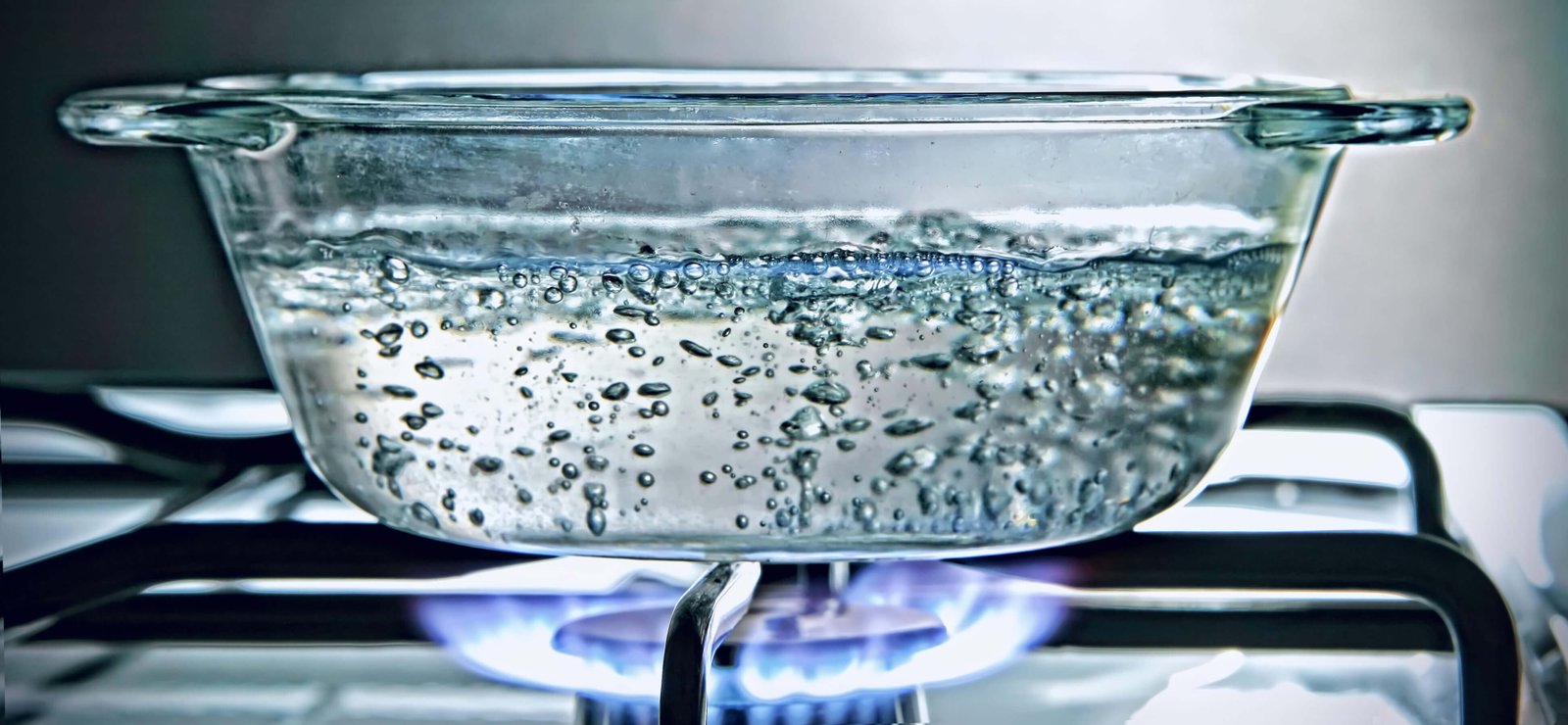 6th July 2019
Dr. Nadim Reza Khandaker & Fazle Rabbi
During the monsoon season the water distribution systems in the cities of Bangladesh has its distribution pipelines compromised due to water intrusion. This produces outbreaks of waterborne diseases. An easy solution is simply boiling the water before drinking. Unfortunately, this practice is energy intensive and produces an added incurred monitory expense to the citizens (Khandaker & Rashid, 2018). A recent article in a daily newspaper highlighted this issue where they reported that the dwellers of Dhaka city use roughly three hundred and fifty core worth of natural gas per year to boil water at their homes. According to a survey conducted by Transparency International Bangladesh, 45 percent people in residential areas and 72 percent in slum areas receive inadequate amount of water. Also, there are 35 percent who complained about the poor quality of water throughout the year. Therefore, it is very essential that the water needs to be disinfected by boiling (TIB survey on Dhaka Wasa: Rampant graft, poor service, The Daily Star, 18, April, 2019). There is an energy efficient easy solution at hand. Every household in Bangladesh eats rice as their main staple and it is cooked twice a day for lunch and dinner. The method used is boiling and then simmering rice in a pot. The rice cooking process generates water vapor, which can be trapped and condensed by a stacked pot water heater/disinfector in a very simple way to utilize the latent heat to heat water to a required temperature and duration for water disinfection (Khandaker & Rashid, 2018).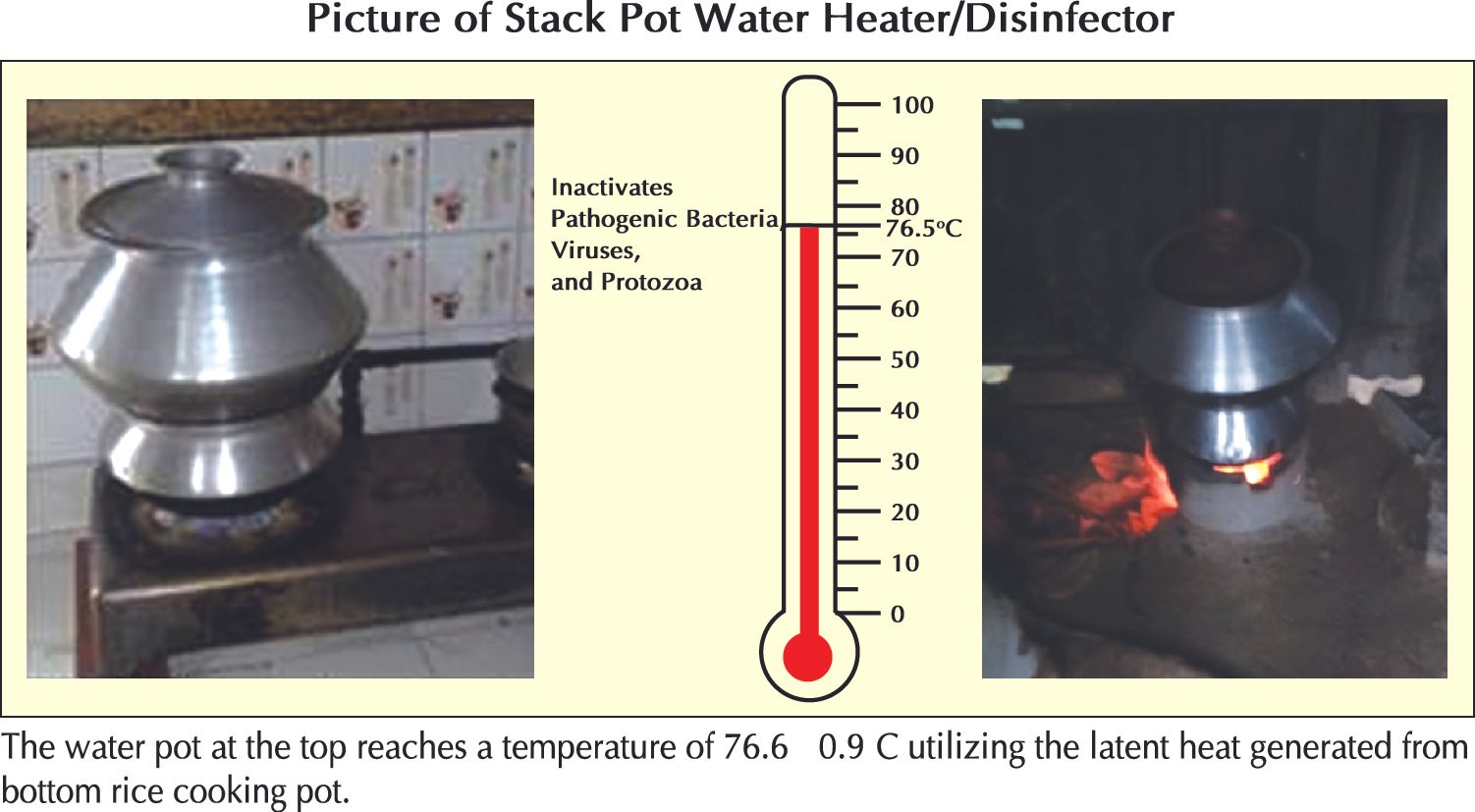 The water pot at the top reaches a temperature of 76.6 ±0.9°C utilizing the latent heat generated from bottom rice cooking pot.
Additional heat required for roughly 3 minutes to bring water to rolling boil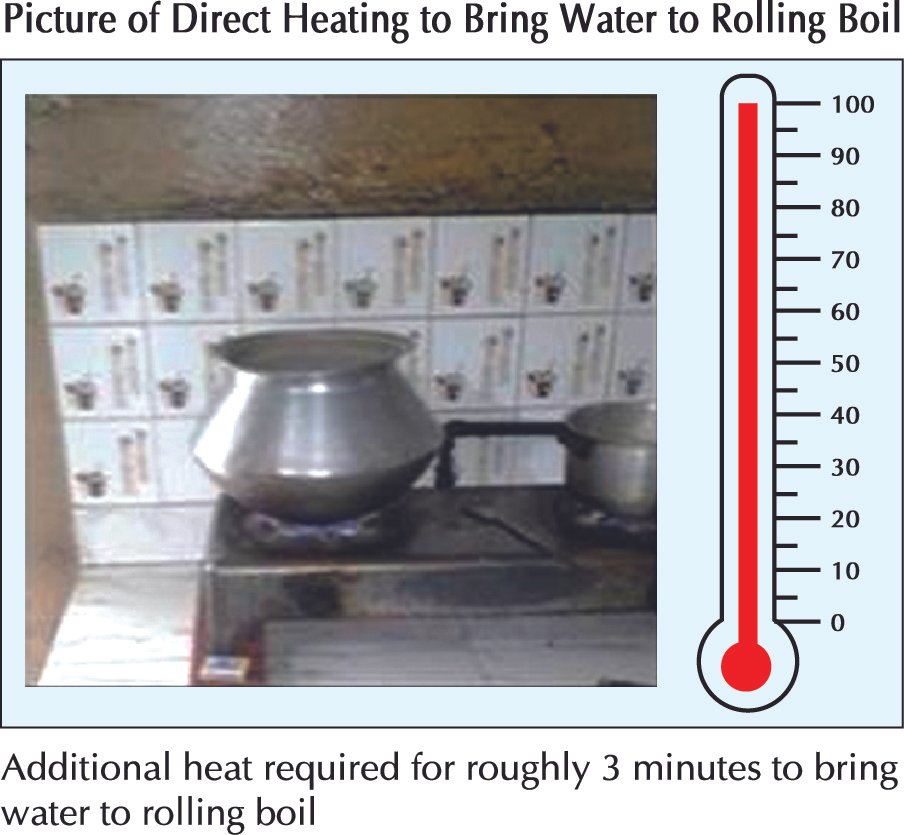 "The efficacy of the process was evaluated in a controlled experimental program. The results indicated that our process would heat the water to temperatures that would inactivate pathogenic bacteria, viruses, and protozoa. In trial runs by raising the water temperature to 76.6 ±0.9°C, utilizing the latent heat generated from rice cooking. Further, if one wants to bring the water to rolling boiling, it requires ~ 3.0 minutes of additional direct heating after preheating with our system. This additional heating would require a normal expenditure of LPG of 0.073 Kg to bring to boil 10 L of water after preheating; whereas direct heating to bring 10 L of water to boil from an ambient temperature of 23.0°C would require 0.24 Kg of LPG. We feel that this system will go a long way to address this public health crisis faced every year in Bangladesh and to address the safe water crisis faced by the million plus Rohingya refugees from Burma living in makeshift camps in Bangladesh. In addition, our system can be utilized in other developing countries to provide safe drinking water."(Khandaker & Rashid, 2018) Thus, using this process enables us to drink potable water and is a step to reduce the over exhaustion of natural gas. Also, this process can be implemented on handmade stove in poor settlements inside Dhaka city which would save timber. Therefore, this is an easy process which everyone can use on daily basis to heat disinfect water in a way that causes less harm to the environment.
Dr. Nadim Reza Khandaker, Ph.D., P.Eng.;
& Fazle Rabbi;
Civil and Environmental Engineering,
North South University, Bangladesh
---