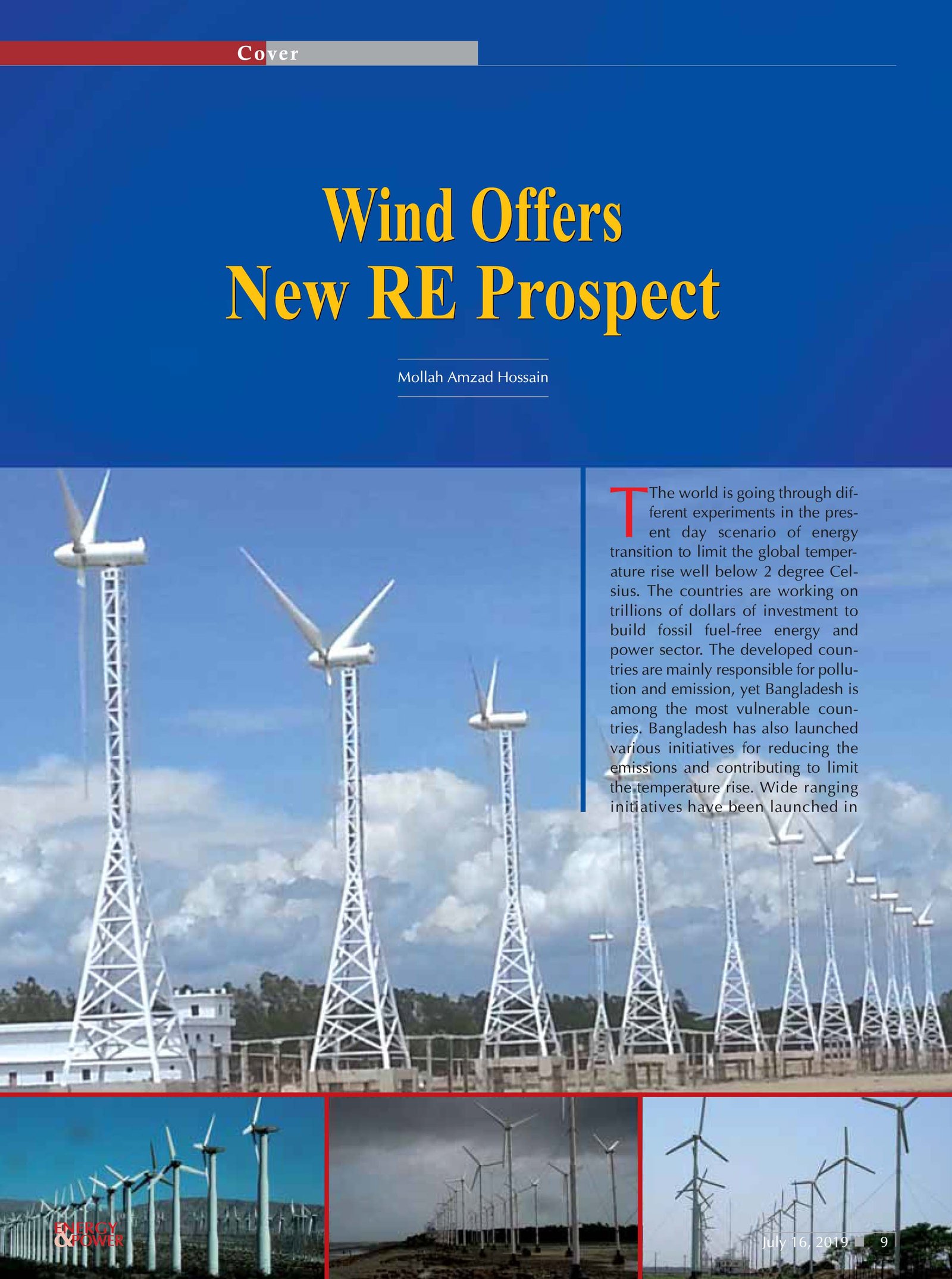 18th July 2019
Mollah Amzad Hossain
The world is going through different experiments in the present day scenario of energy transition to limit the global temperature rise well below 2 degree Celsius. The countries are working on trillions of dollars of investment to build fossil fuel-free energy and power sector. The developed countries are mainly responsible for pollution and emission, yet Bangladesh is among the most vulnerable countries. Bangladesh has also launched various initiatives for reducing the emissions and contributing to limit the temperature rise. Wide ranging initiatives have been launched in power and energy, transport and industrial sectors. The government has pledged for reducing carbon emissions by 5% in these three sectors by investing money from the own sources. Plan also exists for reducing the emissions by 15% subject to availability of global finance. Renewable energy is a major contributor for achieving this target. Hence the government is working on plans for achieving targets by 2030. Bangladesh is also working on achieving energy efficiency for reducing carbon emission through announcing an energy efficiency roadmap.
Bangladesh at present generates 585 MW of electricity from renewable energy, including 230 MW of hydro power. Fossil fuel generates over 18,000 MW. In that context, RE contributes about 3% only. The RE development plan of the country has a target to contribute 10% by 2020. But based on the present status, it cannot be made sure that the target can be achieved within the rest 18 months from now. Relevant sector experts have clearly mentioned that the target cannot be achieved by this time.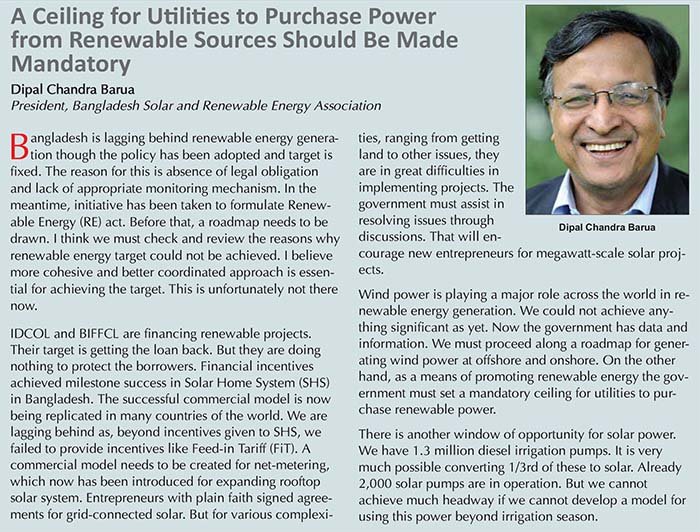 Of the present 585 MW RE capacity, contribution of solar is 350MW. Lion's share of this came from commercially very successful Solar Home System (SHS). Solar irrigation also made some contribution. Grid-connected solar capacity is mere 39 MW. The government signed contract with different companies at IPP for 11 projects with a total capacity of 685 MW for grid-connected solar. LOI has been issued for 757 MW. But for different issues and problems, achievement so far is not at all mentionable. A major contractor Sun Edson failing to implement the project on time has sued the government in the local court. RE Expert and President of Bangladesh Solar and Renewable Energy Association Dipal Chandra Barua observed that interested entrepreneurs cannot implement solar projects for higher price of land. Some unprofessional investors agreed to sign contract at lower tariff. As a result, these projects are not commercially viable and the investors cannot implement those. Dr. Saiful Huque, Director of Energy Institute, Dhaka University, said the projects are not being implemented as contracts have been awarded on mere political considerations and without judging experience and professional skills of the entrepreneurs. Higher price of land is also a major issue. He thought the government must identify impediments and review all projects under PPA and LOI. The entrepreneurs should be given required assistance for implementation of these projects.
Available data and information on review evidence that four grid-connected solar has come into operation so far. The government expected quite a few coming into operation by 2019. Senior Secretary of Power Division Dr. Ahmed Kaikaus said, "We are continuing our efforts. But we are also remaining alert so that too much solar power does not make the grid vulnerable. We signed PPA as entrepreneurs came to us with genuine interests. LOI has also been issued to others. We will not remain far behind achieving 10% contribution target of RE when all these come into operation. But we got frustrated from initiatives for power generation from wastes. No bids were received in the invitation of Narayanaganj City Corporation. The lone bid received at Keraniganj with tariff as high as 56 cents per unit."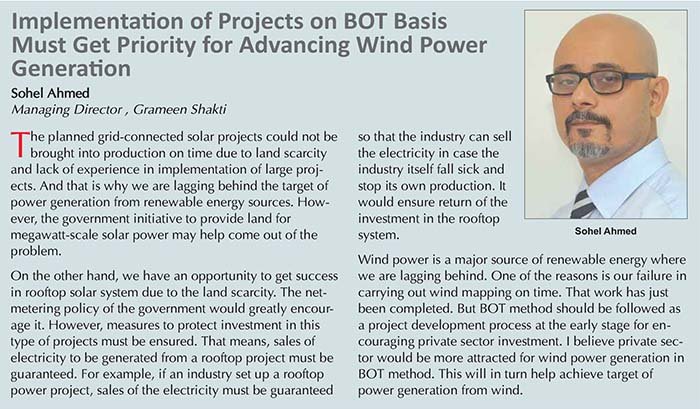 Information from Sustainable and Renewable Energy Development Authority (SREDA) indicate that 607 MW power from RE may be available in 2019 and another 608 MW in 2020. Their plan is to generate 2,897 MW from RE by 2021. Solar contribution would be 1,470 MW and wind power would add 1,156 MW. Wind power now generates only 2.9 MW. Sohel Ahmed, Managing Director of Grameen Shakhti, opined that this target can not be achieved. The government has to allocate land if grid-connected solar projects have to be implemented. There exists possibility of achieving commendable success from rooftop solar under net-metering policy. But the purchase price of power through net-metering should be gradually increased. SREDA Member Siddique Zubair thought that achieving the target may not be a major problem when the contracted projects would start coming into operation. Besides, initiative has been taken for solar projects in Special Economic Zones (SEZs). Public sector generation companies, Bangladesh Power Development Board (BPDB) on standalone basis and in joint venture have started implementing grid-connected solar projects. It is expected that the target may be exceeded in 3-4 years when all these would come into operation.
Dr Saiful Haque, Director of DU Energy Institute, believes that implementation of the grid-connected solar projects is delayed due to lack of experience and absence of professional skills of the entrepreneurs. Higher price of land is also an issue. Political consideration in selection of entrepreneurs is also a problem. These projects need urgent reviewing if success is to be achieved. The government must provide required assistance.
Sector relevant experts observed that everywhere else in the world the government provided attractive incentives and generous support for the growth of the RE sector. For initial boost up, the government provided subsidy. Asia Foundation and Dhaka University Energy Institute are formulating Feed-in-Tariff regulation which was submitted to Bangladesh Energy Regulatory Commission (BERC). BERC after reviewing submitted its recommendation to the government. The expected success in RE could not be achieved as the government did not approve it yet.
The government policymakers consider Feed-in-Tariff as a flawed concept. That is why many countries of the world have moved out of it. In Middle East and India, the RE projects are surviving now under market competition. Tariff in Bangladesh would come down some day. No subsidy would be required for survival of the RE projects.
But Dr Saiful Huque differed strongly. According to him, countries successfully implementing RE mostly started with Feed-in-Tariff. Gradually with the maturity of RE, they moved out of it. No country can achieve success in RE without initially providing subsidy. Land is not an issue in India and Middle East like Bangladesh. Sun radiates more intensely in those countries than us also. So tariff applicable in India and Middle East cannot be applicable in Bangladesh.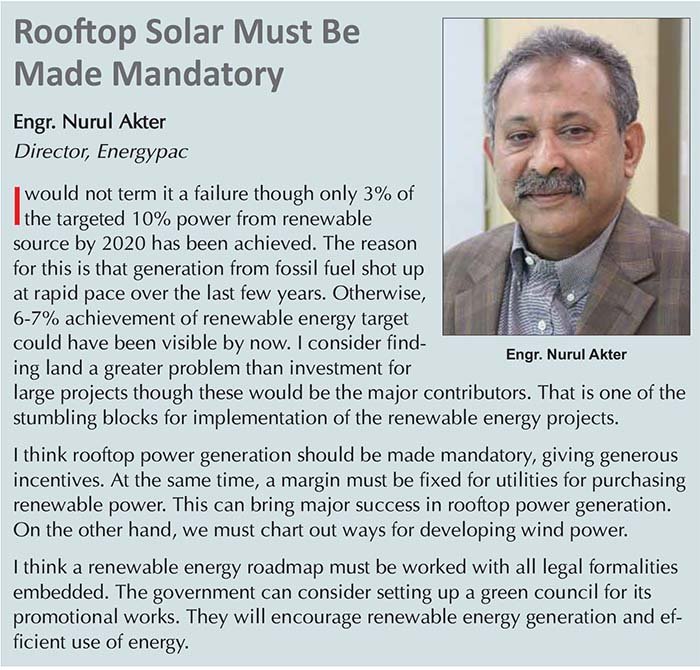 The government did not introduce preferential tariff but it launched net-metering. Under its coverage, about 10 MW capacity rooftop solar power generation has been possible as of now. Power Division and SREDA expected that within the next 2-3 years, textile sector alone may generate about 100 MW from rooftop solar. The government has adopted a policy for setting up rooftop solar installations in all its buildings. Land scarcity and higher price for grid solar have pushed the government more towards rooftop solar. Any one generating power on rooftop can now sell power to the grid after meeting own requirement through net-metering. They will get price from BPDB at the same bulk rate at which BPDB supply power to distribution utilities. Dipal Barua thought it to be a good initiative. Rooftop solar can bring major success. But the tariff now applicable for solar power must be reviewed. Senior Secretary Dr. Ahmed Kaikaus described the tariff given to power sector for rooftop solar to be attractive. The cost of solar power is less than what industry buys from grid. Industry owners are getting increasingly attracted to solar power.
Solar Home System (SHS) is a success story in Bangladesh. Around 4.5 million SHSs are in operation now. It is a successful business model. Many countries of the world are now replicating this. But the success is no longer building now as the government is working on providing grid power access to all. Many users have now opting for grid power. Bangladesh has 1.3 million diesel pumps. Appropriate plan can convert one third of these to solar irrigation system. But for this, a commercial model needs to be created. A policy for using this power and a tariff may be worked out beyond the irrigation period. Dipal Barua suggested this. IDCOL is working on it now.
Debate continues about wind power in Bangladesh. Engr. Fazlur Rahman of BPDB now working with wind power thinks that Bangladesh has potential for generating up to 20,000 MW from wind. But some experts including those in BUET think the wind speed in Bangladesh is not ideal for Wind power generation. Over the last 5 years two agreements were signed. But these did not achieve headway. The government took an initiative for wind mapping in the coastal area. An Indian company showed interest for it, but did not proceed. At last a Renewable Energy Lab, USA did it. In its report, it showed results in nine regions of the coastal area. In three areas – Enani, Chandpur and Mongla – proposals have been submitted for 150 MW (3X50) wind power generation. The government plans going for more wind power projects gradually. Starting with on shore, it may eventually go to off shore also. SREDA thinks in two years from now, wind power projects would start generation.
Dr Ahmed Kaikaus sounded optimistic about wind power. Gradually, more and more projects would be implemented in onshore and offshore areas, he said. When asked whether we have lagged behind wind power, Dr Saiful Haque said that though late in starting, we are heading towards right direction. We will be able to use state of the art modern technology.
Experts believe that Bangladesh could not achieve success in renewable energy. However, wind energy might come as a blessing for the country though started late. They said Bangladesh can achieve major success in wind power due to availability of state of the art modern technology now. In the next few years, wind power generation will get new momentum.
---