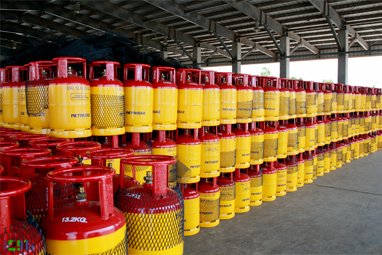 18th January 2018
Md. Saidul Islam
With 160 million+ inhabitants, Bangladesh needs a very accurate and comprehensive plan to supply primary fuel for cooking. The current system is mostly using natural gas through a very old pipeline distribution network. But with the blessings of government LPG has started to gradually take over.
It is said that around 3 crore plus of households exists in Bangladesh. The major cities are covered by natural gas, and others use LPG, kerosene, firewood, electricity or a mixture of all these fuels. Since there is no upstream development of natural gas, the government has already stopped all new connections of natural gas and promoting LPG as the alternative.
Like many other countries around the world, LPG shall therefore gradually pick up its position in the kitchen and a huge challenge of distribution looms for the nation. An efficient, safe and robust supply chain is not only good for the LPG companies, but also for the nation.
Current Status of LPG
2017 saw approximate 700,000 MT LPG imported and distributed in the local market, which is almost the double from the year 2016. The recent few months (end 2017-early 2018) saw a sluggish trend in the market which may be because of the high Contract Price (CP), rising freight & premiums, and a sudden increase in the supply side because of new LPG companies.
It is therefore safe to mention that the demand stands around 800,000 MT at current stage while the supply is almost fulfilling the demands. The below chart which shows the approximate number of importation in the country, as well as the future tentative growth:
From market sources, at the moment there are 48 LPG licensees and counting, 43 filling plants are to be constructed, 23 LPG terminals are being built plus 16 more to come.In other words - the supply side is now booming rapidly to meet the country demand. This is a good sign for the customers to ensure availability of LPG at an affordable price.
The government has really taken a plausible position by letting the LPG market grow in line with the international market (free market policy). More LPG companies mean higher supply to the market, the competition shall increase and finally only the efficient players can rule the scene. This is time to start working in deploying laws and regulations, structured distribution channel, service excellence and awareness building.
LPG is a very safe fuel when it remains within a totally closed system from the point of supply to the point of consumption by the end user. Practices and regulations have been well-developed over many decades for the storage and handling of LPG, resulting in safe use across a wide variety of applications and markets worldwide.
LPG Brand Awareness
One of the biggest challenges of running business of LPG in Bangladesh is having a brand loyal network. The market here is heavily dominated by channels (distributors in General), who in reality have been the ultimate beneficiary when the price comes down. Customers can hardly choose the brand or make the call in most of the time, it's the channels' preference that plays the key role in purchasing decision of a customer. The bargaining power in the supply chain is not in the grip of end users, who are actually general citizens of the society.
Thus, developing a brand awareness remains an expensive and time consuming challenge for the LPG companies. The industry with immense level of opportunity is growing, yet in unhealthy manner.
LPG Supply Chain
A key challenge is how to establish and extend LPG supply chains safely and viably. There are three main factors:
1. Placement of physical establishments and logistics: setting up cylinder depots, together with organized system of cylinder transport networks, so that communities of all socio-economic classes get served from urban to semi-urban to the remotest areas.
2. Decentralization of filling: placement of smaller storage and filling facilities located in different regions.
3. Dedicated or franchisee based distribution channel: this will have a mechanism which will ensure that each LPG Marketer's cylinders are returned to it promptly for inspection, maintenance, scrapping (as needed) and refilling. Customers will also be able to enjoy benefits exclusively due to price discounts and promotions. Brand loyalty and preferences can make its way in the picture.
Safe Distribution Channel:
A safe distribution channel ensures:
1. Compliance on safety, maintenance in respective LPG bottling plant.
2. Routine check on safety measures of LPG transport vehicle (booth Tanker & Truck)
3. Usage of personal protective equipment (PPE) during LPG cylindersloading, unloading& delivery at customer point by channel partners.
4. Sufficient stockof fire safety equipment, visible safety signsand safe environment practices in distributor, dealer and end user points.

Challenges in Distribution Channel
While the challenges remain numerous, some of the key points for discussion are:
1. Cross filling :
This has started to become a menace for the LPG industry now. Many of the illegal traders are decanting from one cylinder to another cylinder adopting illegal means. As a result the customers get under weight, unsafe and fake refill gas. These situations can also contribute to unwanted occurrences of gas leak and explosion. In some occasions, small satellite plant owners has been also found to be refilling various brands of cylinders (source: newspaper reports). This is ominous for developing a proper distribution channel.
If the cross fillers captures too large a share of the LPG market - confidence of the stakeholders will erode, cylinder investment by legitimate market participants will slow or cease, public safety and welfare will suffer, and the market may ultimately hold up. It is best if government implement laws that suppress the activities of this class of person. Government must then continue to enforce effectively through the development phase of industry.
2. High dominancy over end user price by distributor, dealer & retailer: Since the LPG companies only sell to the big distributors, there are often many occasions where the channel controls price based on several factors like cost of business, CP trend, supply shortage etc.
3. Poor infrastructural condition which delays product delivery through the channel to end users.
4. Cost of transportation, scarcity of trained workforce, appropriate place to store LPG cylinders – etc are contributing adversely as well.
5. Bureaucratic tangles and other unseen factors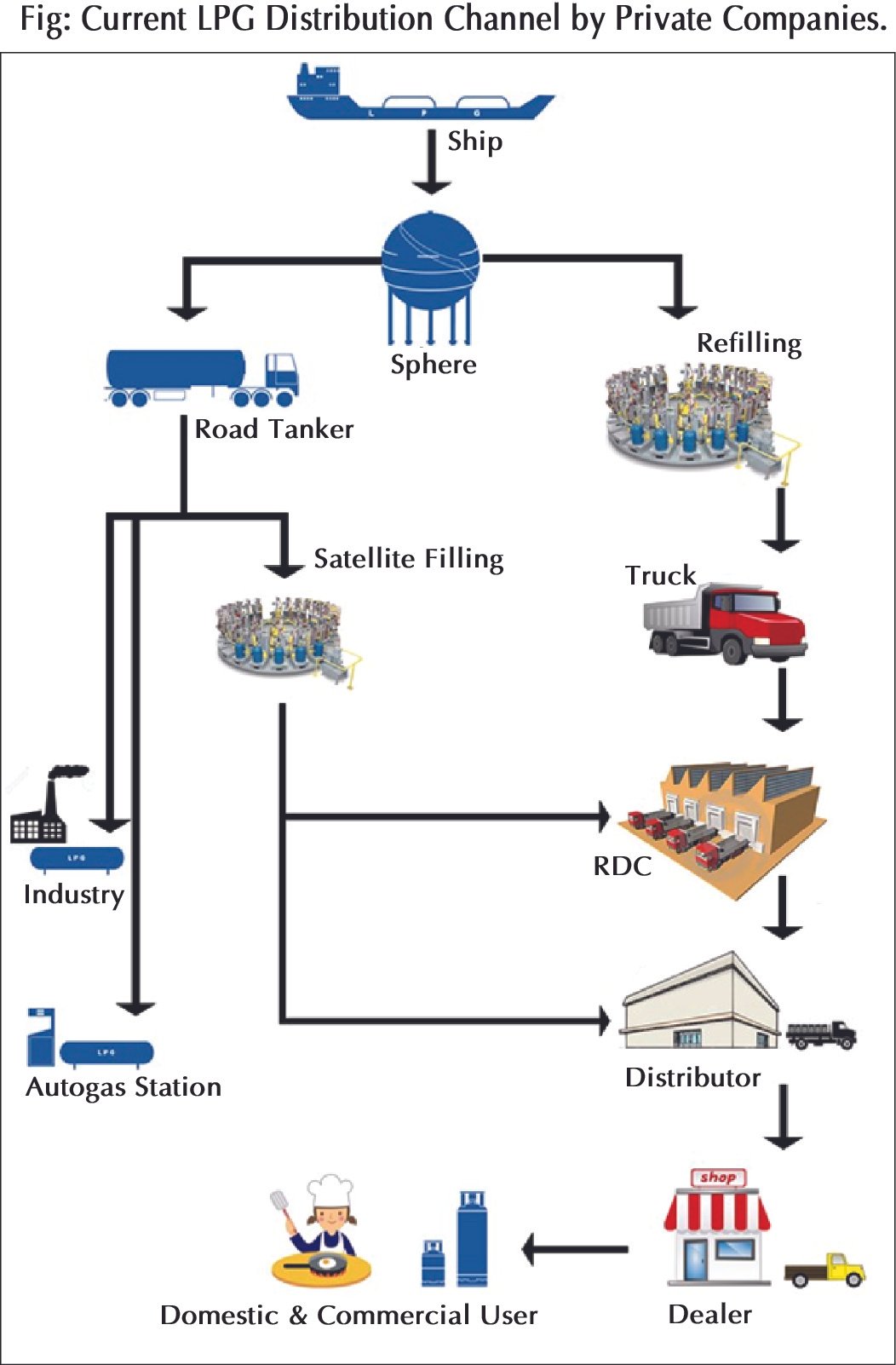 Support Required From Govt.:

As the LPG market develops, its increased size, scope, level of activity, number of participants, and complexity inevitably requires governmental intervention in the areas of-
1. Appropriate regulatory enforcement, which must occur across the country.
2. Popularizing LPG through awareness building programs funded by government.
3. Planning for LPG within the national energy mix.
As the market grows, demands on Government owned LPG (supplied by LPGL under BPC) shall reduce, because a strong private LPG sector comprised of competent, professional, larger-scale companies and an effective national LPG association can help Government via an agreed, effective level of self-regulation and other forms of public-private cooperation.

Support from Private LPG Companies
Individual LPG Marketers must comply with law, regulation and standards. They must reinforce through their activities and investments to develop a safe and sustainable market. They should educate their customers and prospective customers on the safe use of LPG through safety awareness campaigns. These campaigns will include workshops, seminars, rural activation programs, distribution of booklets of safety information etc. Companies should also work to develop safety awareness among channel partners, conduct sessions to educate the distribution channel about laws, standards, and business ethics. Technical experts of LPG companies shall travel to all regions of the country, from urban centers to the most remote, to educate people across the community about using LPG safely and beneficially. Ultimately, LPG Marketers, their partners, their investors and their end-customers will determine whether ongoing investment in the sector will continue, halt or decline.

Conclusion
It is essential that the LPG Companies/Operators (owner of the cylinder) retains the obligation, the responsibility and the capability for inspecting, filling, maintaining and (if needed) scrapping the cylinder, coupled with the reward of profit from refilling it over its lifetime. The opportunity lies here with a strong customer base. Government must monitor trends and should ensure that adequate competition and compliance with regulation in play, balancing the social benefits of increased LPG availability, affordability and safety with the commercial sustainability of LPG supply chain.
Engr. Md. Saidul Islam;
Director & CEO – Laugfs Gas
---