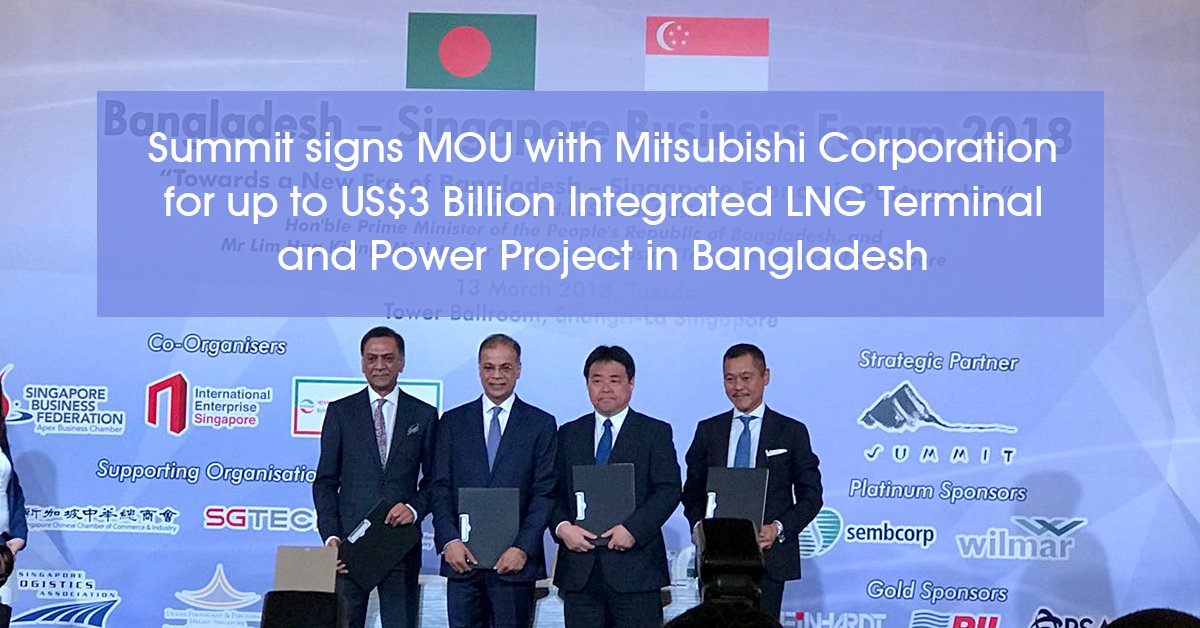 Summit Power International Pte. Ltd. ("SPI" or the "Group"), the largest independent power producer in Bangladesh, today announced that Summit Corporation Limited, a subsidiary of Summit Power International along with Summit Holdings Limited, Mitsubishi Corporation ("Mitsubishi") and its subsidiary Diamond Gas International Pte. Ltd. have signed a Memorandum of Understanding ("MOU") to develop a LNG-to-Power project at Matarbari, Moheskhali area in Bangladesh, which is expected to cost up to US$3 billion.
The signing of the MOU was witnessed by the Honorable Prime Minister Sheikh Hasina of Bangladesh and Singapore's Minister for Trade and Industry (Trade) Lim Hng Kiang at the Bangladesh-Singapore Business Forum 2018.
Under the MOU, the parties agreed to develop an integrated liquefied natural gas ("LNG") on shore receiving terminal with a regasification capacity of up to 1,500 million cubic feet per day ("mmcfd"), two units of 1,200 megawatt ("MW") gas turbine combined cycle power projects (total of 2,400 MW), relevant high voltage transmission lines and the import of LNG.
Muhammed Aziz Khan, Chairman of SPI said: "Summit has a long-established track record of working with world-renowned technical partners including General Electric, Wärtsilä and now Mitsubishi Corporation and Diamond Gas. This MOU will help SPI support Bangladesh's fast-growing energy, power and technology needs. It will be a strategic fit for SPI to leverage Mitsubishi's LNG, and LNG-to-Power expertise as well as understanding of Moheskhali and Bangladesh's power needs. The two groups are well-positioned to uniquely benefit from opportunities arising from the Bangladesh Government's move to raise LNG imports to meet the country's domestic natural gas shortfall and expand the country's power generation capacity."
---