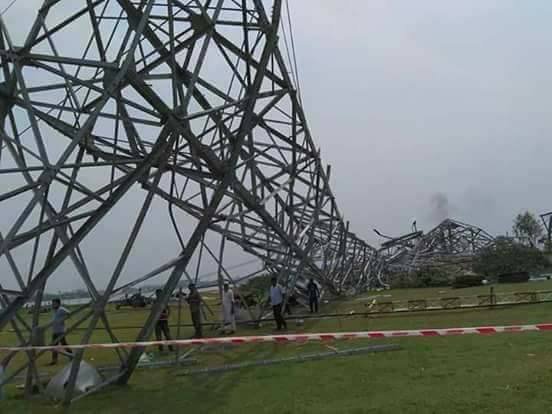 5th June 2017
Arun Karmaker
Bangladesh once again experienced a spell of power loadshedding for a week or so. Unfortunately, that coincided with the unbearable and unprecedented heat waves sweeping across the country. People almost forgot the horror of power system of 2008 and 2009. The recent spell brought that terrible experience back. Over the last years' power system steadily grew from desperate situation to reasonable comfort. But this time Power System Management failed miserable as they had no contingency planning in place for redressing the situation.
When temperature reached record high, about 3,000 MW demand-supply imbalance emerged in Bangladesh power sector. Consequently, 3,000 MW loadshedding gripped the entire country from cities to rural areas. Rural areas and districts outside major cities experienced 10-12 hours' power cut every day. Major cities like Chittagong, Rajshashi, Khulna also experienced frequent loadshedding. Some areas suffered from low voltage problem. True that the heat waves sweeping across the country has increased power demand exponentially. Unfortunately, in such a situation some large power generating plants had technical glitches. Some other plants were having scheduled maintenance. These were being made ready for additional power generation for meeting increased demand during Ramadan.
State Minister Energy Nasrul Hamid MP (May 25, 2017) deliberating on the situation informed the media that the situation would improve within three to four days as the plants under maintenance resumes generation. Some of these may resume within a day. This meant that the crisis that has been triggered from demand-supply imbalance would continue for three to four days. Attempts were made to bring the 314 MW capacity Summit Bibiyana Power plant back in operation the day before in the evening.
The 450 MW Meghnaghat power plant which was under scheduled maintenance may resume generation from 27 May. The 360 MW Ashuganj plant may need two more days till 29 May for resuming generation. Other than these, the Bheramara 214 MW and Sirajganj 210 MW may also take few days for resuming generation.
But Sirajganj 225 MW was expected to resume generation on the day. Generation from Hathazari 110 MW and Santahar 50 MW was also expected in a day or two. BPDB claimed to ensure better situation on the day than previous 2-3 days.
Whatever is the reason for increased demand -- summer peak or increased demand in Ramadan -- there is no option but to increase gas supply for power generation. Government decision for diverting gas supply from fertilizer plants to power has not been effected yet. Consequently, till gas supply is increased the power generation cannot be increased to a level for meeting increased demand even after resumption of generation from plants under forced outage and maintenance. Ministry has set a target for generating 11,000 MW from the first day of Ramadan.
Last year government celebrated achievement of 15,000 MW installed capacity of power generation but the highest generation achieved so far is 9,300 MW. BPDB estimated 9,116 MW even on the previous day. But all power distribution companies alleged of supply shortage. Pally Bidyut Samity (PBS) accounts for half of the 1,700 MW demand of REB. These days REB is providing connections to 3 lakh new consumers every month. REB alone has demand of 5,200 MW. They are getting about 3,500 MW supply. Moreover, constraint in power transmission grid restricts transmission of power from eastern to western regions. When asked, REB Chairman Major General Moinuddin informed media that serious difficulties are being encountered for increased demand due to ongoing heat waves sweeping across the country. Situation would improve after this hot spell is over.
Dhaka has 500 MW Deficit
Two distribution companies are responsible for power supply to end users in Dhaka metropolis. Dhaka Power Distribution Company (DPDC) has 1,500 MW power demand. DPDC Executive Director (Engineering) Ramizuddin Sarkar informed that over the last few days they are getting about 1,200 MW.
Another distribution company is Dhaka Electric Supply Company (DESCO) which has a peak demand of 850 MW. MD DESCO Brigadier General Shahed Sarwar informed that they are getting about 600 MW supply over the last few days.
Some other issues of Dhaka power distribution system have come to our notice. Some defaults in the underground distribution cable in the Japan Garden region of Mohammadpur area of DPDC is causing supply problem. One out of order transformer of PGCB in area of DPDC is causing disruption of 40 MW power distribution.
600 MW Deficit in Rajshahi, Rangpur Region
The region is severely affected by loadshedding for about 600 MW supply deficit. Managing Director, North West Zone Power Distribution Company (NWZPDC) Engr Rezaul Karim informed that they are getting only 500 MW supply against the demand of 900 MW. Rangpur regional office sources said they are getting 300 MW supply against the demand of 500 MW.
WZPDCO 500 MW Deficit
Western Zone Power Distribution Company responsible for distributing power to 21 districts of greater Khulna and Barishal gets only 900 MW against demand of 1400 MW.
(This Report Prepared on May 26, 2017)
---
---