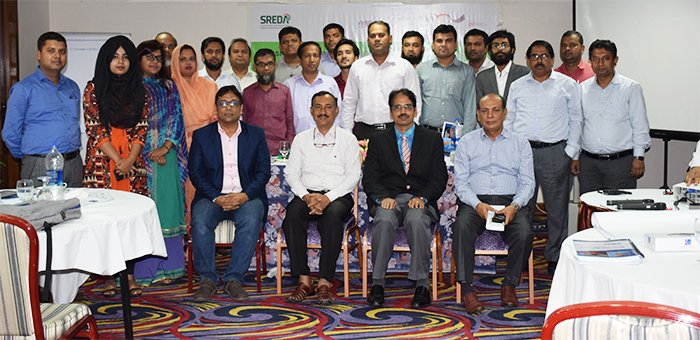 3rd November 2018
Zobayer Khanam Nijhu
A two-day training on "Energy Saving Measures through Waste Heat Recovery in Power and Industry Sector" was held recently in Dhaka under a Renewable Energy and Efficiency Program organized (REEP) by Sustainable and Renewable Energy Authority (SREDA), Sustainable Energy Association of Singapore (SEAS) and German Development Cooperation (GIZ), focusing on the importance of renewable energy and energy efficiency systems in Bangladesh.
Dr. Chandra Sekhara Reddy Chirla, Technology and Optimization Manager at Singapore Refining Company Private Limited, presided over the whole session on Waste Heat Recovery (WHR) and its benefits emphasizing on the need for sustainability of the energy and power sector.
He mentioned that due to the increased demand of energy in every sector whether it is commercial or household, there should be adoption of WHR systems widely for sustainable economic growth amid unreliable power infrastructure, especially in a developing country like Bangladesh.
Emphasizing on energy recovery potential mainly in industrial sectors, he showed worldwide percentage of energy saving potential that sums up 10-25% on oil refining, 10-25% and 15-40% on petrochemicals and food respectively.
Dr Reddy said that Glaxo Smith Kline (GSK) in Singapore dealing with a successful story along with an award ensuring sustainable manufacture by capturing heat to save the electricity.
Energy efficiency in ExxonMobil being exemplified for Global Energy Management System (GEMS) that tracks the gas consumption along with where to save came with many projects in the power sectors.
He also uplifted other strategies to reduce mechanical and electrical energy in case of domestic stuffs. One of the best examples provided for home is Lennox HWL21/65 water heater module that produces hot water from waste heat.
On that training, Waste heat recovery being divided in two sectors: Heat Transfer and Heat Integration. In heat exchanger network, with a 30% energy savings from bulk chemical plants to specialty units ICI, UK and BASF, Germany more than 25% energy savings from notable retrofitting over 150 projects held remarkable industrial experiences for which billions of dollars being saved.
He announced for making reservations of more power, anyhow, than requirement comparing Singapore condition having power capacity four times than requirement. Through an equation it was shown that a 10 min shower can cost $0.12 electricity and $0.0075 water.
Monitor of the heat transfer equation followed by some assumptions like steady state operation, no heat loss, no leakage, constant heat transfer coefficient.
Making Correction
In case of WHR fundamentals, a major hint discussed broadly "Pinch Analysis" being the most constrained point, a set of procedures for heat integration providing targets and heat exchanger networks and number of units. It deals with how much energy can be meaningfully recovered in graphical or analytical ways. Without having it, there may be energy penalty and incorrect assumptions costing high.
There was also discussion on WHR equipment like shell and tube and compact heat exchangers, regenerators, direct/indirect water heaters, heat pumps, thermos-compressors, organic Rankin cycle and cascade systems recovering heat high to low temperature process.
In response to a query about machinery with baffles and without baffles and in case of low efficient boiler what steps may be taken, he suggested increasing surface area and heat transfer coefficient. In case of capital energy trade off for retrofit applications, broader area concludes minimum energy and lower area for higher energy.
Case Studies
On the second day, Dr. Reddy exclaimed a partnership between Japan and some local textile industries in his case studies anticipating for a better progress towards sustainability. Hams, Delta, GTL shared 50% partnership regarding energy efficiency with a remarkable payback period of 2.9, 2.7 and 4.9 years respectively along with the benefits of 38, 89, 16 million taka that implies a huge amount and also a great example for other industries for taking initiatives.
He spoke about Singapore Carbon Tax that $5 per tonne of greenhouse gas emissions to be levied as one of the best adoptions. Also water as a precious commodity to be used in case of energy efficiency.
Costs, material constraints, lack of viable end use, chemical compositions, inaccessibility was shown as a barrier of WHR challenge along with a payback fear.
There was a project of "Combined Heat and Project" with high heat demand and export implemented by Japan Consortium Company LTD, anticipating an energy efficiency up to 84% in that case study."We cannot control what we cannot measure," he said, showing the importance of steam measurements in case of decreasing equivalent amount of carbon-dioxide emissions.
Finally, he suggested using Organic Rankin Cycle in case of new power plants for having a sustainable era ahead. He further added that having sustainable culture within people's mindset is the sole way for betterment of any country, and private –public partnership is also necessary for a fruitful economic growth in the adverse climate change condition.
Policy Aspect of WHR
Mr. Siddique Zobair, Member and Additional Secretary of SREDA, spoke about the policy aspect and priority on WHR, highlighting the government's upcoming "Pilot Project" for adverse situation of Bangladesh like policy barrier or financial cost.
There should be supply of steam without boiler where the primary energy supply obligation for gas would turn into a savior and keeping down the temperature in steam, supplication of electricity can be affirmed, he said.
He mentioned lack of space, cost--benefit analysis, Titas Gas assurance problem etc as hindrances to proceed further in case of power plants' conversion from simple cycle to combined in Siddhirganj, Ashuganj etc.
"We are already in a process of adopting absorption chiller to make cold storage but the utilization problem left us in dilemma," he said.
Waste heat source, recovery technology, end-user demand was mentioned as three important elements of Waste Heat Recovery in this policy aspect.
Keeping sustainability and Vision 2021 in mind and anticipating Bangladesh a middle income country, he forecasts the GDP growth to be 7.4% by 2025. For that, competitive mind is a must for every industries to keep pace up with the global market and aiming at less requirement with a cheaper cost in case of energy, he told the closing ceremony.
---