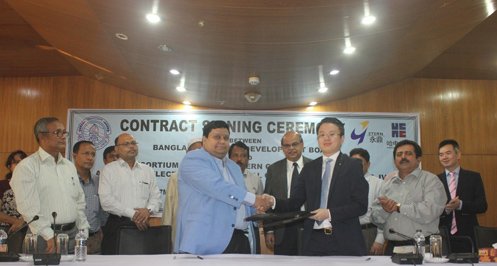 Contract with a Chinese consortium for constriction of Khulna 330 MW dual-fuel combined cycle power plant is going to face termination as the contractor failed to arrange required fund for the project.
According to official sources, the government signed a contract on November 17 in 2016 with the Chinese Consortium of Harbin Electric International Co Ltd (HEI), and Jiangsu Etern Co Ltd, to set up the plant's simple cycle unit within 15 months (450 days) and combined cycle unit within 30 months (900 days).
Nineteen months passed by but, no progress has been made in implementation of the project as the bidder failed to arrange the required fund from the Chinese bank.
Officials said the total cost of the project is about $400 million, equivalent to Tk 3,253 crore. Of this, the Chinese Exim Bank was supposed to provide $304 million, equivalent to Tk 2370 crore, which shares 85 percent of the turnkey contract cost.
As per the contract with the government, the bidder will have to arrange at least 85 percent of the turnkey contract amount by its own initiative. The remaining Tk 1,240 crore will be financed by the government of Bangladesh.
---