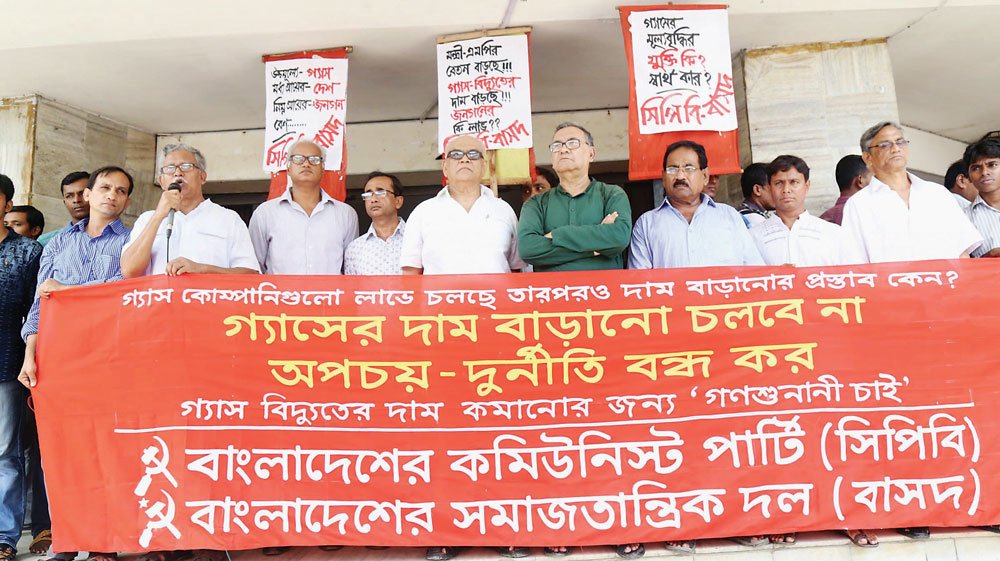 3rd July 2018
Saleque Sufi
Against the backdrop of regasified liquefied natural gas (RLNG) injection to the national grid, Bangladesh Energy Regulatory Commission (BERC) is not holding the public hearing on the proposals of gas price adjustment. RLNG supply was supposed to commence from June 20after several rescheduling. The initiative to import LNG was launched in 2010. If professionally pursued, 500 MMCFD of RLNG from the country's first FSRU should have been injected into the gas grid by early 2014. The EMRD and Petrobangla mismanagement has now reached a situation that the gas system already developed 1,000 MMCFD plus deficit. The grid is not ready even now for receiving more than 250 MMCFD of RLNG. The ship with LNG is waiting besides the FSRU since the third week of May. LNG is definitely much costlier than own gas. The situation for LNG import is also created due to failure of Petrobangla in diversifying fuel resources through exploiting discovered coal reserve and, exploring and developing new gas fields for over a decade. The gas grid experienced severe gas crisis during the ensuing Ramadan. KGDCL, a Petrobangla company, already issued demand notes to new industrial consumers quoting higher gas price before any price fixing by the BERC. The onus of higher gas price originating from abysmal performance of Petrobangla is transferred to the users who have undergone immense sufferings over the last 10 years from the chronic gas crisis.
Gas System Supply Security
One must look back in retrospect at which situation Bangladesh had to decide on importing LNG. Petrobangla and EMRD have miserably failed to explore and develop own gas resources over the last 18 years. Huge discovered coal reserves remain unexploited. A vested syndicate, by creating a hue and cry that the reserves are running out, has pushed the government into a very tight situation. Even LNG import initiative has been protracted and prolonged. Now without required and reliable feasibility studies and without assessing technical and managerial capabilities, the government is signing memorandum of understandings (MOUs) one after another for LNG import.
The effective production capacity of gas fields is depleting progressively. It has already depleted from 2,750 MMCFD to about 2,650 MMCFD. By end 2018, it may further deplete. Almost all the wells of major producing fields would require installation of well head compression. During the past two terms of the Awami league government, no new large gas fields have been added. All fields have attained production plateau. Chittagong system alone has a deficit of 250-300 MMCFD. In such circumstances, 250 MMCFD was expected to be injected from June 20and be consumed in greater Chittagong region only. Moreover, promised new industrial connections in Chittagong will add to the demand. It is not sure when Anwara–Faujdarhat pipeline will be completed. Until the pipeline is completed, RLNG cannot be evacuated in gas transmission grid. Summit Group FSRU cannot be commissioned till December 2019 at least. In such situation, why all end users in the entire gas franchise would bear the burden of higher gas price. How the 250 MMCFD of gas would affect the pricing in a 3,000 MMCFD market. Logically, the government must not take anything back from gas sale proceeds of the gas marketing companies or pay subsidy for LNG use till sustainable gas supply to all consumers is ensured.
Up to 300 MMCFD is pilfered from the system through illegal connections and by passing meters --around 200 MMCFD in Titas Gas franchise and 100 MMCFD in Chittagong. Why good end-users would continue bearing the burden of the evil users' syndicate? Why Petrobangla and EMRD are not unleashing crush program to eliminate unauthorized use of gas.
While raising the gas price marginally, a comprehensive gas utilization plan must be adopted. Pipeline supply of gas through prepaid meter connections and gas supply to CNG for 24 hours must be reestablished. People in Khustia, Rajshahi, Jashore, Khulna, Barishal and for that matter every citizen have rights to pipeline gas supply. Side by side, LPG and auto gas program must also proceed through making these supplies safe and affordable to all.
GTCL to be Under Financial Stress
The LNG import program through all the planned FSRUs and land-based terminals is unlikely to be implemented in near future. Some would not be found feasible. In this situation, burdening the GTCL with huge investment would be suicidal. The GTCL is already suffering from less utility investment for Bibiyana–Dhanua, Ashuganj-Bakhrabad and Hatikamrul-Khulna pipelines. They have already constructed 90-Km long 30"-OD Maheshkhali Anwara pipeline, CGS at Anwara. Now constructing Maheshkhali-Anwara 42"-OD loopline, Anwara–Foujdarhat Pipeline and Faujdarhat–Feni-Bakhrabad pipeline. There is no guarantee when these pipelines will get the expected supply. GTCL requires the appropriate wheeling charges and injection of capital to operate these facilities efficiently. It cannot recover its investment until the promised RLNG supply based on which the system is being expanded is available. There are reasons for adjusting the GTCL wheeling charges at a logical level.
Untilthe gas grid gets at least 500 MMCFD of RLNG supply, marginal gas price adjustment that the BERC would determine for any categories of the end-users must not be made effective. The government must also expedite the exploration campaign for new petroleum resources. It must also start exploiting own coal resources. The future fuel mix of domestic and imported fuel should be equal.
Saleque Sufi;
Contributing Editor, EP
---