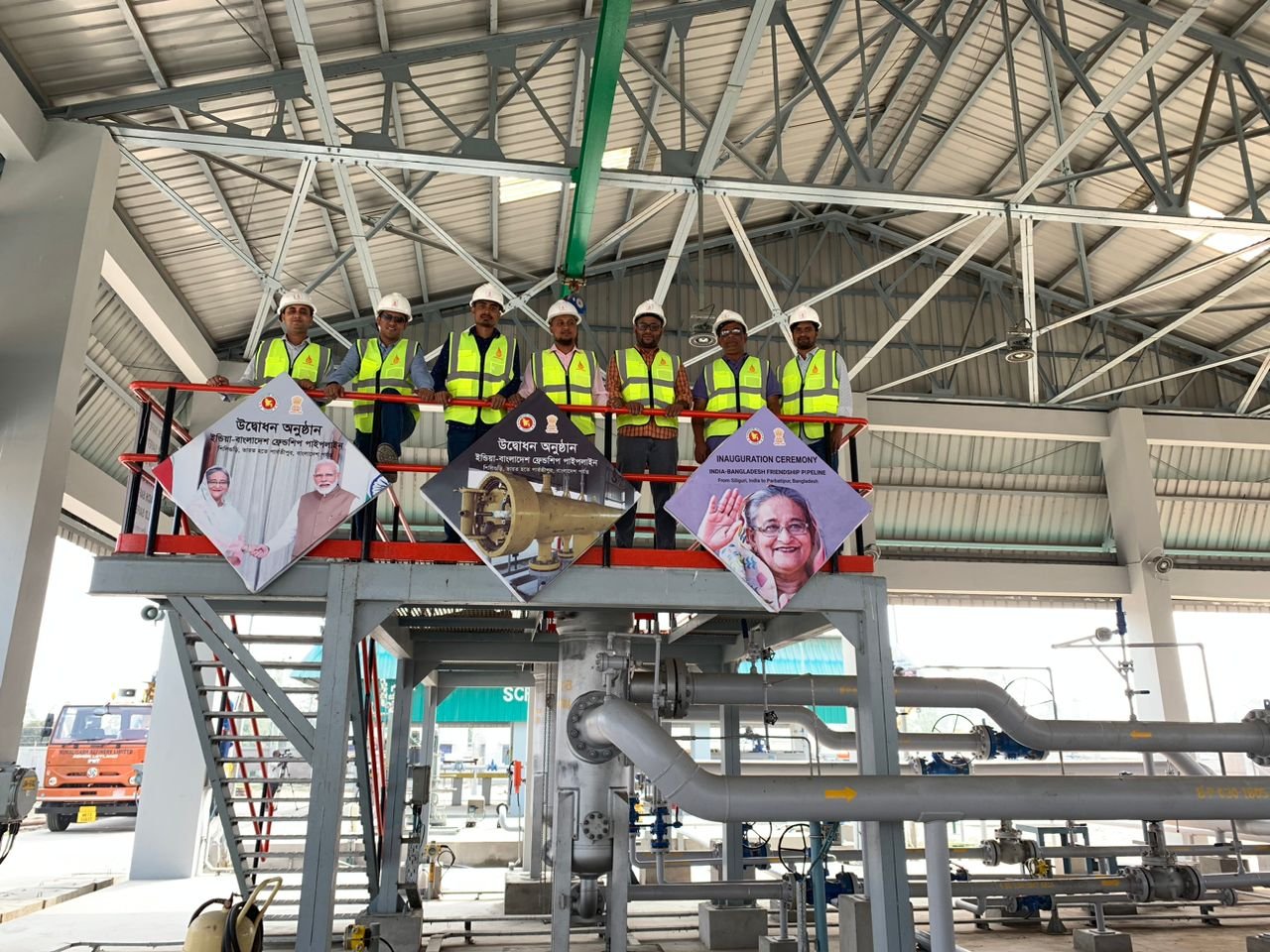 Prime Minister of Bangladesh Sheikh Hasina and Indian Minister Narendra Modi are inaugurating the 'India-Bangladesh Friendship Oil Pipeline' today (March 18) at 5:30 pm through a video conference.
This 130 km long oil transport pipeline is designed for import of 1 million (10 lac) ton diesel per year, which will immensely help irrigation of the granary of Bangladesh. Needless to mention that transport and supply of diesel to the Rajshahi and Rangpur Division from the Chittagong port was a huge logistical nightmare to the state-owned oil corporation - BPC. The project will yield numerous benefits including control of transport cost, adulteration, pilfering, and help achieving much required food security. On the other hand, this pipeline will open opportunity for import of fuel oil from the sanction areas through India.
The pipeline project was initiated in 2010, when Indian Prime Minister Dr. Manmohan Singh visited Bangladesh. Finally, the foundation stone of the 'India-Bangladesh Friendship Pipeline' was laid on the 18th September 2018 and international tender was called by NRL in the 2019 with the technical assistance from Engineers India Limited (EIL) – an Indian government owned engineering and consultancy firm. It was planned to launch in the early 2021; but, delayed for one year owing to various reasons, including COVID, land acquisition issues, delays in getting necessary clearances, and the other setbacks the project had to face.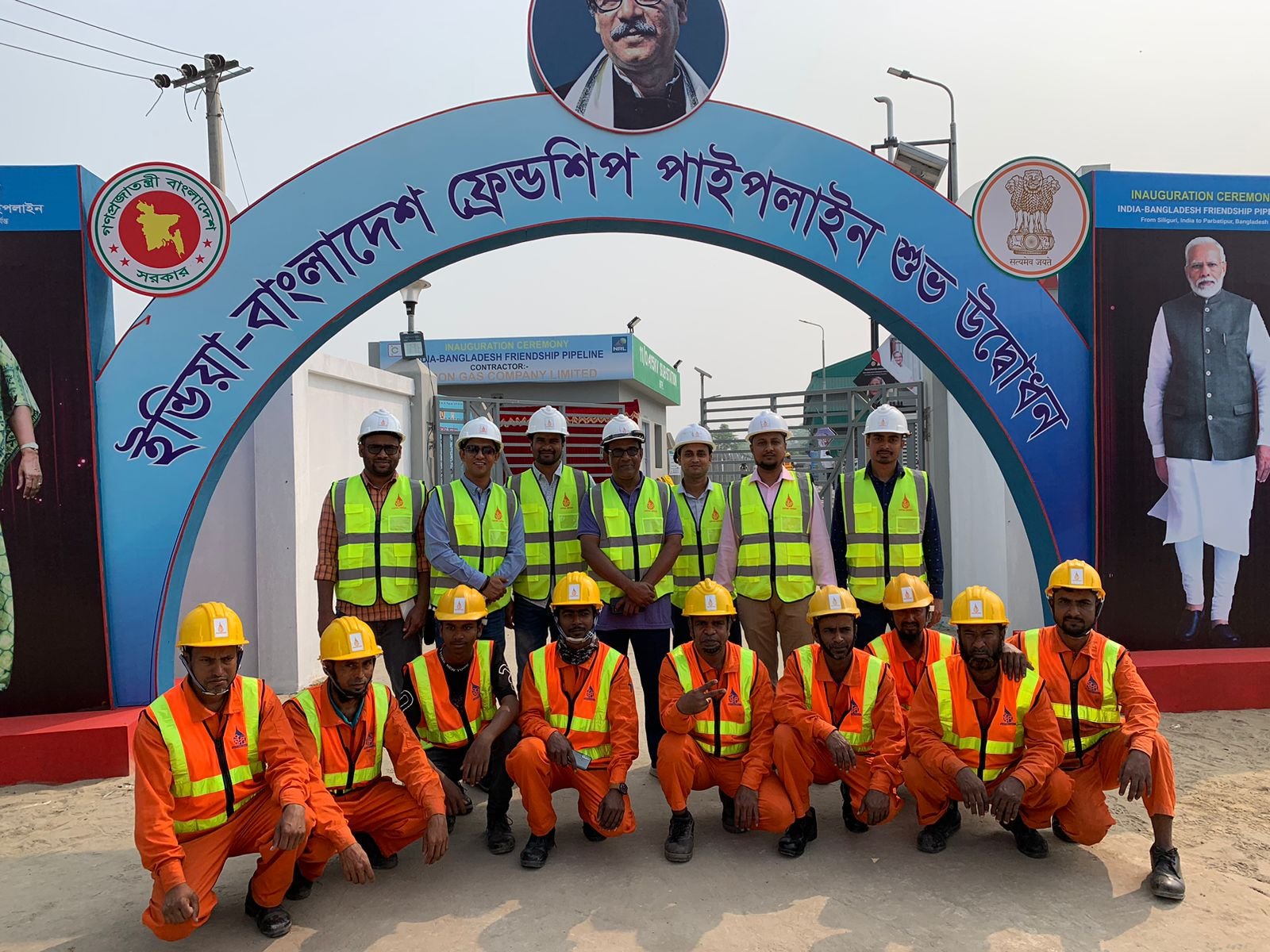 Dipon Gas Company Ltd., the Bangladeshi pipeline construction firm, among other two Indian firms, were awarded the pipeline construction job. Dipon in addition to the 50 km pipeline constructed Oil Receiving Terminal, SCADA, Sectional Valve Stations, Diesel Filtration System, Pig Receiving Station, HVAC, Sub-Station, etc. The pipeline was constructed using advanced technology to ensure its safety and efficiency under the supervision of Engineers India Limited (EIL), as the project engineer.
The construction of the 130 km long pipeline from Siliguri in West Bengal, India to Parbatipur Oil Depot in Dinajpur, Bangladesh was completed last month. It was buried three meters below the ground level. The pipeline has 126 kilometers in Bangladesh and four kilometers in India and crossed six points on Teesta, Ichamati, Karatoa and Dauk rivers en route from Banglabandha to Parvatipur and three points under railways, four points on highways and 28 points under the rural road networks of LGED.
Once the commercial operation date (COD) is commenced, the India-Bangladesh Friendship Oil Pipeline will bring significant benefits to both countries. It will reduce the transportation cost of petroleum products and make it more cost-effective for both countries. It will also reduce the environmental impact of transporting fuel by road and rail. In addition, the pipeline will provide a reliable source of energy to Bangladesh, which currently imports most of its fuel from the Middle East.
Overall, the India-Bangladesh Friendship Oil Pipeline is not just a pipeline project, but a symbol of regional cooperation and friendship between the two countries. It is expected to set an example for other South Asian countries to follow and lead to further collaboration in the region. Moreover, this can be example for the proposed cross-country gas import pipeline by the Saudi Investors.
---