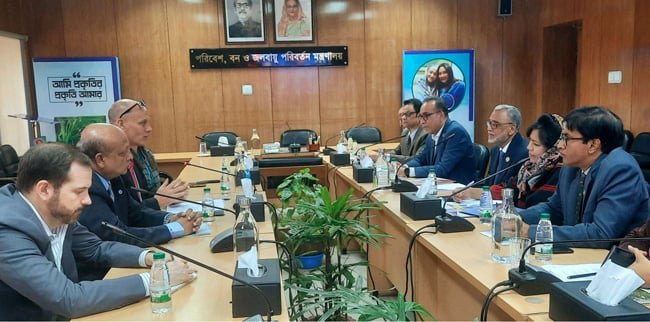 DHAKA, Jan 26, 2023 (BSS) - Environment, Forest and Climate Change Minister Md Shahab Uddin today sought support from the Food and Agriculture Organization of United Nations (FAO) for implementing actions to combat climate change.
He said Bangladesh shall be working closely in the days to come to overcome the biggest challenges of climate change.
The environment minister made the remarks while a FAO delegation, led by FAO representative in Bangladesh Robert D Simpson, met him at his office in the secretariat here.
Environment Secretary Dr Farhina Ahmed, Additional Secretary (Admin) of the ministry Iqbal Abdullah Harun, Additional Secretary (Development) Md Mizanul Hoque Chowdhury, Additional Secretary (Climate Change) Md Moniruzzaman, Additional Secretary (EPC) Md Mizanur Rahaman and senior officials were present at the meeting.
Shahab Uddin said the government is working sincerely to protect environment, forest, biodiversity and deal with climate change impacts.
He said Bangladesh appreciates FAO's support in exporting the stockpiled 525 tons of DDT pesticides in an environment-friendly manner.
The Department of Environment is also working with FAO to strengthen the capacity for monitoring emissions under the Paris Agreement, the minister said.
Robert D Simpson said Bangladesh has been raising a powerful voice at global climate meets.
"Bangladesh has built positive image globally. FAO wants to continue working with Bangladesh in disaster management and early warning system.
FAO will continue substantial dialogue with Bangladesh for longer term financing in field of agriculture and climate actions," he said.
---