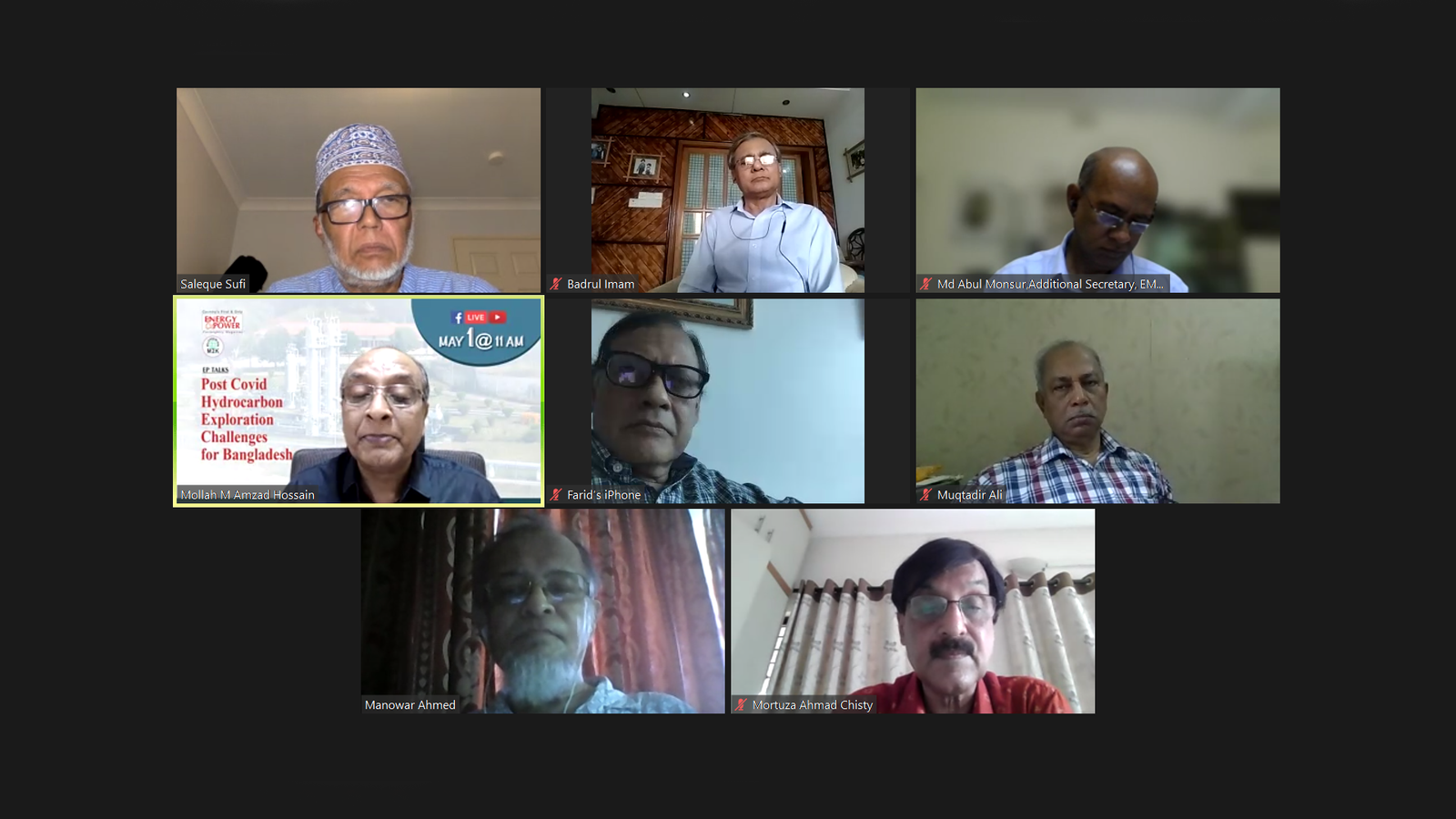 Initiatives Of Both BAPEX and IOC Are also Essential. Exploration at Chittagong Hill Tracts Must Also Get Priority Attention.
Dhaka, May 2, 2021 (EP): BAPEX alone initiative utilizing government finance is not enough for creating dynamism in hydrocarbon exploration. Rather International Oil Companies (IOC) should be engaged under PSC. BAPEX should work on standalone basis or under joint venture. There is no other alternative now but to formulate and implement sustainable policy for hydrocarbon exploration. Finally for attracting investment of IOCs instead of capping the price a formula should be incorporate for flexible pricing in model PSC. Otherwise like CONOCOPHILIPS and DAEWOO IOCs would leave Bangladesh failing in the negotiations of gas price increase. Finally without waiting for data to be generated through multi client surveys bidding rounds must be invited for offshore and onshore exploration. Speakers connected digitally in the Energy & Power Seminar observed and suggested above.
One observer mentioned that path to Liquefied Natural Gas (LNG) import was facilitated creating a perception of Bangladesh running out of gas. Similar propaganda was created as Bangladesh floating on gas for justifying UNOCAL proposal of gas export to India. Another speaker pointed out that oil and gas exploration cannot done through DPP approval following government process. It was alleged the dominance of bureaucracy has incapacitated BAPEX and has also made Petrobangla almost non functional. In response to this it was mentioned that the present situation has been created for not growing right leadership in Petrobangla and its companies. Officials now working in Petrobangla and those gone to retirement cannot also deny responsibility for this.
EP Editor Mollah Amzad Hossain moderated that the digital seminar on "Post COVID Hydrocarbon Exploration Challenges For Bangladesh". The key note presentation was made by Contributing Editor EP, Engr. Khondkar Abdus Saleque. The discussants were Abul Monsur, Additional Secretary, EMRD, Dr. Badrul Imam, Honorable Professor of Geology Department, Dhaka University, Muqtadir Ali, Former Chairman of BPC and Petrobangla, Fariduddin, Former Vice President UMPC Operations in Bangladesh and Murtaza Ahmed Faruque, former Managing Director BAPEX.
Abul Monur put forward a question, "is bureaucracy alone an impediment to Hydrocarbon exploration?". Maybe not. Present government always tried to work following the advise of experts. But the views and observations of experts changed with time. These have created great confusion. There are no options for continued exploration for enhancing gas supply. But it is not possible to predict now how much government financing may be possible for Oil and Gas exploration after COVID pandemic is over. We must not forget about the present inefficiency of Petrobangla companies. We must also have to think how much benefits can be achieved from government commitments of funding.
Prof Dr Badrul Imam claimed that, controversies in gas sector have been created deliberately for fishing in muddy waters. Gas resources running out perceptions have been created to justify LNG import. The stalemate situation in BAPEX has been created for pushing decisions from the top. Letting GAZPROM operate in BAPEX discovered gas Fields in Bhola is a suicidal decision. IOCs need to be brought for oil and gas exploration in Bangladesh but not ignoring BAPEX.
Muqtadir Ali said, if massive exploration for hydrocarbon can be initiated, it would definitely assist in enhancing reserve. But till now a sustainable policy for exploration could not be formulated. Investors come for commercial operation not for charity. It was never possible to announce competitive pricing taking the above into consideration. Consequently IOCs came from time to time but many of them left failing to negotiate higher gas pricing. Unlocking the data and information available with Petrobangla Investments may be invited from IOCs. Proposals may be sought from IOCs working in Bangladesh now for deeper prospects exploration. In future exploration using government financing may not be possible in future. There is no alternative left now but to go for fresh PSC bidding for exploration at onshore and offshore.
Fariuddin said, for quick success from exploration Bangladesh should make plan for probable resource development of Chittagong Hill Tract region. There are some leads there. For quick success some works should be done there. BAPEX is now a lame duck. It is not possible doing exploration like works using government money given through lengthy process. But a proposal submitted by BAPEX in joint association with Mitsui of Japan for 6 structures is gathering dust with government. Green signal should be given for works as soon as possible. Without waiting for arbitral award of NIKO dispute resolution exploration and development plan for Chattak and Tengratilla must be executed as soon as possible. But we must not look towards BAPEX only. IOCs must be attracted for risk investment in exploration as priorities of the government may change elsewhere for financing during Post COVID economic recovery.
Murtaza Ahmed Faruque said, BAPEX cannot work on own decision. EMRD has absolute control. BAPEX needs more autonomy for planning and execution of works. He ofcourse admitted that BAPEX cannot take the sole responsibility of exploration in Bangladesh. IOCs' investment is essential now. Especially for frontier areas in Western Region and Deeper Horizon IOCs need to be deployed now.
Engr. Khondkar Abdus Saleque in his keynote presentation asserted that Bangladesh cannot meet gas supply security exclusively with imported LNG without enhancing own gas reserve. For that to happen, enabling policy for attracting IOCs must be adopted. For launching off shore exploration it is not essential that we have to wait for data acquisition from Multi Client surveys. IOCs can start works with whatever data is available in Petrobangla data bank. But price capped in model PSC must be reviewed. Rather a formula for determining pricing should be included. The price can be calculated based on that when eventually gas purchase and sales agreement is made 8-10 into the future. Government must formulate a national policy for hydrocarbon exploration including exploration strategy and depletion policy on top priority basis. Under this policy, government after COVID should initiate at least 10 exploration rigs work at a time by BAPEX, IOCs through PSC and JVA. Unless this is done within next 5-6 years serious gas supply crisis may have to be encountered.
---