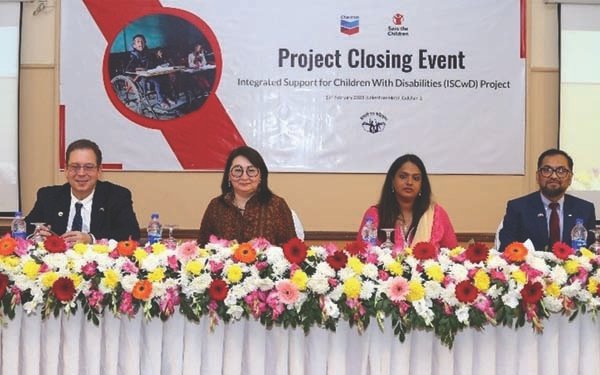 18th March 2023
EP Report
The closing event of the Integrated Support for Children with Disabilities (ISCwD) Project, funded by Chevron and implemented by Save the Children was held recently at Lakeshore hotel, Gulshan-2, Dhaka.
The project supported more than 400 (four hundred) children with disabilities aged between 0-18. The aim of the project was to promote access to education, health services, development, participation, and well-being through inclusive approaches (which supports the achievement of the UN SDGs).
This noble initiative started in March 2022 to support children with disabilities and their parents to get accessible basic services like health, education, and development from mainstream service providers, says a press release.
The project screened 219 children by technical professionals and provided customized assistive devices to 155 children. It also improved accessibility of 25 educational institutions, (disabled-friendly toilets, soil filling of the playground and entrances of schools, connecting roads, ramps, etc.) including library set up at 14 schools and 1000 magic bags (age-based educational materials) distributed to 20 government primary schools and children.
The impactful intervention was introducing inclusive games among children with and without disabilities which enhance the confidence of children with disabilities.
---