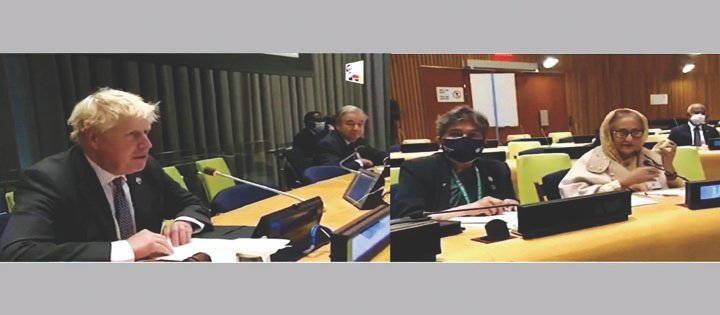 5th October 2021
EP Report
Prime Minister Sheikh Hasina has sought global leaders' bolder steps over the climate change crisis amid speculations about particularly US pledges towards the issue in the 76th UN General Assembly (UNGA) debate.
In a closed-door meeting of world leaders ahead of the weeklong UNGA debate, the Bangladesh premier renewed her call for strict implementation of the Paris Agreement to keep the global temperature rise below 1.5 degrees Celsius.
UK Prime Minister Boris Johnson hosted the meeting jointly with UN Secretary General Antonio Guterres in New York recently.
Sheikh Hasina reminded the advanced nations that despite having slightest contribution to global greenhouse gas emissions, Bangladesh and other climate vulnerable countries were exposed to its worst wraths as she asked their leaders to address the issue with enhanced financing to save the planet.
Johnson as well urged them to pledge more money towards supporting developing nations move away from fossil fuels, particularly pointing to the United States, saying getting a commitment from President Joe Biden would "make a huge difference".
---