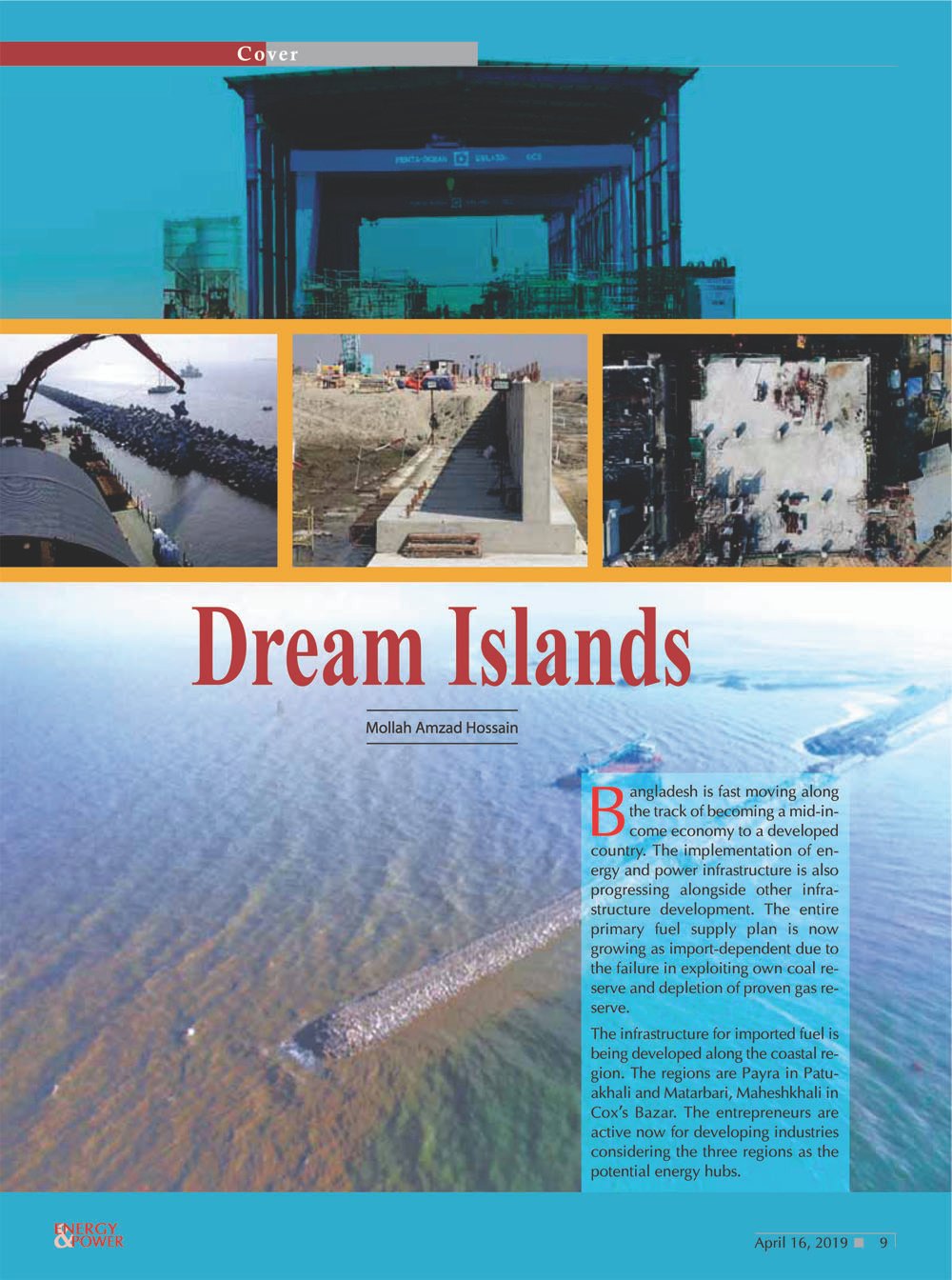 19th April 2019
Mollah Amzad Hossain
Bangladesh is fast moving along the track of becoming a mid-income economy to a developed country. The implementation of energy and power infrastructure is also progressing alongside other infrastructure development. The entire primary fuel supply plan is now growing as import-dependent due to the failure in exploiting own coal reserve and depletion of proven gas reserve.
The infrastructure for imported fuel is being developed along the coastal region. The regions are Payra in Patuakhali and Matarbari, Maheshkhali in Cox's Bazar. The entrepreneurs are active now for developing industries considering the three regions as the potential energy hubs.
The first 660 MW unit of the 1,320 MW imported coal based power plant of Bangladesh China Power Company Limited (BCPCL), a joint venture of North Western Power Generation Company (NWPGCL) Bangladesh and CMC of China, is expected to coming into commercial production by the end of 2019. But it has not been possible yet to set up required infrastructure for importing coal directly to the plant site.
On the other hand, in the adjacent areas of Rampal in Bagerhat, another company Bangladesh India Friendship Power Company Limited (BIFPCL), a joint venture of BPDB, Bangladesh and NTPC, India is constructing another 1,320 MW imported coal-based power plant. The first unit may come into operation by end 2020. Here too, no work is being done for direct import of coal.
Reviewing the Power System Master Plan (PSMP) 2016, it appears that Bangladesh Power Development Board (BPDB) and some public limited companies have started implementing plans for generating 22,200 MW power at Matarbari and Maheshkhali islands by 2041. Of this, 18,000 MW will be coal based and 4,200 MW will be based on imported LNG.
Besides these, there is a plan for a land-based LNG terminal, LPG terminal and storage facility, Coal Transshipment Terminal (CTT), a coal jetty, a general jetty and a multipurpose large capacity container terminal at Matarbari. These components are now at different stages of implementation. Of these, the 1,200 MW capacity ultra super critical technology adopting coal fired power plant project of Coal Power Generation Company Bangladesh Limited (CPGCBL) is at relatively advanced stage. The first unit of the power plant is expected to start commercial operation in January 2024.
Matarbari 1,200 MW Coal Power Plant
The implementation work of 1,200 MW ultra supercritical technology adopting power plant is now in progress in Matarbari and Dholaghata unions of Maheshkhali upazila. The plan for US$ 4.6 billion JICA-financed project was approved in August 2014. EISA study was started and achieved approval ahead of that. The loan agreement with JICA was signed in June 2014. A Japanese consortium of Sumitomo–Toshiba and ISI was selected as EPC company and agreement was signed with them in July 2017. The construction of 14.3-km long, 250-meter wide and 18.5-meter deep channel excavation, construction of a coal jetty, a general jetty and a 1,200 MW (2X600) capacity ultra super critical technology adopting imported coal-based plant were included in the agreement. According to the agreement, the first unit of 600 MW would come into operation in January 2024 and the second 600 MW unit would be operational in July 2024.
Land development was the greatest challenge for the project. The challenge was to raise the ground 10-meter above the mean sea level (MSL). The Japanese contractor, along with its associates made this task achievable, using the dredged materials of the channel. Engr. Golam Kibria, Managing Director of CPGCBL, informed the EP that 20% works of the entire project is completed by March 2019. However, more than 70% works of land development and channel excavation already completed. A coal jetty and a general jetty would be constructed at one end of the channel. The company is expecting to complete these works by 2021. Ships of 80 dead weight tonnes (DWT) capacity would be able to access the jetty. All equipment, machine and plants required for the power plant construction would use the general jetty for transportation. The initial annual capacity of the coal jetty would be 4 million tonnes.
In the mean time, the government permission has been sought for another 1,200 MW power plant here. JICA financing has also been requested through ERD. The company expects getting financing and selecting EPC contractor for the plant before completing works of the first 1,200 MW plant. The company is optimistic that by 2028, 2,400 MW power will be generated from their two plants at Matarbari. Some 8.0 million tonnes of coal required for their plants can be imported using their coal jetty.
CPGCBL-Sembcorp JV
The CPGCBL–Sembcorp JV has started working on signing an agreement for a 700 MW power plant. The JV has land for it in possession. Tender document for seeking EPC contractor is also finalized. Six companies have also been shortlisted. However, a financial consultant has been engaged for sourcing finance and working out modalities for it. Engr. Kibria informed that tender would be floated after receiving the report of the consultant. Another source of the company informed the EP that another 700 MW unit of the power plant would eventually be constructed here under the JV. These would come into operation by 2028.
Around 1,400 acres of land has been acquired for this plant. FISCHNER Germany has been appointed as owner engineer. AecomIndia has been engaged for Social and Environmental Impact Assessment (SEIA). Six companies have been short-listed for engaging the EPC contractor. After completion of the request for proposal (RFP), the detail proposal from the six companies would be invited. By end 2018, these works would be completed.
But Sembcorp has sold 50% of its share to Mitsui Corporation before starting the project works. The plant is planned to come into operation in 2025. Project completion time would be reduced. A port channel and port construction would be completed simultaneously.
CPGCBL–Mitsui JV
CPGCBL has signed a MoU with Mitsui & CO. LTD, Japan for a 500-600 MW capacity joint venture LNG-based power plant in North Matarbari. Consultant has been engaged for the feasibility study.
TuvSud Bangladesh Limited is working with CPGCBL for a 200 MW wind power plant at Matarbari. They have started works on wind-mapping there. If wind velocity is suitable, works would start in 2019.
CPCGBL–Sumitomo JV:
Preliminary works for acquiring land has started for a 1,200 MW power plant on the opposite side of the location of the under-implementation power plant across Kohelia River in the upstream. The deputy commissioner's office is currently dealing with this. The land development activity is expected to start in 2020 after getting possession of the land.
Although the JV is for a 1,200 MW power plant, yet a later stage initiative would be taken for another 1,200 MW plant there. Additional land is being acquired keeping these in mind.
According to the plan, 7,000 MW power would be generated by using coal and LNG from Matarbari by 2030.
Coal Transfer Terminal (CTT)
CPGCBL, besides its planned works about coal jetty, has started working on construction of the CTT after finalizing the plan. Approval has been given for acquiring 47 hectares of land for it at Dholagaht union. When attention of CPGCBL Managing Director was drawn, he said the works on the first phase would be completed by 2025. But the completion of the second phase may require time till 2030. The capacity of CTT has not been finalized yet. A JICA report indicates that the CTT at final stage can handle import and storage of 28 million tonnes of coal annually.
The planned 18,000 MW coal-based power plants at Matarbari and Maheshkhali would require 54 million tonnes when all these would come into operation. A BPDB source informed that 9,600-10,500 MW capacity power plants are planned alone in eight blocks of Maheshkhali.
The source informed that the distance of Maheshkhali is 6-km from the CTT. Coal can be supplied by using conveyor belts. Coal to other plants at Matarbari can also be supplied by using conveyor belts. For the first 1,200 MW power plant of CPGCBL, 4.0 million tonnes of coal will be imported by using coal jetty. The capacity of the jetty can be expanded to 8.0 million tonnes in phases. When asked whether the planned CTT at Matarbari would be used for coal import for power plants at Maheshkhali, BPDB Chairman Engr. Khaled Mahmud said that their plan still now is like that. But for land development of Maheshkhali, sand would be required from excavation of the channel. We have to plan whether coal and LNG terminals can be built there as well.
The CPGCBL MD said that the CTT is still at a very preliminary stage. After getting land, land development and engagement of consultant for feasibility study would proceed simultaneously. The study report indicates from where the finance would come, whether it would be government's own finance or under partnership with others.
Maheshkahali Development Plan
For implementing the government plan, 5,500 acres of land has been acquired at Maheshkhali. Work on payment of land and rehabilitation are still going on. BPDB sources said about US$ 1.5 billion would be required for land development. BPDB has not finalized yet whether it will be done at a time or in phases. Of the eight planned power plants in eight blocks, tendering for one under ECA financing is at the final stage. Bay of Bengal Power Company, a JV company of BPDB and Huwadian has been formed for another 1,320 MW power plant. The third board meeting of the JV company would be held in China this month. The decision for land development would be taken there. It will also be decided whether this company alone can accomplish the land development. The possibility for constructing two units of 1,320 MW power plant by this company is under consideration. Besides these, Pre-MoU agreements were initialed between BPDB and TNB, Malaysia, KEPCO, Korea and SEPCO, China for three other power plants. But these were not proceeded further as foreign companies failed to get approval from their respective government. BPDB sources said coal-based power plants planned at Maheshkhali would start coming into operation from 2027.
BPDB and GE have signed a MoU for 3,600 MW of LNG based power plant at Maheshkhali. Both sides are now working on signing the final agreement. Around 500 MMCFD gas will be required for this plant. The primary target is the commitment of gas supply from Petrobangla.
Land Based LNG Terminal
One 500 MMCFD capacity FSRU has come into operation at Maheshkhali from October 2018. Another FSRU of Summit Bangladesh is expected to come into operation from April 20, 2019. But the present Maheshkhali-Anowara pipeline cannot evacuate more than 650 MMCFD. GTCL is assuring about completing construction of Maheshkhali–Anowara 42 inches OD, 90km parallel pipeline by June 2019. But RPGCL does not agree with GTCL claim. Petrobangla has decided not to proceed with works of other four FSRUs. Petronet India initiative for a land based LNG terminal at Kutubdia has also been abandoned following objection of Bangladesh Navy although they completed feasibility study for this.
In this backdrop, RPGCL on behalf of Petrobangla has initiated action for a land-based LNG terminal at Matarbari. Some 47 acres of land has been allotted for it. It is expected that by using the Matarbari channel, this land-based terminal can be brought into operation by 2023. Engr. Kamruzzaman, RPGCL MD, informed the EP that starting with a capacity of 1,000 MMCFD the capacity would eventually be enhanced to 3,000 MMCFD. He also said that RPGCL would give priority to joint venture of local and foreign companies for investing in this terminal. Expression of Interest for BOOT basis project implementation has been announced. The last date of submission of the EOI is June 20, 2019.
It is expected that this land-based terminal would supply RLNG for the planned 4,200 MW LNG based power plant at Matarbari, Maheshkhali.
Deep Seaport
Upon request of the Bangladesh government, JICA has commenced a study on the prospect of a deep-sea port at Matarbari channel. Around 1,600 acres of land has been acquired besides the under-construction port-connecting channel. Relevant sources expected that JICA would submit report by the end of this year. Only then it could be known when the deep-sea port construction can be started and completed for operation.
JICA has recently conducted a seminar on their study. It has been stated that Matarbari-Maheshkhali must come under a comprehensive plan as a prelude to deep-sea port construction. Without considering a deep-sea port in the region, the implementation of so many imported coal-based power plant and LNG import terminals has already become an issue. The JICA presentation evidenced that Chittagong Port can now handle 2,500 twenty-foot equivalent units (TEUs) of containers annually. Colombo Port of Sri Lanka handles 19,200 TEUs, Jawharlal Neheru Port of India handles 13,100 TEUs and the capacity of Chennai Port is 6,800 TEUs. JICA proposed to set up 8,000 TEUs deep-sea port at Matarbari. This will be similar to Kashima and Nigata (East) port of Japan.
Conclusion
The Matarbari-Maheshkhali twin islands are undoubtedly growing as the principal energy hub of Bangladesh. It started with a US$ 4.6 billion worth 1,200 MW imported power plant under a comprehensive plan, inclusive of coal import facilities. The greatest achievement of this project is going to be 14.3 km long 250 meters wide and 18.5-meter deep channel connecting Matarbari with deep water and the CTT that will be developed along it. This would be used for importing and supplying coal to all coal power plants to be constructed in the region. Land based LNG terminal is also being constructed using this channel. This would make major contribution in LNG import for meeting the growing deficit of natural gas supply. Moreover, a deep seaport would also be constructed along the channel. This channel would also make possible for importing and supplying coal and LNG for power plants planned at Maheshkhali. Well crafted planning and efficient investment in projects in the two islands would ensure secure and sustainable supply of energy to Bangladesh.
---