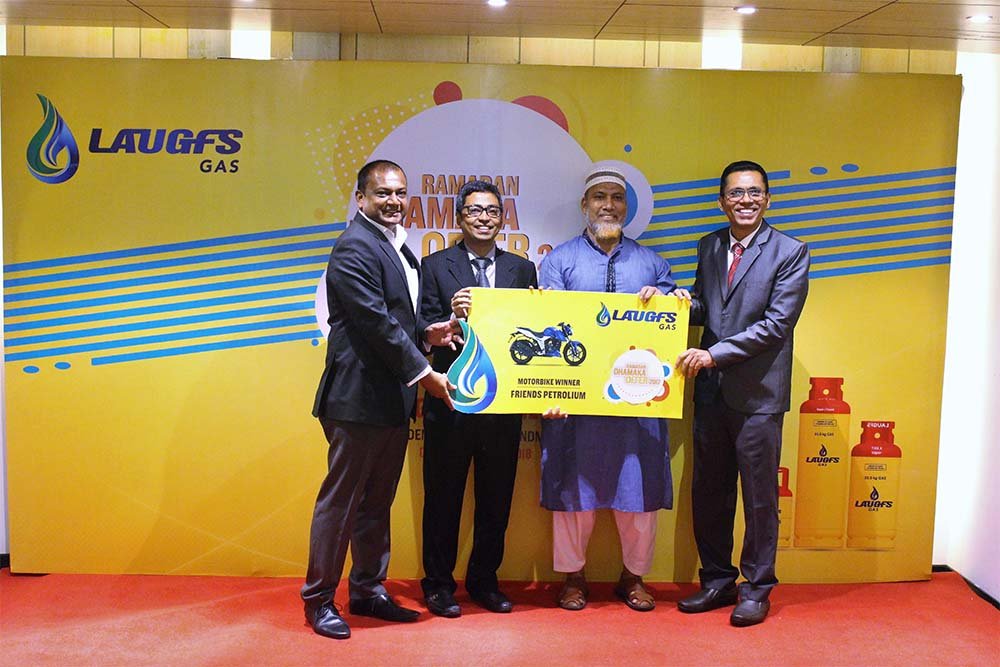 LAUGFS Gas (Bangladesh) Ltd., a 100% subsidiary of Sri Lankan business conglomerate LAUGFS Holding, has recently organized program to reward its dedicated channel partners for their remarkable contribution in the business. The platform was set to recognize top performing distributors and dealers of LAUGFS Gas Bangladesh for the period of Ramadan of 2017. The program was held at a 5 star hotel in Dhaka in presence of senior management of LAUGFS Gas Bangladesh's operation.
Md. Saidul Islam, Director and CEO of LAUGFS Gas (Bangladesh) Ltd. has conveyed gratitude from company's behalf to all the distributors and dealers for being with the company to provide support and service to the market neatly. In his statement, he has thanked all the invited channel partners for keeping the faith on company and requested them to do so in coming days. LAUGFS Gas believes in growing the business together with its well-wishers as well as serving the community as a good corporate citizen, Mr. Saidul Islam reestablished this notion of LAUGFS Gas in the program.
Mr. Ranjith Jayawardena, COO of LAUGFS Gas (Bangladesh) Ltd., put forth all the major setups that LAUGFS Gas would be activating in coming days to meet the energy demand of whole sub-continent- 35,000 MT storage capacity terminal in Hambantota, Sri Lanka, is the foremost initiative in this. LAUGFS Gas also has three major deep sea vessels to carry LPG, by which it will too cater the energy requirement of Bangladesh. Having its terminal in Bangladesh at Mongla, LAUGFS Gas has set its logistical infrastructure at all the major regions of Bangladesh and expanding the number more to cater the LPG demand seamlessly all over Bangladesh.
At the beginning of the program, Mr. Nazeer Latiff, GM- Sales & Marketing of LAUGFS Gas (Bangladesh) Ltd., warmly welcomed all the invitees & expressed his satisfaction for joining hand in hand with the company & marching forward together with the intend to achieve even greater excellence in coming days. Growing with sustainability is the core business mantra of LAUGFS Gas and Mr. Nazeer in his statement asked all the dedicated channel partners to work with this notion. Making fat profits shall not be the concern of any business partners of LAUGFS Gas, rather serving the community by creating a healthy business environment is the main business motive of LAUGFS Gas- from "Growth to Development". He also stated about the quality of LAUGFS Gas cylinders which are 100% imported with international certification, which ensures utmost safety to users & always assures right weightage minimizes any loss in usage.
Being the only 100% foreign funded international LPG entity in Bangladesh, LAUGFS Gas believes in Customer Centricity, Innovativeness, Teamwork, Integrity, Responsible Corporate Citizen- These are the core values that drive the wheels of business of LAUGFS Gas Bangladesh.
---