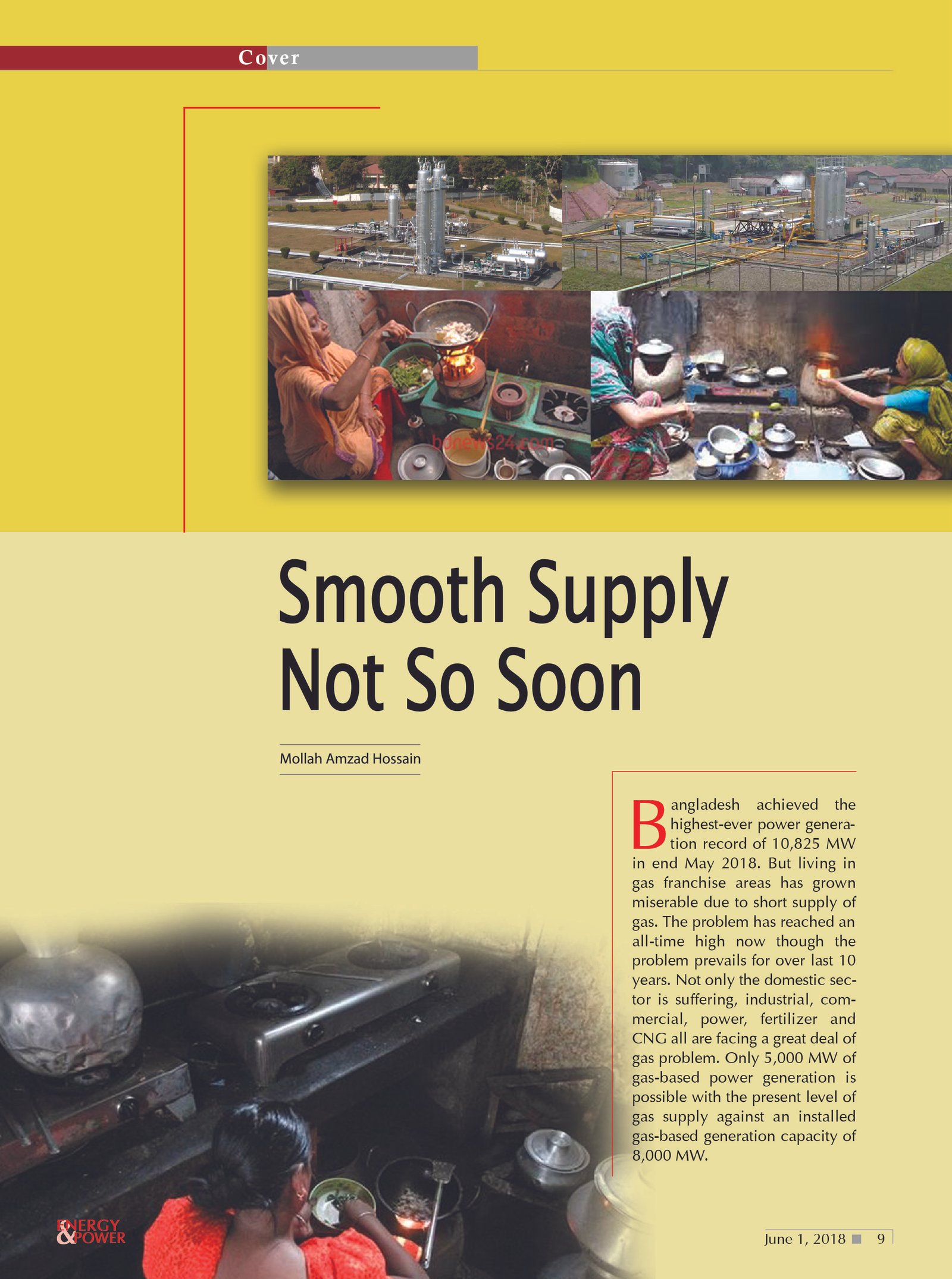 6th June 2018
Mollah Amzad Hossain
Bangladesh achieved the highest-ever power generation record of 10,825 MW in end May 2018. But living in gas franchise areas has grown miserable due to short supply of gas. The problem has reached an all-time high now though the problem prevails for over last 10 years. Not only the domestic sector is suffering, industrial, commercial, power, fertilizer and CNG all are facing a great deal of gas problem. Only 5,000 MW of gas-based power generation is possible with the present level of gas supply against an installed gas-based generation capacity of 8,000 MW. Distribution companies say that the demand usually grows during the month of Ramadan, but the supply further diminished. Consequently, there is no respite till the supply of re-gasified liquefied natural gas (RLNG) starts improving. But after changing the dates for few times, the Energy and Mineral Resources Division (EMRD) had set on May 12, 2018 as the new date for commencing RLNG supply.
Some examples would show how the supply deficit has deepened the crisis. Surpassing all previous records, gas supply to fertilizer production has come down to all time low. Against 316 MMCFD of demand, the supply on May 31 dropped to 54.5 MMCFD only. Only KAFCO could keep its production going though the supply could not meet its entire demand. All other fertilizer plants remained shut down, as a result.
According to Petrobangla information, the demand for power generation was 1,915 MMCFD on the day. But the supply was only 1,005.4 MMCFD. Only 94 MMCFD was supplied to non-grid power. Supply for power generation was 1,096.3 MMCFD. Petrobangla could meet only 52.5% of gas demand for grid power generation.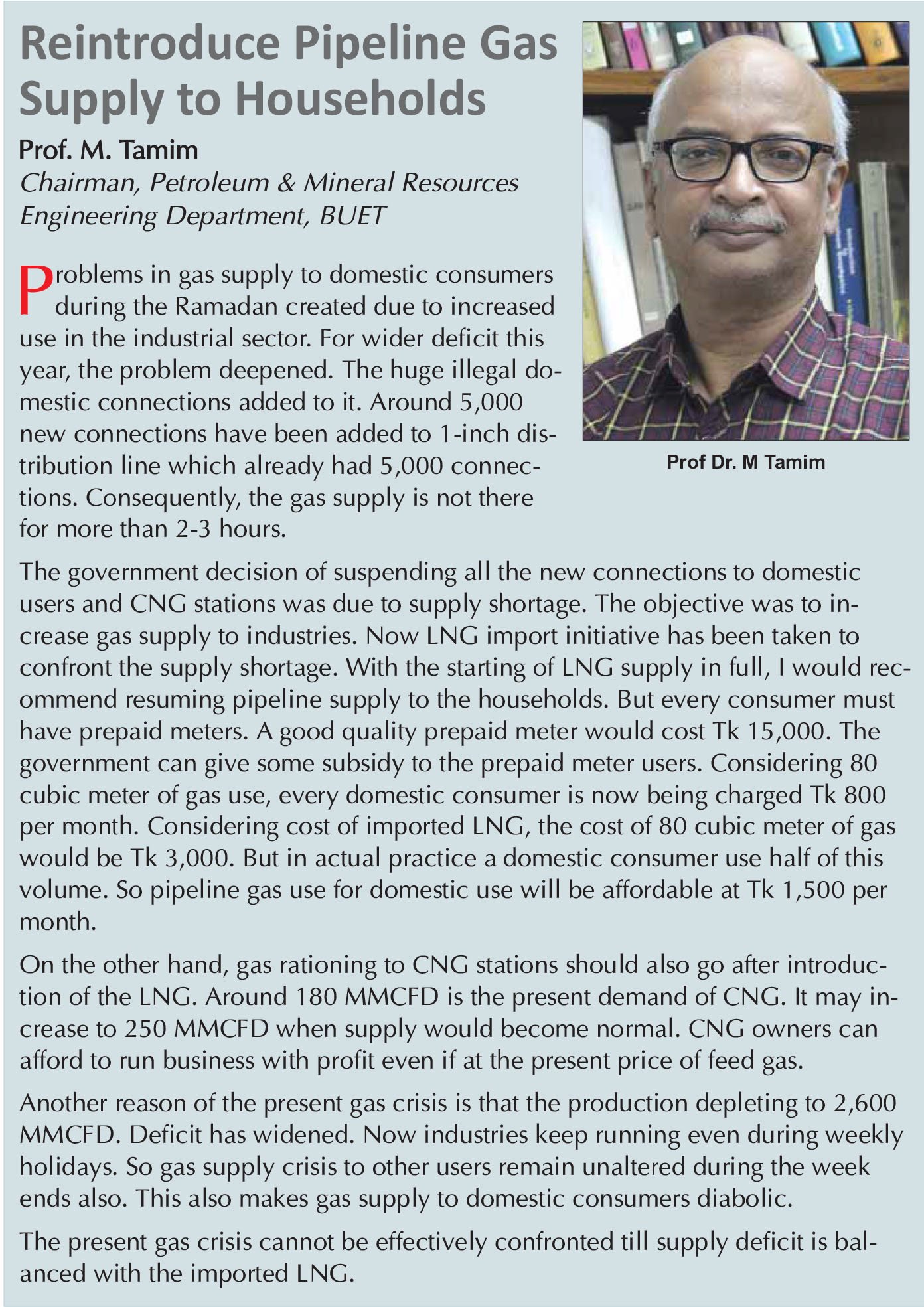 Sources at Petrobangla distribution companies said the demand for captive power generation would be 400-500 MMCFD. Now it is possible to supply about 50% of the demand. An official of Captive Power Generation Association informed the EP that during the Ramadan and ahead of Eid, most industries need to continue production at higher rates. Hence, the demand of captive power increased. But distribution with few exceptions cannot supply gas steadily at the required pressure. The industries are compelled to go for diesel generators instead.
Apart from captive generation, the industries are also not getting gas supply at required volume and right pressure for other usage as well. The crisis in Manikganj and Gazipur are very acute. Industries in Chittagong are suffering from gas famine. Some sort of optimism was created due to the government's assurance that the situation would improve from early May due to commencement of RLNG supply. But it has not started yet. Though it has been rescheduled to mid-June 2018, but it is not guaranteed that it would happen by then.
Besides, the industrial sector CNG accounts for 180-200 MMCFD of gas demand. But for improving gas supply to domestic users during the Ramadan, gas supply to CNG fuelling stations remain suspended from 5pm to 11pm every day. Experts observed that the pressure in distribution network did not improve even after increasing suspension period of gas supply to CNG. The CNG fuel pump owners pay the gas bill at the highest rate in the country. CNG sector can survive at profit even after buying gas at cost price after RLNG injection. Experts suggested keeping gas supply going for CNG. CNG businesses expect providing connection to another 100 CNG stations in the country after commencement of RLNG supply. Of course, CNG sector is also adversely affected from the present diabolic state of gas supply.
Petrobangla information states of 2,744 MMCFD gas production on May 31, 2018. Some 1,147 MMCFD of gas was supplied to power and fertilizer sectors. Industrial, Commercial and other end users were supplied with 1,573 MMCFD. EMRD claims 500 MMCFD of deficit. But Private sector observed that the deficit is not less than 1,000 MMCFD. Again, the gas production dropped to 2,600 MMCFD from the starting of Ramadan. The crisis compounded as the deficit increased.
But now the crisis of gas supply to domestic users in Dhaka and Chittagong has surpassed other crisis in power, fertilizer and industrial sectors. People are finding it extremely difficult for cooking Iftar and Sehri for gas crisis in their kitchens. The city suburbs and adjoining areas are suffering the most. The crisis along the capital city circles is the beggar's description. Gas crisis is nothing new in the cities. The expansion and development of the cities exceeded the projections over the past 10-12 years. As such, the gas distribution networks' capacity has almost become super saturated. Many single and double storied buildings have turned into multistoried complexes. Hence, the demand has increased significantly. The present network is struggling to meet the demand. But the Managing Director of Titas Gas Transmission and Distribution Company Limited (TGTDCL) has dismissed the notion that the capacity of the distribution networks is not at all an issue for the present gas crisis. He said that though the higher diameter feeder lines of distribution network were last constructed in 2003-04 under Dhaka Clean Fuel Project, yet the upgrading and maintenance of pipelines are a routine phenomenon. The supply deficit is the major reason for crisis in gas supply to the domestic consumers. No relief of domestic users can be expected before the RLNG is available.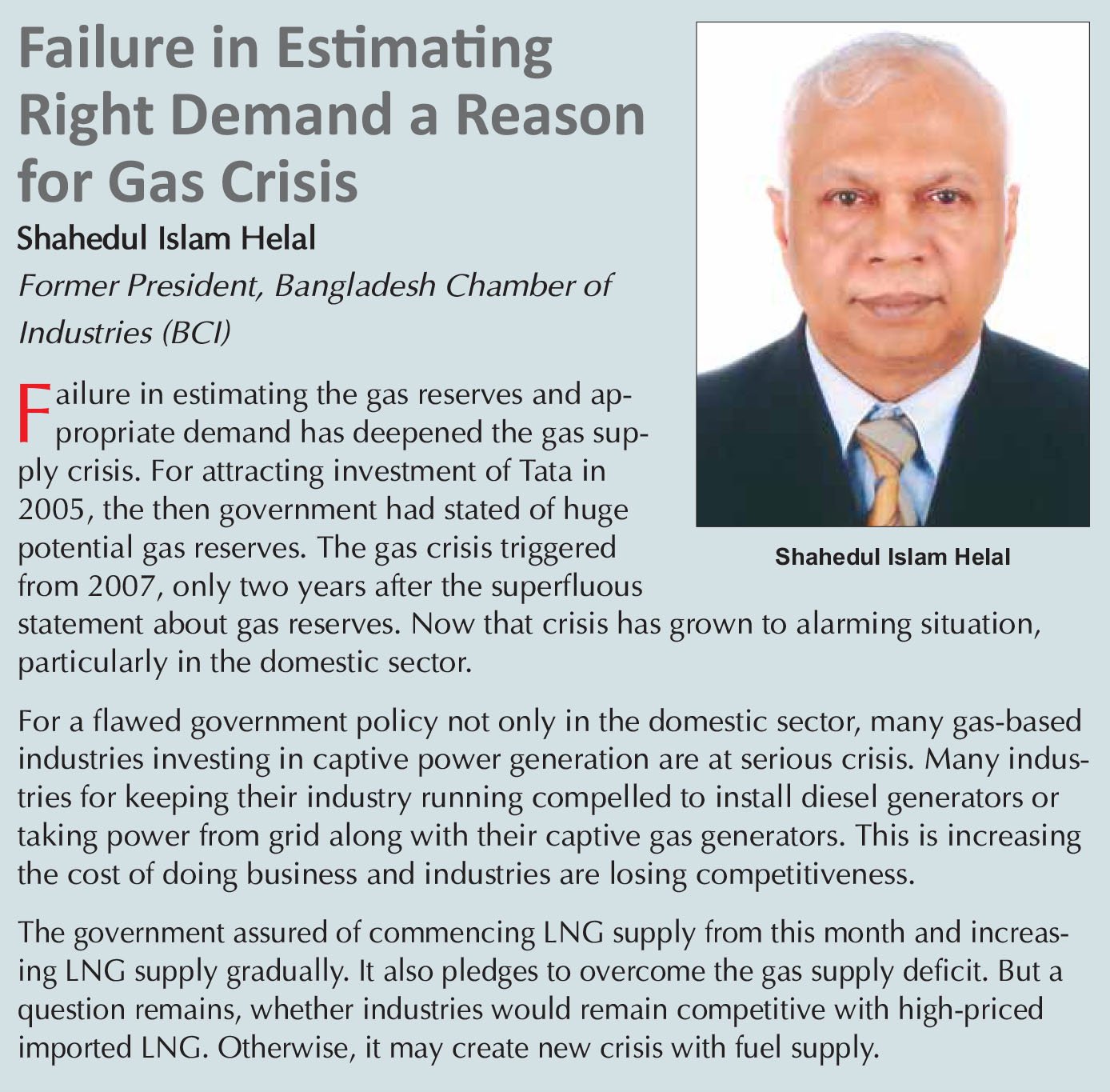 Presence of huge illegal connections also contributes to supply crisis to legitimate consumers in the cities. Energy Expert Prof M Tamim observed that the Titas system has 2-3 lakh illegal consumers. According to him, if 1-inch lines have 5,000 legal users, there are also 5,000 illegal users. Consequently, the crisis this time has surpassed all previous records. But the MD of TGTDCL informed that 85% of illegal connections have so far been removed. The remaining 15% can be removed in the next few months. According to him the illegal connections are not a big issue now.
The Tk 800 monthly gas bill has been fixed as flat rate for a double burner domestic user, considering 80 cubic meter of gas use. But experts observed that the monthly use in a double burner cannot exceed 40 cubic meters. Some consumers use even less. Abdul Aziz Khan, Member BERC, told the EP that all domestic consumers must be brought under the pre-paid metering system for protecting the interest of the users. Some pre-paid meters were installed at Lalmatia and Mohammadpur under a pilot project. Under another project, works for installing another 3 lakh meters on commercial basis is in progress in Uttara, Gulshan and Baridhara. Prof M Tamim said a pre-paid meter costs Tk 15,000. The government should make its installations mandatory providing a portion of the cost as subsidy. This would facilitate continuing gas supply to domestic consumers post-RLNG introduction. Petrobangla information states of 10% of total gas supply goes to domestic sector.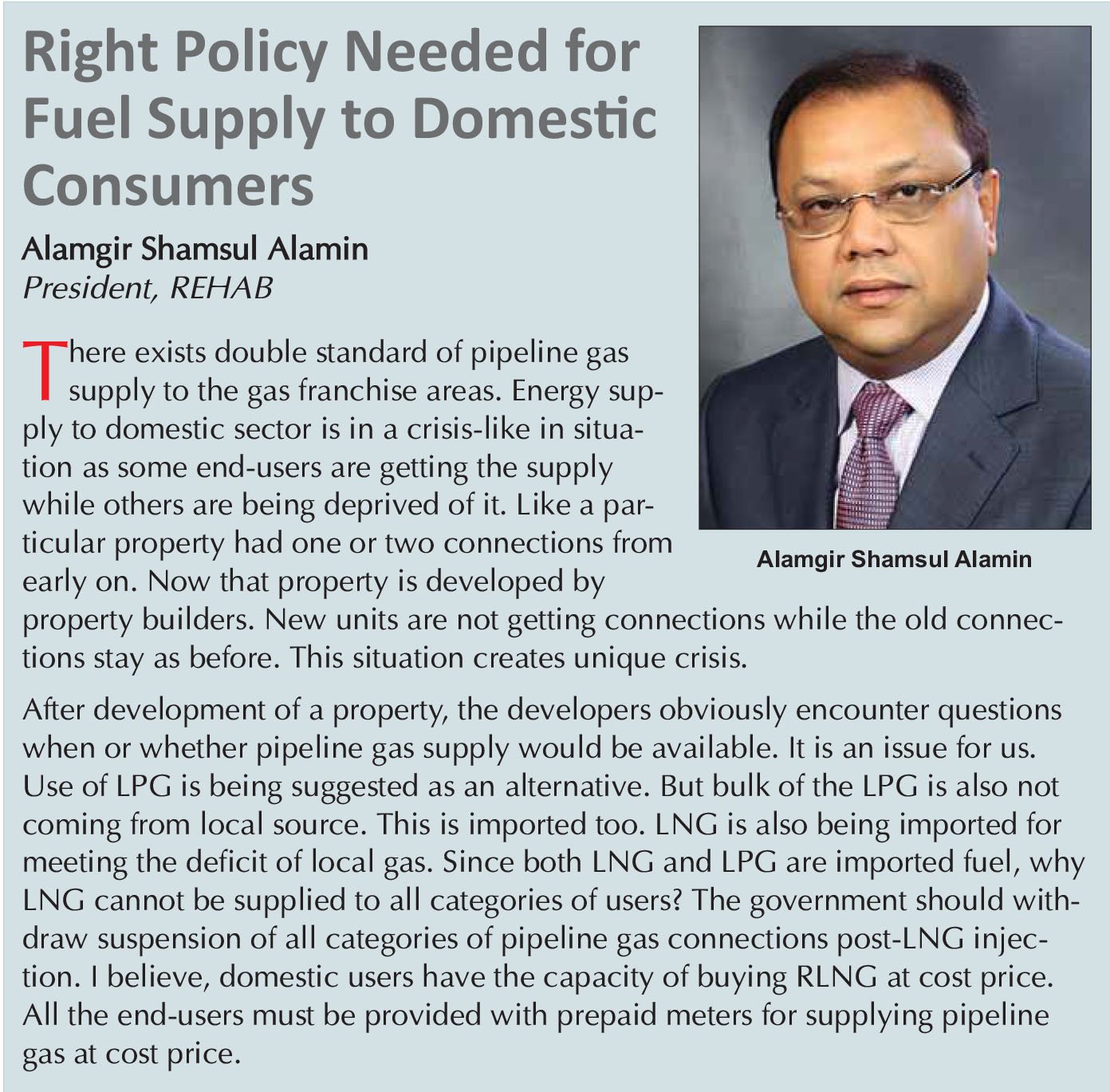 The EMRD and energy experts are unanimous that there is no option but to increase gas supply to confront the gas crisis. Anticipating that the local gas supply may not increase soon from new exploration, the government initiated LNG import program. But the project got extraordinarily delayed for different complexities and lack of experience. At long last, a FSRU with capacity of delivering 500 MMCFD RLNG anchored at Maheskhali. But connecting this to RLNG evacuation pipeline and commissioning could not be possible till now. After rescheduling for few times, a new date is set for June 12, 2018. If that happens by end June, the RLNG supply may be steadily increased. But GTCL could not yet connect Maheskhali-Anwara pipeline to the national gas grid through Anwara–Faujdarhat pipeline. The first attempt for Karnaphuli River Crossing has failed. The contractor has started the river crossing works again.
Sources at Gas Transmission Company Limited (GTCL) confirmed that until the pipeline is constructed and commissioned, it would not be possible to evacuate more than 250 MMCFD of RLNG. Hence the full capacity of FSRU cannot be utilized now. There is no guarantee that the second attempt of Karnaphuli River crossing would be successful. Past experience of GTCL in HDD river crossing is not very presentable. There are instances of failures for few times at Padma River crossing at Pakhshey. It took almost a year and a half to complete that crossing. If the river crossing fails again, the LNG program for improving gas supply would enter into a new crisis.
Not only the FSRU of Excellerate, another FSRU of the same capacity of Summit would be ready for supplying RLNG by December 2018. Two FSRUs together would have capacity for supplying 1,000 MMCFD. Besides these two projects, some other companies have also signed memorandum of understanding (MoU) for setting up FSRU and land-based LNG terminals for supplying LNG. Petronet's land-based LNG Terminal at Kutubdia having a capacity of 1,000 MMCFD (7 million tonnes annually), HQC for terminal of same capacity. Reliance Group for a FSRU of 500 MMCFD (3.5 million tonnes annually), Hong Kong Shanghai Manjala for a 500 MMCFD (3.5 million tonnes annually) capacity and Sembcorp also for a similar capacity have signed MoUs. Bangladesh Navy initially raised objection against LNG terminals at Kutubdia. But finally, the Ministry of Defense has given no objection to Petronet and Reliance LNG terminals. But Sembcorp is not doing any work after signing of the MoU. EMRD is not sure how long it may take to reach agreements with parties signing the MOUs. From the date of signing the agreements, a FSRU would take 18 months and land-based terminals would take 48 months.
In addition to feasibility studies for two more land-based terminals each having a capacity of 7 million tonnes per annum in the public sector have been completed. Tokyo Gas of Japan has done these studies. One of these would be at Payra, Patuakhali and the other at Kutubdia. A source at EMRD informed the EP that the tender for the terminal at Kutubdia would be announced next month. But no decision has been taken yet for the plant at Payra. It may need huge investment for dredging at Payra.
Commensurate with the development of LNG terminals, the pipeline construction of required capacity must also be completed for evacuating the RLNG. But capacity constraint of GTCL for implementing so many large projects simultaneously and land acquisition complexities, construction of the pipelines are being delayed. These created new challenges for the government. The government would fail in its commitments for increasing gas supply if pipelines continue to delay. On the other hand, the government would be penalized under take or pay contracts with LNG terminal owners.
According to official records, the Petrobangla companies and IOCs from 110 wells are now producing at a rate of 2,744 MMCFD. The combined capacity is 2,750 MMCFD. Petrobangla information also states that the demand of power and fertilizer sectors is 2,231 MMCFD. Now the supply is 1,146 MMCFD. The deficit in these two sectors only is 1,085 MMCFD. On May 31, gas supply to other sectors was 1,573 MMCFD. But the demand figure was not available on that day. Experts believe that the deficit there also would not be less than 400-500 MMCFD. So the actual deficit now is not less than 1,500 MMCFD. But Petrobangla claims that the deficit is 500 MMCFD. If another 200-250 MMCFD can be supplied, industries would get gas at higher pressure. If RLNG supply starts in June, the situation would gradually improve and in 2-3 months situation would be notably improved.
All are aware that the new connections to domestic and industry remains virtually suspended since 2008. The government has decided to give new connections to 1,000 industries with the prospect of commencing RLNG supply. New domestic connections also remain suspended. President of Real Estate and Housing Association of Bangladesh (REHAB) Alamgir Shamsul Al Amin while talking to the EP suggested resumption of domestic connections. He observed that the domestic users have the capacity to buy gas at cost price. Even if no new network is expanded, the consumers under the coverage of existing networks should be given connections. Prof M Tamim of BUET and Aziz Khan of BERC shared similar opinion. They suggested that the embargo should be withdrawn making provisions for bringing all domestic users under pre-paid metering system. The cost of gas would not be more than Tk 1,500 even after import of LNG.
The present gas crisis cannot be confronted without relying on imported LNG. Domestic sector must not be kept out of it. The embargo on pipeline gas supply to domestic consumers should be withdrawn on condition that the gas must be purchased at cost price after LNG injection. This will bring new relief to users in gas franchise areas.
---