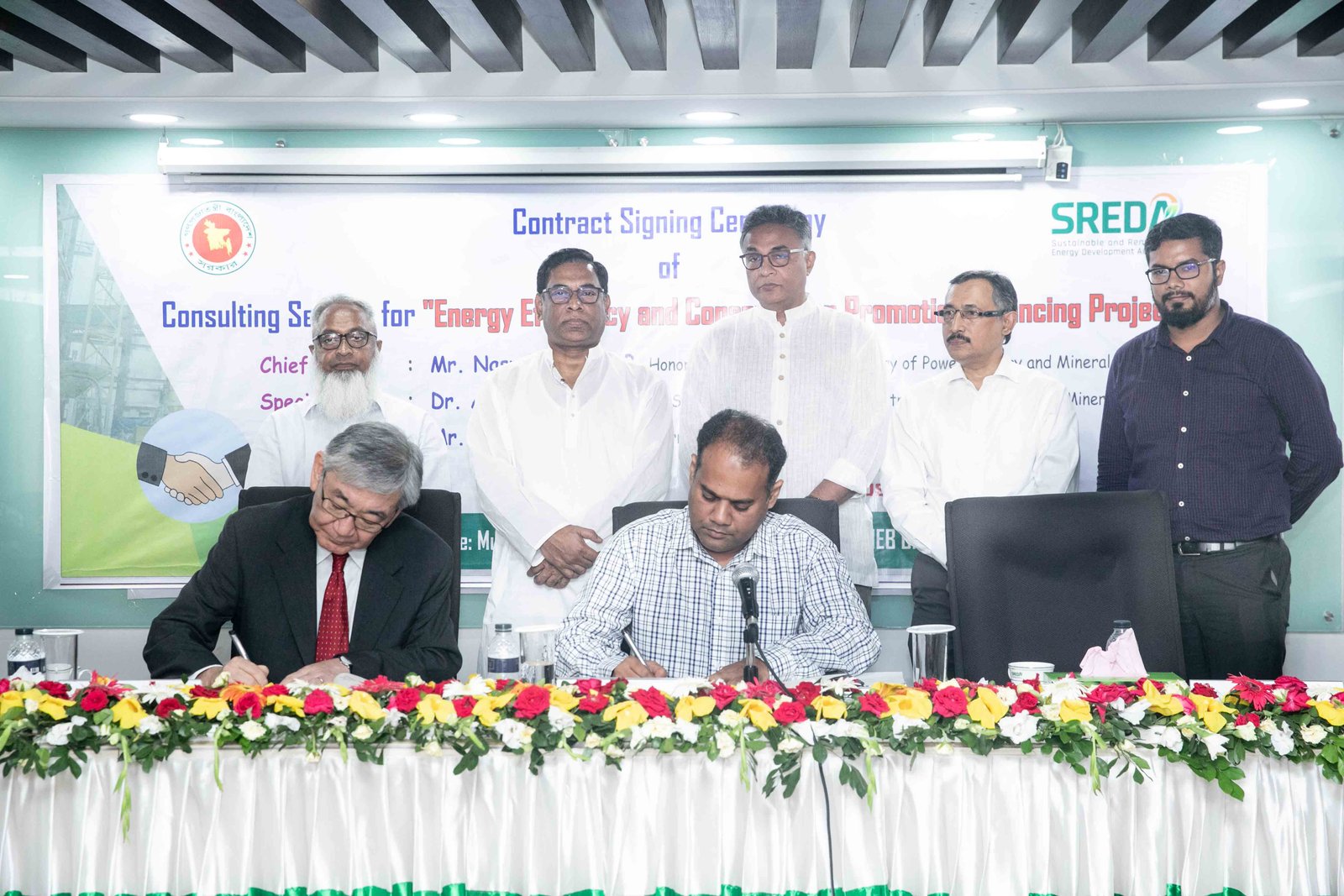 Sustainable and Renewable Energy Development Authority (SREDA) signed an agreement with Mitsubishi Research Institute INC. today (August 31, 2019) on energy efficiency and conservation promotion to ensure efficient use of energy.
To ensure energy saving in the industrial sector and to increase the use of energy-efficient appliances in the industries, SREDA would provide loan facility to industrial factory entrepreneurs and customer levels only at 4% interest.
Project Director of Energy Efficiency and Conservation Promotion Financing Project Mr. Rezaul Hoq and Dr. Kotaro Nagasawa of Mitsubishi Research Institute, Inc. signed the deal on behalf of their respective sides.
State Minister for Power, Energy and Mineral Resources Nasrul Hamid was present as the guest of honour at the signing ceremony.
The government of Bangladesh has set a fuel saving targets as 15% by next 2021 and 20% by next 2030 in the 7th Five Year Plan in terms of fuel production, supply and operational levels.
If this goal is achieved, by 2030; approximately 95 million tonnes of fuel equivalents will be saved. Its financial value is around Tk 51 billion.
Nasrul Hamid said it is possible to achieve this goal by creating public awareness, enhancing technical capacity, promoting livelihoods and creating public awareness on energy efficiency and conservation.
The "Energy Efficiency and Conservation Master Plan up to 2030" has already been prepared by the Sustainable and Renewable Energy Development Authority (SREDA).
According to the master plan, it was found, among the total energy consumption of the country, 48% is by the industrial sector and 30% by the residential sector. By taking appropriate measures, it is possible to save 31% of the energy in the industrial sector and 35.9% in the residential sector.
Through SREDA technical approval, interested industrial factories are receiving the loan through IDCOL and BIFFL. Under this program, approximately USD 300 million loan facilities will be provided at 4% interest for installing machineries in various factories.
Among others, Senior Secretary of Power Division Ahmad Kaikaus, Chairman of SREDA Helal Uddin and Member of SREDA Siddiq Zubair were present at the signing ceremony.
---