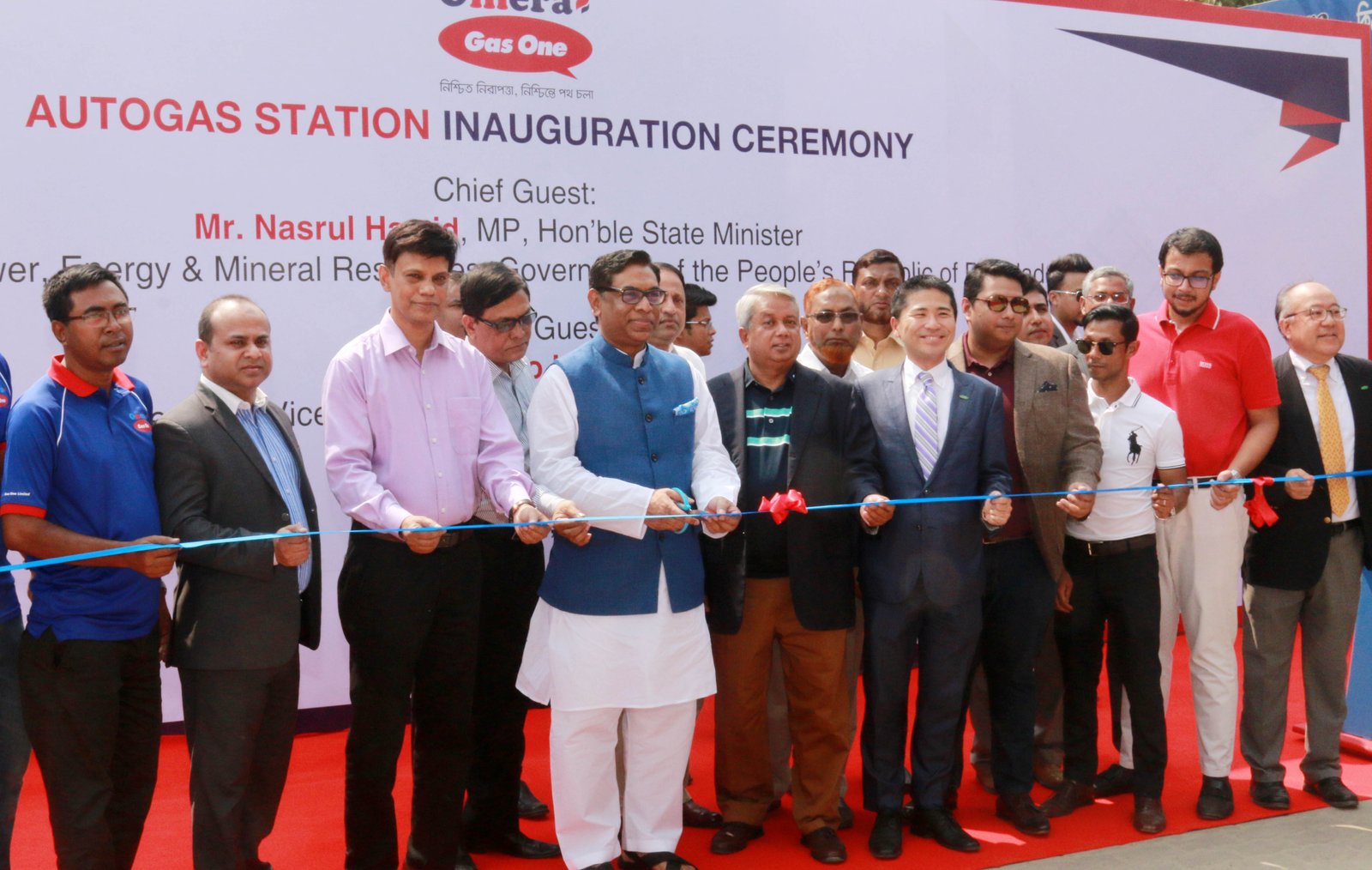 Dhaka, March 2, 2018 (EP) – State Minister of Power, Energy and Mineral Resources Nasrul Hamid on Friday asked the explosive department to stay alert to ensure safety of the fuel stations as well as the vehicles using different fuels like Compressed Natural Gas and Liquefied Petroleum Gas.
The use of fuels at different vehicles are getting diversified day-by-day and the authorities concerned should have preparations to ensure minimizing the fuel-specific risk factors, he said while speaking at an inauguration ceremony of an auto-gas (LPG for transport vehicles) filling station at Tejgaon in Dhaka.
Nasrul asked the explosive department to be equipped with modern technologies to perform its duties in the upcoming days.
Chief Inspector of Explosives Shamsul Alam was present there along with East Coast Group chairman Azam J Chowdhury and Saisan's Chief Operating Officer Tomohiko Kawamoto.
Omera Gas One, a joint-venture of Omera Petroleum Ltd and Japan's Saisan One, set up and would run the auto-gas filling station. Omera is a venture of the local firm East Coast Group.
Price of each liter of auto-gas has been fixed at Tk 50.
Nasrul said auto-gas was another environment-friendly fuel for transport sector.
It would be a competitive one with the other fuel options like liquid fuels and CNG, he said, adding that the government would soon introduce favorable policies to facilitate establishment of auto-gas filling stations, and conversion and maintenance workshops.
Until now, more than 20 auto-gas filling stations are in operation in Bangladesh operated by different private LPG suppliers.
Omera Gas One will establish around 30 auto-gas filling stations on Chittagong, Gazipur, Rajshahi, Jessore, Satkhira, Khulna, Feni and Bogra by 2018, said the company officials.
Azam said that the LPG conversion cost for vehicles were much lower than to the CNG conversion.
The cost of using LPG in the vehicles is lower than the fossil fuels and much more efficient. LPG offers four times the mileages than CNG does, he said.
Azam demanded policy support from the government to ensure safety and security in distribution and use of auto-gas.
Tanzeem Chowdhury, Assistant General Manager of Omera LPG, said that it was their first auto-gas filling station in Bangladesh.
He believes that more than 200 auto-gas filling stations will be established in different districts in Bangladesh by 2020 as its demand has been increasing fast against shrinking supplies of natural gas at CNG filling stations.
Omera Petroleum is one of the leading LPG operators in Bangladesh. It has an import terminal in Mongla, and satellite filling stations in Mongla, Ghorashal, Bogra and Mirsarai. Omera imports and markets LPG as cooking gas across the country.
Saisan Co Ltd, established in 1945, is one of the major LPG distributors in Japan. It has business in Mongolia, Vietnam, Indonesia, Cambodia and Australia.
---