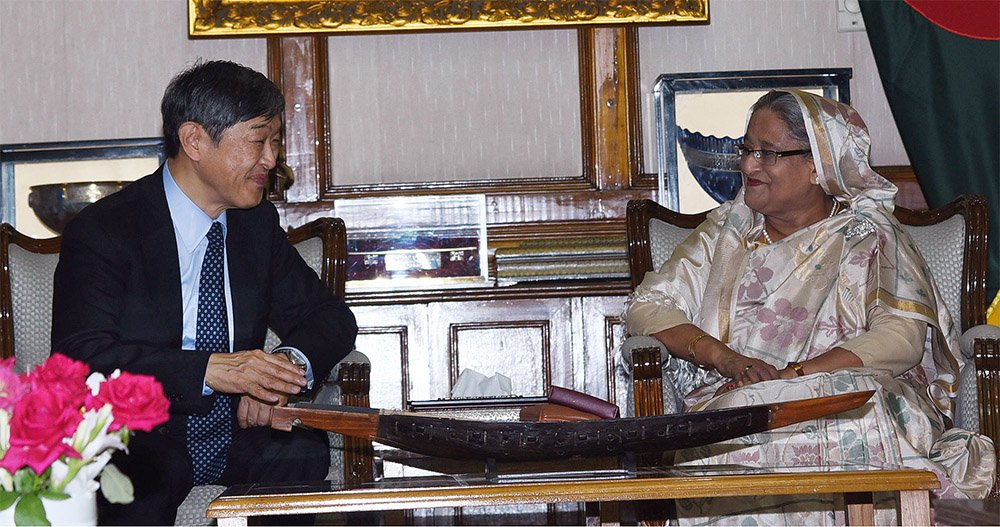 President of Japan International Cooperation Agency (JICA) Dr Shinichi Kitaoka recently said Japan will never stop cooperation with Bangladesh, as the two countries have been enjoying very good relations.
"Japan will never stop cooperation with Bangladesh," JICA President Dr Shinichi Kitaoka said when he met Prime Minister Sheikh Hasina at her official residence Ganobhaban.
PM's Press Secretary Ihsanul Karim briefed reporters after the meeting.
Mentioning that Bangladesh and Japan have been enjoying good relations, the JICA President said, "We're very much satisfied with the security measures under your leadership."
In reply to Prime Minister's comments about various initiatives that her government has taken to fight terrorism, he said, "People's eyes are the best defense and it's a very good move you've taken."
Kitaoka went on saying, "I'm really impressed to see the development taken place in Bangladesh under your dynamic leadership. You've overcome so many hurdles and it's our pleasure to contribute to Bangladesh's development."
Sheikh Hasina conveyed her condolences to the families of the seven Japanese nationals who were killed in the terror attack on the Holey Artisan Bakery in Dhaka last year.
Noting that terrorism is a global problem, she said, "We've taken all steps to combat it."
---
---