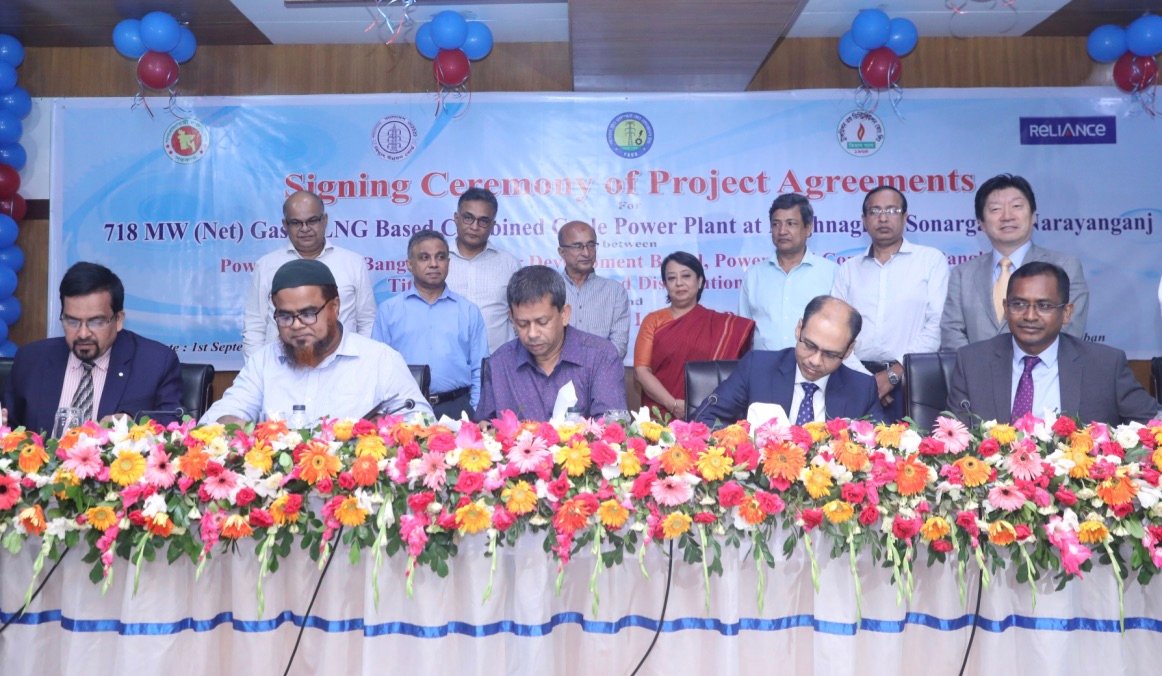 Reliance Signs Contract on 718MW Meghnaghat Power Plant
Indian Reliance Group signed four separate agreements in Dhaka today (Sunday) to set up a 718 MW gas-based combined cycle power plant at Meghnaghat.
Of the four agreements, the Power Division signed the implementation agreement while state-owned Bangladesh Power Development Board (BPDB) the power purchase agreement (PPA) and land lease agreement (LLA), and state-owned Petrobangla signed the gas supply agreement (GSA) with Reliance Group.
Joint Secretary of Power Division Sheikh Faezul Amin, secretary of BPDB Saiful Islam Azad, secretary of Power Grid Company of Bangladesh (PGCB) Mohammad Jahangir Azad, secretary of Titas Gas Transmission and Distribution Limited (TGTDCL) Mahmudur Rab and Director of Reliance Bangladesh LNG and Power Limited Sameer Kumar Gupta signed the deals on behalf of their respective sides.
Under the agreements, the government will purchase electricity from the project for a 22-year period. The Reliance Group will use imported re-gasified Liquefied Natural Gas (LNG) for the proposed plant.
According to the contract details, Reliance will set up the power plant within 36 months and the tariff rate was fixed 7.3123 cents per kilowatt hour.
Earlier, the Reliance Group signed Memorandum of Understanding (MoU) with BDPB for establishing power plants in the country.
Addressing the signing ceremony as the chief guest at Mukti Hall of Byidut Bhaban, Prime Minister's Energy Adviser Dr Tawfiq-e-Elahi Chowdhury, Bir Bikram, said every citizen will get uninterrupted electricity in due time.
He urged all officials concerned to complete the project in time.
Chaired by Bangladesh Power Development Board (BPDB) Chairman Engineer Khaled Mahmood, the agreement signing ceremony was also addressed, among others, by Indian High Commissioner Riva Ganguly Das.
Principal Coordinator of SDG to Prime Minister's Office M Abul Kalam Azad, power secretary Dr Ahmed Kaikaus and energy secretary Abu Hena M Rahmatul Munim spoke as special guests.
---