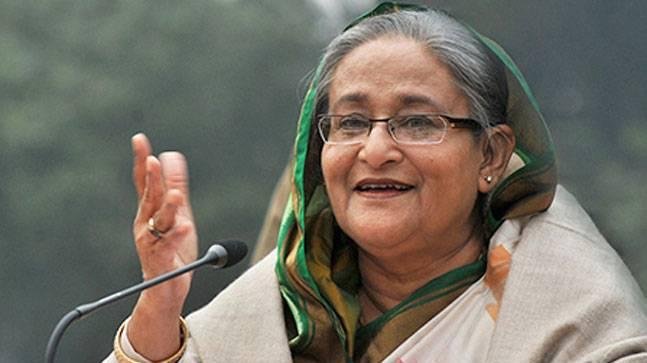 DHAKA, Oct 31, 2018 (BSS) – Prime Minister Sheikh Hasina is set to inaugurate seven newly-constructed power plants and programs ensuring 100 percent power coverage in 102 upazilas tomorrow.
"The Prime Minister will also lay foundation stones of two energy related projects tomorrow (Thursday) through videoconferencing from her official residence Gono Bhaban at 10am," said State Minister for Power, Energy and Mineral Resources Nasrul Hamid.
Addressing a press briefing at Bydut Bhaban, he said electricity generation capacity reached to 20,430 MW (captive and renewable), four times higher than 2009.
The Prime Minister will inaugurate seven power plants, activities of 100 percent power coverage in 102 upazilas and lay foundation stones of two energy projects.
"Currently 92 percent people are getting electricity, which was only 47 percent before 2009. We have provided power connections to 2.03 crore consumers during the same period," Nasrul said.
He said the government has brought over two crore people under power coverage through 53 lakh solar home systems, adding "Presently 55 power plants having 13,654 MW electricity generation capacity are under construction. Besides, tender is being processed for setting up more 23 power plants having 7,461 MW capacity."
The state minister said the government has also undertaken a plant to construct 19 power plants with 20,156 MW generation capacity, adding, "The government has brought 102 upazilas under 100 power coverage."
The 102 upazilas which came under 100 percent power coverage are Nababganj, Dohar, Kashiani, Muksudpur, Gopalganj Sadar, Mithamoin, Tarail, Itna, Hossianpur, Kishorganj Sadar, Bajitpur, Srimangal, Natore Sadar, Naldanga, Gurudaspur, Puthia, Charghata, Bagha, Tanor, Chitalmari, Chaugachha,Jhikargachha, Keshobpur, Jibonnagar, Damurhuda, Pirojpur Sadar, Harirampur, Saturia, Gheor, Atrai, Mohadebpur, Raninagar, Niamatpur, Jhalakathi Sadar, Rajapur, Pabna Sadar, Biswanat, Gopalganj, Jointapur, Balaganj, Dumuria, Feni Sadar, Kushtia Sadar, Kumarkhali, Fulbari, Kaharol, Ramganj, Rangunia, Chandanaish, Satkania, Anwara, Bijoynagar, Kasba, Banchharampur, Chandina, Brahmanpara, Lalmai, Titash, Meghna, Homna, Daudkandi, Nangolkot, Burichang, Laksham, Chouddagram, Chatkhil, Sonaimuri, Dakhin Sunamganj, Taraganj, Rangpur Sadar, Tala, Cox's Bazar Sadar, Teknaf, Gangni, Doulatkhan, tojumuddin, Sirajganj Sadar, Rayganj, Tarash, Chouhali, Madaripur Sadar, nilphamari Sadar, Kaliganj, Kaliakoir, Shariatpur Sadar, Damuddya, Chandpur Sadar, Sarasti, Hajiganj, haimchar, Sonargaon, Nandigram, Sonatala, Dupchachia, Bogra Sadar, Kahalu, Adamdighi, Shajahanpur, Charbhadrasan, Alfadanga, Magura Sadar and Sripur.
The state minister said the government has been working tirelessly in a planned way to ensure a balanced development where each house will get electricity connection by 2021.
He mentioned that socioeconomic development can be ensured after the development of communication and power connections. "Keeping that in mind, we're working to ensure 100 percent electricity supply for every citizen," he added.
Nasrul said Father of the Nation Bangabandhu Sheikh Mujibur Rahman liberated the country aiming to make Bangladesh free from poverty and hunger.
Prime Minister's Energy, Power and Mineral Resources Advisor Dr Tawfiq-e-Elahi Chowdhury, Bir Bikram, Power Division Secretary Dr Ahmad Kaikaus, Energy and Mineral Resources Division Secretary Abu Hena M Rahmatul Munim, Bangladesh Power Development Board Chairman Engineer Khaled Mahmood and Power Cell Director General Engineer Mohammad Hossain were present.
---