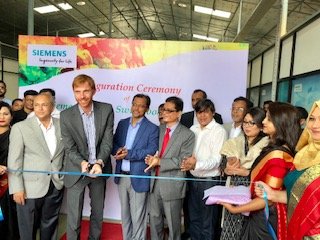 Dhaka, Oct 28, 2018 (PR) - The newly refurbished state-of-the- art Siemens Switchboard Factory (SDSF) in Savar was inaugurated by Chief Guest, Mr. Michael Schultheiss, Deputy Head of Mission, Embassy of the Federal Republic of Germany in Bangladesh in presence Mr. Prabal Bose, Managing Director, Siemens Bangladesh Ltd.
Spread over an area of 1763 square meters, the Switchboard factory manufactures high quality of Switchgear & Control Panels ranging from Low to Medium & High Voltage level. In the next phase, it will expand the production to world class Type Tested Panels. The factory has established the competence to manufacture products with 25% to 30% localization, while retaining the world-class quality standards.
In a separate statement H.E. Peter Fahrenholtz, Ambassador, Embassy of the Federal Republic of Germany in Bangladesh said "Siemens has been a partner of the people of Bangladesh for more than 60 years. This German company with a history of more than 170 years strives to make the lives of the people better for example by building power plants. Today, we mark another important milestone of Siemens in Bangladesh. It is a great pleasure for me to be present at the inauguration of the new Siemens Switchboard Factory in Savar and I am happy to know that it will further contribute to deepen the already close and friendly links between Germany and Bangladesh".
Speaking at the inauguration, Mr. Bose, Managing Director, Siemens Bangladesh Ltd., said, "We are happy that our new revamped Switchboard factory is now operational. With this, we have a strong and complete portfolio in the Power Distribution sector in Bangladesh. Our constant endeavor has been to bring high quality and innovative technology to Bangladesh with emphasis on local manufacturing. Our Switchboard factory, apart from adding local value, also enables us to offer our customers reliable products and services.
Siemens AG (Berlin and Munich) is a global technology powerhouse that has stood for engineering excellence, innovation, quality, reliability and internationality for 170 years. The company is active around the globe, focusing on the areas of electrification, automation and digitalization. One of the world's largest producers of energy-efficient, resource-saving technologies, Siemens is a leading supplier of efficient power generation and power transmission solutions and a pioneer in infrastructure solutions as well as automation, drive and software solutions for industry. The company is also a leading provider of medical imaging equipment – such as computed tomography and magnetic resonance imaging systems – and a leader in laboratory diagnostics as well as clinical IT. In fiscal 2017, which ended on September 30, 2017, Siemens generated revenue of €83.0 billion and net income of €6.2 billion. At the end of September 2017, the company had around 372,000 employees worldwide. Further information is available on the Internet at www.siemens.com.
---