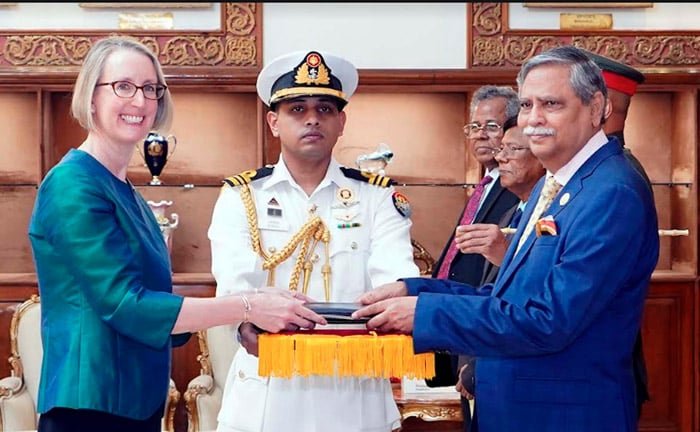 President Shahabuddin receiving credentials from newly appointed British High Commissioner to Bangladesh, Sarah Cooke, at Bangabhaban on June 8, 2023. Photo: Courtesy of Bangabhaban.
President Mohammed Shahabuddin on Thursday urged the British businesses to invest in Bangladesh, especially in gas and energy sectors.
He made the call while receiving the credentials from new British High Commissioner to Bangladesh Sarah Cooke at Bangabhaban.
The envoy was ceremonially welcomed at Bangabhaban here this morning.
Welcoming her, the President said, "Britain is a very close friend of Bangladesh. The UK is playing an important role in the economic and technical development of the country."
He expressed deep gratitude to the then British Prime Minister Edward Heath and the people of Britain for showing incredible respect to Father of the Nation Bangabandhu Sheikh Mujibur Rahman as he first flew to London after freedom from Pakistani prison in 1972.
"Since then, Bangladesh and the UK started walking together . . . And over time, this relationship has accelerated to various fields, including bilateral and multilateral sectors," President Sahabuddin added.
The high commissioner said the UK's partnership with Bangladesh is on a strong foundation at present.
Lauding the socio-economic development of Bangladesh, she said her country would always stand by it in its continued development and progress.
HC Cooke sought the cooperation of the president in fulfilling her duties.
Earlier, on her arrival at Bangabhaban, a smartly turned-out contingent of the horse-mounted President Guard Regiment (PGR) gave the envoy a guard of honour as part of the ceremony.
Secretaries concerned to the Bangabhaban were also present during the meeting.
---