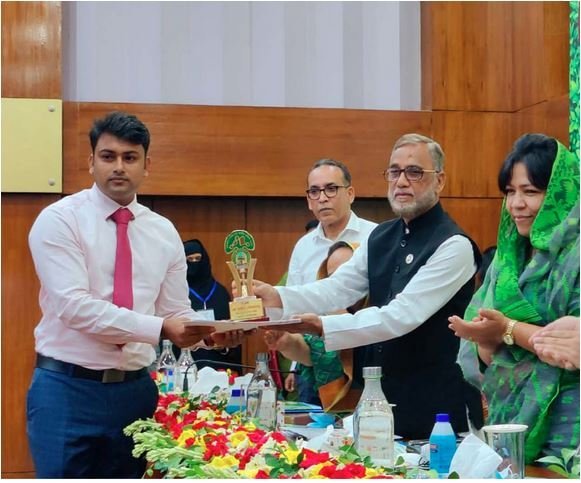 DHAKA, July 24, 2022 (BSS) - Environment, Forest and Climate Change Minister Md Shahab Uddin today called upon the people of all strata not to cut down trees in the forests till 2030.
Observing that the country's international targets will not be achieved unless illegal cutting of forest trees is stopped, he directed the concerned officials of the Forest Department and the forest guards to work to stop free felling.
The minister was speaking at the closing and prize distribution ceremony of the National Tree Fair 2012. The function was held at the Forest Department.
Chaired by Chief Conservator of Forest Md. Amir Hossain Chowdhury, the function was addressed, among others, by Deputy Minister for Environment, Forest and Climate Change Habibun Nahar and Environment, Forest and Climate Change Secretary Dr Farhina Ahmed, Additional Secretary (Administration) Iqbal Abdullah Harun, Director General of Department of Environment (DoE) Md Abdul Hamid and Deputy Chief Conservator of Forests Md Moinuddin Khan.
Speaking as the chief guest, Shahab Uddin said once there was a vast area of forest coverage in the country but now the scenario has changed.
"Currently, our forest is 14.2 percent. We need 25 percent forest coverage. In order to achieve the goal of forestry in achieving the SDG targets, the mountains and forest trees cannot be cut until 2030," he said, seeking everyone's cooperation in checking hill cutting and river grabbing and planting trees at a higher rate.
The environment minister said tree fairs and tree plantation campaigns organised every year are playing an important role in building a sustainable Bangladesh by creating green coverage in the country.
He said that a total of more than 16 lakh 30 thousand saplings have been sold at the National Tree Fair organized in the field of Sher-e-Bangla Nagar this year.
Tree fairs have been organized in all divisions and districts of the country and in several upazilas while millions of trees are being sold and planted in this nationwide tree fair, he said.
Shahab Uddin said on the directives of Prime Minister Sheikh Hasina, the tree plantation program has been transformed into a tree plantation campaign with the purpose of forest and environment conservation.
By planting trees with the participation of all, it will be possible to achieve the SDG target of increasing the country's forest coverage to 16 percent and the country's tree coverage to 25 percent by the year 2030, he added.
On this occasion, Shahab Uddin distributed the "Prime Minister's National Award for Plantation 2019 & 2020" and cheques for 37 lakh among six beneficiaries of social forestry.
There were 110 stalls at this year's National Tree Fair. Out of those, 80 stalls were installed from 63 privately owned nurseries, while 15 stalls from 38 government institutions, six stalls from four private organizations and nine stalls from two other institutions.
This year, 12.42 crore saplings were sold at the National Tree Fair. This year the total number of saplings sold at the National Tree Fair and the selling price were higher than any previous year.
---